[English below]
Xeno es una formación holandesa de Metal Contemporáneo influenciado por muchos otros estilos musicales distintos. Desde riffs severos que van a hacer que no puedas dejar de mover la cabeza a pasajes instrumentales íntimos. El pasado 30 de Octubre a través de Art Gates Records publicaron su segundo álbum «Sojourn», en Algoderock hemos charlado con ellos.
Algoderock: En primer lugar, quiero felicitaros por el álbum «Sojourn» y me gustaría preguntar, ¿Qué influencias han marcado la creatividad?
Xeno: ¡Gracias! Tenemos una gran variedad de influencias tejidas en el álbum. Debido a que cada miembro de la banda escribió partes del disco, y todos tenemos un estilo diferente, nuestra música conoce muchos subgéneros diferentes.
Algoderock: ¿Por qué el título del disco y qué mensaje queréis transmitir en la portada?
Xeno: 'Sojourn' significa una estadía temporal. Elegimos este título porque creemos que estamos en un viaje, y 'Sojourn' es una de las pocas paradas que hacemos antes de continuar con nuestro esfuerzo musical. En el álbum contamos una historia, la portada cuenta el comienzo de esa historia. ¿El personaje se aventura en lo desconocido? ¿Porqué quiere ir? ¿Qué le sucede cuando lucha contra la naturaleza y, finalmente, contra sí mismo? Descúbrelo en el álbum.
Algoderock: ¿Cómo se ha desarrollado el disco con el cambio de formación y la pandemia de por medio?
Xeno: Casi todo se escribió después del último cambio de formación, las piezas que llevamos con nosotros antes de que se unieran los nuevos chicos se reescribieron parcialmente. Teníamos tantas ideas que podíamos llenar varios álbumes. Pero finalmente elegimos estas canciones porque el ritmo de un álbum es muy importante. Queríamos contar una historia y creemos que estas canciones encajan mejor con el tema que teníamos en mente. En cuanto a la pandemia, comenzamos a grabar antes de que llegara el virus aquí en Holanda. Eso nos dio suficiente tiempo para terminar el álbum antes de que todo se cerrara por completo. Llegamos justo a tiempo.
Algoderock: Siendo un disco tan técnico y con tantos matices, ¿cómo se defiende ese disco en directo? Estoy deseando veros en acción porque soy un chico del directo y sobre todo si el maldito Corona virus nos deja.
Xeno: ¡Gracias por el cumplido! Hacemos todo lo posible para alcanzar la calidad de nuestro álbum en vivo, incluso superarla. Al poner toda nuestra pasión en nuestra música, creemos que en vivo se notará, nuestros éxitos musicales en vivo son aún más difíciles. La música es nuestra pasión, nos encanta hacerlo y siempre daremos el 100% de interpretación.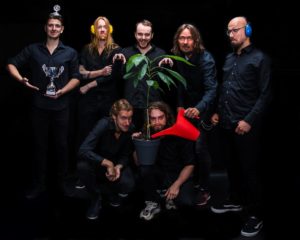 Photo by Martijn Fincke
Algoderock: Al poner el listón tan alto, ¿creéis que seréis capaces de superar la calidad de este álbum?
Xeno: ¡Ciertamente lo esperamos! Para nosotros, esto es solo el comienzo. Todavía hay mucho que queremos hacer. Tantas ideas que queremos trabajar. ¡Estamos ansiosos por mostrarte todo!
Algoderock: Volviendo al directo, ¿os veis como una banda de festivales o locales pequeños?
Xeno: Ciertamente, especialmente en este momento. Todavía no somos lo suficientemente grandes para llenar los grandes recintos. Realmente amamos actuar. Ver a la gente disfrutar de tu música es la mejor sensación del mundo. Si vemos a una sola persona sonriendo, vibrando o golpeándose la cabeza, vale la pena para nosotros.
Algoderock: Finalmente solo puedo decir que habéis creado un disco muy personal que marca un sonido muy propio y que hará las delicias de la audiencia de más de uno (yo incluido), un saludo.
Xeno: Muchas gracias por las amables palabras, realmente significan mucho para nosotros. ¡Realmente esperamos verte en uno de nuestros shows en vivo en el futuro!
---
Interview: Aaabbbaaattthhh
English:
Xeno is a Dutch Contemporary Metal band influenced by many other different musical styles. From harsh riffs that will make you can't stop shaking your head to intimate instrumental passages. On October 30th through Art Gates Records they released their second album «Sojourn», in Algoderock we have chatted with them.
Algoderock: First of all, I want to congratulate you on the album "Sojourn" and I would like to ask, What influences have marked the creatih
Xeno: Thanks! We have a big array of influences woven into the album. Because every band member wrote parts for the album, and we all have a different style, our music knows many different sub-genres.
Algoderock: Why the title of the album and what message do you want to convey on the cover?
Xeno: 'Sojourn' means a temporary stay. We chose this title because we believe we are on a journey, and 'Sojourn' is one of the few stops we make before we continue on our musical endeavor. On the album we tell a story, the cover art tells the beginning of that story. Does the character venture into the unknown? Why does he want to go? What happens to him when he combats nature, and eventually himself? Find out on the album.
Algoderock: How has the disc developed with the change in formation and the happy pandemic in between?
Xeno: Almost everything was written after the last line-up change, the pieces we took with us before the new guys joined were partly rewritten. We had so many ideas we could fill multiple albums. But eventually we chose for these songs because the pacing of an album is very important. We wanted to tell a story and we think these songs best fitted the theme we had in mind. As for the pandemic, we started recording before the virus arrived here in the Netherlands. That gave us enough time to finish up the album before everything went in full lock down. We were just in time.
Algoderock: Being such a technical album and with such rich nuances, how does that album defend itself live? I'm looking forward to seeing you in action because I'm a live guy and if the bloody coronavirus left us.
Xeno: Thanks for the compliment! We try our hardest to not even meet the quality of our album live, but even exceed it. By pouring all our passion in our music we believe live our music hits live even harder. Music is our passion, we love making it and we will always give 100% performing.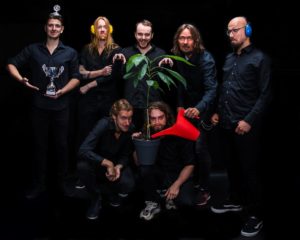 Photo by Martijn Fincke
Algoderock: By setting the bar so high, do you think you are capable of exceeding the quality of this album?
Xeno: We certainly hope so! For us, this is just the beginning. There is still so much we want to do. So much ideas we want to work out. We can't wait to show you everything!
Algoderock: Going back to live, do you see yourselves as a band from festivals or small venues?
Xeno: Certainly, especially for this moment. We are not yet big enough to fill the big venues. We really love performing. Seeing people enjoy your music is the best feeling in the world. If we see even one person smiling, vibing or banging their head it's worth it for us.
Algoderock: Finally I can only say that you have created a very personal album that marks you with a very own sound and that will delight the hearing of more than one (me included), a greeting.
Xeno: Thank you so much for the kind words, it really means the world to us. We really hope to see you at one of our live shows in the future!
---
Interview: Aaabbbaaattthhh