[English below]
Las gallegas Anxela Baltar (voz, guitarra) y Violeta Mosquera (voz, batería), o lo que es lo mismo, Bala, están revolucionando el panorama actual del rock nacional e internacional con su último y tercer disco, «Maleza». Un trabajo que viene avalado por Century Media Records, lo que a uno le hace pensar cómo es que un sello de este calibre se ha podido fijar en este dúo tan peculiar. Pues no parece tan descabellado si nos fijamos en la buena acogida que tuvo su debut, «Human Flesh» (2015), y en el exitoso «Lume» (2017), que las llevó de gira por Reino Unido, Australia, Japón, Estados Unidos y Colombia. ¡Increíble! Sólo les falta plantarse en África. Lógico y normal que los de Century Media le echaran el ojo a estas chicas.
El disco comienza con «Agitar». Un trallazo de stoner rock con un sonido de guitarra contundente y adictivo. La letra está sacada de uno de los poemas de la escritora Lúa Mosquetera y cuenta con la colaboración de Nawja Nimri a los coros. También participa Bonnie Buitrago (Nashville Pussy) al bajo, además de en otras dos canciones.
Le sigue «Hoy no». Un tema más agresivo (chillón) que el anterior pero con un rollo punk bastante chulo y «X» es una canción cantada en inglés con voces distorsionadas y tranquilas (o menos agresivas) y, sin llegar a los dos minutos de duración, les da para combinar partes rápidas con otras más densas. Una mezcla de alternativo y stoner rock muy conseguida.
Más riffs stoner dominan «Mi orden». Un tema más pausado, con diferentes tempos, pero potente y el más extenso (3:43) de todo el disco, donde se aprecian voces limpias, melancólicas y otras más agresivas.
En «Cien obstáculos» tenemos una batería muy marcada, un punteo inicial de guitarra melódico, una mezcla de grunge y stoner rock y un estribillo a dos voces ideal para los directos.
«Quieres entrar» vuelve a contar con la colaboración de Najwa Nimri en las voces, aportando pausa y oscuridad por un lado, y por otra parte no podía faltar el lado agresivo y potente que ponen Anxela, con su voz (por momentos extrema) y la guitarra, y Violeta, destrozando la batería.
Turno para la rockera «Rituais». Interpretada en gallego y con un ritmo alegre, incluso psicodélico. Le sigue «Bessie», dedicada a la heroína Bessie Stringfield. Un tema casi instrumental, la breve letra es cantada con rabia y, musicalmente, tiene altos y bajos, distorsiones, pero que resulta muy guitarrero.
Cierran el disco con el tema «Una selva», y no esperéis una balada. Al contrario, otro trallazo con más mala hostia, más riffs potentes (los primeros punteos son de lo más doom), más voces desgarradas y yo me quedo con esta frase: «… no todo está perdido».
En definitiva, «Maleza» te podrá gustar más o menos, te podrá parecer corto o conciso, que lo es, porque la duración media por canción es de dos minutos, aproximadamente, pero lo que está claro es que es un disco agresivo, rabioso, fresco, diverso, directo y, sobre todo, adictivo. Esa guitarra y ese sonido de stoner rock potente y, a veces, melódico es lo que más me engancha. Gran fichaje el que ha hecho Century Media, además, tengo la sensación de que vamos a tener Bala hasta en la sopa. 
«Maleza» fue grabado y producido por Santi García y Borja Pérez en los Estudios Ultramarinos, Costa Brava (Barcelona). También han colaborado en la grabación el ingeniero de sonido Josh Tampico (Bon Jovi, Red Hot Chili Peppers, The Cranberries, etc.) y el bajista Scott Reeder (ex-Kyuss) y la portada es obra de Leo Sousa.
Texto: Juanma Cisneros
---
English: 
Galician Anxela Baltar (voice, guitar) and Violeta Mosquera (voice, drums), or what is the same, Bala, are revolutionizing the current national and international rock scene with their latest and third album, «Maleza». A work that is endorsed by Century Media Records, which makes one think how it is that a label of this caliber has been able to fixate on this peculiar duo. Well, it doesn't seem so far-fetched if you look at the good reception their debut, «Human Flesh» (2015) had, and the successful «Lume» (2017), which took them on a tour of the United Kingdom, Australia, Japan, the United States and Colombia. Amazing! They only need to be planted in Africa. Logical and normal that Century Media would take their eyes on these girls.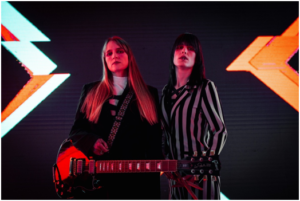 The album begins with «Agitar». A stoner rock whiplash with a punchy and addictive guitar sound. The lyrics are taken from one of the poems by the writer Lúa Mosquetera and with the collaboration of Nawja Nimri to the choirs. Bonnie Buitrago (Nashville Pussy) also participates on bass, in addition to two other songs.
It is followed by «Hoy no». A more aggressive song (loud) than the previous one but with a pretty cool punk vibe and «X» is a song sung in English with distorted and calm voices (or less aggressive) and, without reaching two minutes in length, it allows them  to combine fast parts with denser ones. A very successful mix of alternative and stoner rock.
More stoner riffs dominate «Mi orden». A slower track, with different tempos, but powerful and the longest (3:43) of the entire album, where clean, melancholic voices and other more aggressive voices are appreciated.
On «Cien obstáculos» we have very marked drums, an initial melodic guitar pick, a mix of grunge and stoner rock and a two-voice chorus ideal for live performances.
«Quieres entrar» once again has the collaboration of Najwa Nimri in the voices, providing pause and darkness on the one hand, and on the other hand the aggressive and powerful side that Anxela put, with his voice (at times extreme) and the guitar, and Violeta, destroying the drums.
Turn for the rocker «Rituais». Performed in Galician and with a happy rhythm, even psychedelic. It is followed by «Bessie», dedicated to the heroine Bessie Stringfield.  An almost instrumental theme, the short lyrics are sung with rage and, musically, it has highs and lows, distortions, but it is very guitarist.
Finally, «Una selva», and don't expect a ballad. On the contrary, another whiplash with more bad host, more powerful riffs (the first few points are the most doom), more torn voices and I am left with this phrase: «… all is not lost».
In short, «Maleza» you may like more or less, it may seem short or concise, which it is, because the average duration per song is approximately two minutes, but what is clear is that it is an aggressive, rabid album, fresh, diverse, direct and most of all, addictive. That guitar and that powerful and sometimes melodic stoner rock sound is what hooks me the most. Great signing that Century Media has made, in addition, I have the feeling that we are going to have Bala even in the soup.
«Maleza» was recorded and produced by Santi García and Borja Pérez at Estudios Ultramarinos, Costa Brava (Barcelona).  Sound engineer Josh Tampico (Bon Jovi, Red Hot Chili Peppers, The Cranberries, etc.) and bassist Scott Reeder (ex-Kyuss) have also collaborated on the recording and the cover is the work of Leo Sousa.
Text: Juanma Cisneros
---
MALEZA:
Agitar (2:07)

Hoy no (2:07)

X (1:59)

Mi orden (3:43)

Cien obstáculos (3:02)

Quieres entrar (3:04)

Rituais (2:35)

Bessie (2:18)

Una selva (3:22)