[English below]
Black Fate se formó en 1990 en Larissa, Grecia, pero no han tenido demasiado movimiento, unas cuantas demos, tres discos de estudio, varios cambios de formación, fue en el «Deliverance of Soul» del 2009 cuando encontraron cierta estabilidad gracias a componentes del grupo de Power Metal progresivo Sunburst, el cantante Vasilis Georgiou, el guitarrista Gus Drax (ex-Paradox) y el bajista Vasilis Liakos se unieron a el baterista Nikos Tsintzilonisel, el único miembro que queda de la formación original.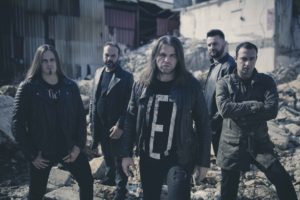 En 2019, la banda reclutó al teclista Themis Koparanidis y se pusieron a trabajar en su cuarto disco, «Ithaca», que ha sido mezclado y masterizado por Steve Lado (The Eternal Suffering, Sacred Outcry) y puesto a la venta, el pasado 23 de octubre, por el sello italiano Rockshots Records.
Bueno pues tras la épica y teatral intro, «From Ashes & Dust», suena la homónima «Ithaca» con unos riffs limpios y melódicos, y una base rítmica claramente progresiva, estilo Dream Theater, todas estas armonías quedan bien acompañadas sutilmente por el sonido del teclado, pero tengo que destacar dos cosas: primero, la enorme voz de Vasilis Georgiou, de diez en todo el disco, y es que también os resultará muy familiar por el parecido asombroso que tiene con Roy Khan (Conception, ex-Kamelot) y segundo, el espectacular trabajo a la guitarra de Gus Drax, este señor te embriaga con una gran gama de riffs y solos de una calidad inmensa. Por ejemplo, en «Maze» combina riffs más heavy/power metaleros con otros melódicos en un medio tiempo algo oscuro.
Más virtuosismo y velocidad muestra «Savior Machine», un tema que cuenta con una base rítmica potente y un solo de guitarra estilo Steve Vai.
Luego hay una serie de temas con bastante gancho que mezclan heavy, power y progresivo, y que me recuerdan a Firewind, Kamelot o Vision Divine. Hablo de la intensa, potente y pegadiza «Fortress of Solitude», la galopante y melódica «Secret Place» o la hipnótica «Reach For The Stars», un temazo lleno de contundencia y melodías.
Pero «Ithaca» también destaca por tener elementos oscuros y sinfónicos, es el caso de «Nemesis», una gran canción épica y atmosférica cargada de metal progresivo, al igual que «Queen of Shadows», aún más progresiva si cabe, pero con riffs más heavys y partes de teclado más melódicas, o la compleja «Circle of Despair», elegida para cerrar el disco, es un tema denso en su conjunto, lleno de matices groove y Power Metal progresivo.
«One Last Breath» es la única canción donde el teclado lleva las riendas, en el resto del disco tiene protagonismo pero puntualmente, aquí se lleva de maravilla con la guitarra, y esta tiene un riff penetrante difícil de olvidar.
Por supuesto, con las cualidades vocales de Vasilis Georgiou no podía faltar una balada, y acústica, «Rainbow's End», es todo un deleite delicado y sentimental de este gran cantante.
Por lo tanto, «Ithaca» no sólo me parece un gran disco de Power Metal progresivo, y muy a tener en cuenta, sino que va más allá, tiene suficientes recursos para llegar lejos y a muchos oyentes, es heavy, melódico, sinfónico, oscuro, y tremendamente adictivo.
---
Texto: Juanma Cisneros
English:
Black Fate was formed in 1990 in Larissa, Greece, but they have not had much movement, a few demos, three studio albums, several line-up changes, it was on the 2009 «Deliverance of Soul» when they found some stability thanks to components of the Progressive Power Metal group Sunburst, singer Vasilis Georgiou, guitarist Gus Drax (ex-Paradox) and bassist Vasilis Liakos were joined by drummer Nikos Tsintzilonisel, the only remaining member of the original line-up.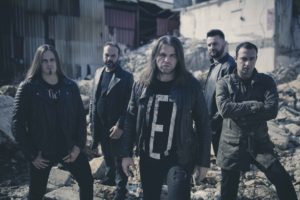 In 2019, the band recruited keyboardist Themis Koparanidis and they got to work on their fourth album, «Ithaca», which has been mixed and mastered by Steve Lado (The Eternal Suffering, Sacred Outcry) and released, on the 23rd. October, by the Italian label Rockshots Records.
Well, after the epic and theatrical intro, «From Ashes & Dust», the homonymous «Ithaca» sounds with clean and melodic riffs, and a clearly progressive rhythmic base, Dream Theater style, all these harmonies are well accompanied subtly by the sound  keyboard, but I have to highlight two things: first, the huge voice of Vasilis Georgiou, ten in the whole album, and it is also very familiar to you because of the amazing resemblance he has with Roy Khan (Conception, ex-Kamelot)  and second, the spectacular work on guitar by Gus Drax, this man intoxicates you with a wide range of riffs and solos of immense quality.  For example, on «Maze» he combines more metal heavy / power riffs with other melodics in a somewhat dark halftime.
More virtuosity and speed shows «Savior Machine», a track that has a powerful rhythmic base and a Steve Vai style guitar solo.
Then there is a series of songs with a lot of hook that mix heavy, power and progressive, and that remind me of Firewind, Kamelot or Vision Divine. I'm talking about the intense, powerful and catchy «Fortress of Solitude», the galloping and melodic «Secret Place» or the hypnotic «Reach For The Stars», a hit full of forcefulness and melodies.
But «Ithaca» also stands out for having dark and symphonic elements, is the case of «Nemesis», a great epic and atmospheric song loaded with progressive metal, like «Queen of Shadows», even more progressive if possible, but with riffs heavier and more melodic keyboard parts, or the complex «Circle of Despair», chosen to close the album, is a dense track as a whole, full of groove nuances and progressive Power Metal.
«One Last Breath» is the only song where the keyboard takes the reins, in the rest of the album it has prominence but occasionally, here it gets along wonderfully with the guitar, and it has a penetrating riff that is hard to forget.
Of course, with the vocal qualities of Vasilis Georgiou a ballad could not be missing, the acoustic, «Rainbow's End», is a delicate and sentimental delight of this great singer.
Therefore, «Ithaca» not only seems like a great progressive Power Metal album, and very important, but it goes further, it has enough resources to reach many listeners, it is heavy, melodic, symphonic, dark and tremendously addictive.
ITHACA:
From Ashes & Dust (1:35)
Ithaca (5:29)
Maze (3:54)
Savior Machine (4:22)
Fortress of Solitude (4:17)
Nemesis (4:57)
Secret Place (4:15)
Reach For The Stars (4:35)
Rainbow's End (3:48)
One Last Breath (4:50)
Queen of Shadows (4:38)
Circle of Despair (5:32)
BLACK FATE:
Nikos Tsintzilonis – batería
Vasilis Georgiou – voz
Vasilis Liakos – bajo
Gus Drax – guitarra
Themis Koparanidis – teclado
---
Text: Juanma Cisneros