[English below]
Poca presentación necesita esta banda procedente de Gotemburgo, Suecia, con treinta años de experiencia y once discos de estudio. Dark Tranquillity son especialmente conocidos por ser los pioneros del death metal melódico escandinavo, junto con sus compatriotas In Flames. 
Tras los dos últimos discos, «Construct» del 2013 y «Atoma» del 2016, ocurrieron dos hechos significativos para la banda y también para muchos fans. El primero, la salida del bajista y guitarrista Martin Henriksson, uno de los principales compositores y miembro original, y el segundo y más reciente, a la par que sorprendente, el abandono del guitarrista Niklas Sundin, también compositor y miembro original, de hecho la portada del nuevo álbum es obra suya, y al parecer ambos salieron de forma amistosa.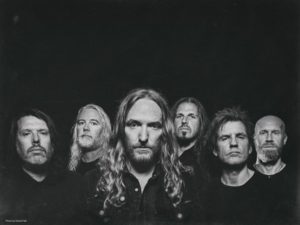 Así que para esta nueva etapa y estreno del disco titulado «Moment», que verá la luz el próximo 20 de Noviembre a través, nuevamente, de Century Media Records, presentan a un nuevo tándem de guitarras. El flamante Christopher Amott (ex-Arch Enemy, ex-Armageddon), y hermano de Michael Amott (Arch Enemy, Spiritual Beggars) y el polifacético Johan Reinholdz (Andromeda, Nonexist, Skyfire).
 Todo el material ha sido grabado en los estudios Nacksving y en Rogue Music, Gotemburgo, y producido por el teclista del grupo, Martin Brändström, de la mezcla y masterización se ha encargado Jens Bogren de Fascination Street Studios, Örebro, Suecia.
Puedo llegar a sospechar cierta incertidumbre o preocupación por parte de de los seguidores de DT, entre los que me incluyo, ante tales acontecimientos y de cómo se verán reflejados en «Moment» y en el devenir de la banda, pero, desde mi punto de vista, creo que este trabajo va a sorprender positivamente. Eso sí, no esperen un disco como «The Gallery» o «Damage Done», por citar algunos de los más valorados de su carrera.
Después de escuchar y analizar, repetidas veces, «Moment» tiene eso precisamente, momentos interesantes y también diversos, y los voy a diseccionar en tres partes. La primera de ellas sostiene todo lo que se puede esperar de DT, y se aprecian en las tres primeras canciones, teclados y sintetizadores atmosféricos, riffs agresivos y melódicos, y Mikael Stanne rugiendo como viene siendo habitual. Qué diferencias o novedades encuentro, pues claramente el sonido de las guitarras, es evidente el sello personal de dos guitarristas como Reinholdz y Amott, en la rápida «Identical To None» me recuerda a Arch Enemy, manteniendo ese sonido clásico de DT pero siendo aún más melódico y rítmico. El primer tema, «Phantom Days», es un claro ejemplo, un temazo con un increíble duelo de guitarras y teclados que te engancha.
Tras el prometedor comienzo llega «The Dark Unbroken», pista número cuatro y la que marca el inicio de una segunda parte con algunos cambios e interesantes matices. Todas esas atmósferas del inicio ahora se cubren de oscuridad, melancolía, medios tiempos, pasajes electrónicos, ambientales y góticos, donde Mikael Stanne hace una labor vocal inconmensurable, además de continuar cantando con más furia y rabia si cabe, también sorprende con voces limpias y melódicas, aunque no es la primera vez, ya lo experimentó en «Projector» de 1999 y, puntualmente, en algunos de los últimos discos, lo que ocurre es que en «Moment» lo hace de forma más prolongada. Destacar la intensidad y el paralelismo con Depeche Mode en «Remain In The Unknown», la  thrashera «Ego Deception» o la gótica «Eyes of The World».
En la tercera y última parte, cerrando el disco con las últimas tres canciones, no hay demasiadas novedades. Tenemos un tema como «Failstate«, fácilmente reconocible por ese sonido clásico de los suecos, y directo, de esos para saltar al ritmo del estribillo. «Empires Lost To Time» se presenta con guitarras melódicas, cambios de ritmos, y resulta que tiene cierto gancho. Y, finalmente, «In Truth Divided», es lo más cercano a una balada que ha estado DT desde «Auctioned» del álbum «Projector», ésta suena más melancólica y gótica, tiene una mezcla entre Poets of The Fall y Depeche Mode, imaginaros una canción como «Enjoy The Silence» pero mucho más lenta y oscura.
Por lo tanto, me temo que este disco va a generar multitud de opiniones y críticas. Tal y como yo lo veo, «Moment» es un trabajo, brillantemente, bien producido y elaborado, además considero que es una evolución de un gran disco como es «Projector» y una continuación del anterior, «Atoma». Los que prefieran unos Dark Tranquillity más melódicos, como es mi caso, lo añadiremos al carro de favoritos, y a los que les guste esa vertiente oscura y gótica más encaminada a grupos como Katatonia o Paradise Lost también quedarán encantados. 
---
Texto: Juanma Cisneros
English:
Little presentation needs this band from Gothenburg, Sweden, with thirty years of experience and eleven studio albums. Dark Tranquility are especially known for being the pioneers of Scandinavian melodic death metal, along with their compatriots In Flames.
After the last two albums, «Construct» from 2013 and «Atoma» from 2016, two significant events happened for the band and also for many fans. The first, the departure of bassist and guitarist Martin Henriksson, one of the main composers and original member, and the second and more recent, as well as surprising, the abandonment of guitarist Niklas Sundin, also composer and original member, in fact the cover of the new album is his doing, and apparently the two left in a friendly way.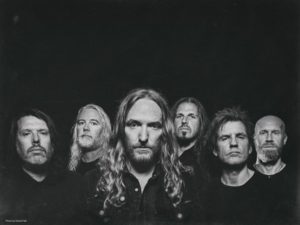 So for this new stage and premiere of the album entitled «Moment», which will be released on November 20 through, again, Century Media Records, they present a new guitar tandem. The brand new Christopher Amott (ex-Arch Enemy, ex-Armageddon), and brother of Michael Amott (Arch Enemy, Spiritual Beggars) and the versatile Johan Reinholdz (Andromeda, Nonexist, Skyfire).
All material has been recorded at Nacksving Studios and Rogue Music, Gothenburg, and produced by the group's keyboardist Martin Brändström, mixing and mastering by Jens Bogren of Fascination Street Studios, Örebro, Sweden.
I can come to suspect a certain uncertainty or concern of DT's followers, including myself, in the face of such events and how they will be reflected in «Moment» and in the future of the band, but, from my point of view, I think that this work is going to positively surprise. Of course, do not expect an album like «The Gallery» or «Damage Done», to name some of the most valued of his career.
After listening and analyzing, repeatedly, «Moment» has precisely that, interesting and also diverse moments, and I am going to dissect them in three parts. The first one supports everything you can expect from DT, and you can see in the first three songs, atmospheric keyboards and synthesizers, aggressive and melodic riffs, and Mikael Stanne roaring as usual. What differences or novelties I find, because clearly the sound of the guitars, the personal stamp of two guitarists like Reinholdz and Amott is evident, in the fast «Identical To None» it reminds me of Arch Enemy, maintaining that classic DT sound but still being more melodic and rhythmic. The first song, «Phantom Days», is a clear example, a great song with an incredible duel of guitars and keyboards that hooks you.
After the promising start comes «The Dark Unbroken», track number four and the one that marks the beginning of a second part with some changes and interesting nuances.  All those atmospheres from the beginning are now covered with darkness, melancholy, mid-times, electronic, environmental and gothic passages, where Mikael Stanne does an immeasurable vocal work, in addition to continuing to sing with more fury and rage if possible, he also surprises with clean voices and melodic, although it is not the first time, he has already experienced it in 1999's «Projector» and, occasionally, in some of the last albums, what happens is that in «Moment» he does it for a longer time.  Highlight the intensity and parallelism with Depeche Mode in «Remain In The Unknown», the thrasher «Ego Deception» or the gothic «Eyes of The World».
In the third and last part, closing the album with the last three songs, there is not much news. We have a song like «Failstate», easily recognizable by that classic Swedish sound, and direct, the kind to jump to the rhythm of the chorus. «Empires Lost To Time» is presented with melodic guitars, rhythm changes, and it turns out that it has a certain hook. And finally, «In Truth Divided», is the closest thing to a ballad that DT has been since «Auctioned» from the album «Projector», it sounds more melancholic and gothic, it has a mix between Poets of The Fall and Depeche Mode, imagine a song like «Enjoy The Silence» but much slower and darker.
Therefore, I am afraid that this album will generate a multitude of opinions and criticisms. As I see it, «Moment» is a work, brilliantly, well produced and elaborated, and I also consider that it is an evolution of a great album like «Projector» and a continuation of the previous one, «Atoma».  Those who prefer a more melodic Dark Tranquillity, as is my case, we will add it to the favorites cart, and those who like that dark and gothic side more aimed at groups like Katatonia or Paradise Lost will also be delighted.
---
Text: Juanma Cisneros
MOMENT:
Phantom Days (3:59)

Transient (4:11)

Identical To None (3:41)

The Dark Unbroken (4:54)

Remain In The Unknown (4:40)

Standstill (4:11)

Ego Deception (4:21)

A Drawn Out Exit (4:01)

Eyes of The World (3:50)

Failstate (3:20)

Empires Lost To Time (4:10)

In Truth Divided (4:40)
DARK TRANQUILLITY: 
Mikael Stanne – Cantante
Martin Brändström – Electrónica
Anders Jivarp – Batería
Johan Reinholdz – Guitarras
Christopher Amott – Guitarras  
Anders Iwers – Bajo