[English below]
Buenas, hoy nos toca hablar de la banda Flowers Kings, y aunque no hace ni un año que publicaron su trabajo "Waiting for Miracles", esta maldita pandemia les ha hecho cambiar de planes y al no haber ninguna gira para 2020 adelantan planes y ponen a punto el disco que tenían previsto para 2021. Y es que por lo que parece la banda de Roine Stolt llevan mal los parones y adaptándose a las nuevas restricciones (este álbum ha sido grabado a través de la red con sus componentes en E.E.U.U., Suecia, Austria e Italia) ponen a punto su álbum "Islands". Para los que no conozcan esta banda podemos decir que se trata de una banda de pop-rock progresivo psicodélica experimental (casi naaa, pero es que esta banda les da a todos los palos).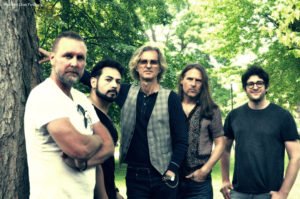 Desgranado el álbum "Insland" nos encontramos ante un doble Cds con 21 temas y 92 minutos de duración, el disco se presenta bajo el auspicio de InsideOut Music y fue mezclado y masterizado por Stolt en Cosmic Lodge Studio en Suecia, la portada esta a cargo de Roger Dean (Yes, Asia).
 En la escucha del primer CD encuentro un disco que me recuerda a grupos como Iron Butterfly, Paul McCarney en su época setentera o incluso Jean-Michel Jarre, y es que este primer CD desde mi opinión tiene temas muy buenos como "Black Swan", "Broken" o la instrumental "Man In A Two Peace Suit" que tiene un solo que me recuerda mucho al maestro Vay en su época experimental. Sin embargo hay temas que pasan sin pena ni gloria como "Racing With Blinders" o "From The Ground", o  temas como "Goodbye Outrage"que ejercen de interludio, "Journeyman" que es un tema progresivo que arranca bien pero se queda corto.
Todo esto con una calidad instrumental excelente, jugando mucho con sonidos ambientales y poperos  que nos hace transportarnos a lugares de relax.
En el 2º CD vamos encontrar un repertorio más rockero recordándome inevitablemente a Pink Floid o King  Crimson, donde nos encontramos temas muy buenos como "All I Need is Love", "A New Species", o las instrumentales "Looking For Answers" "Islands" que son una gozada de temas, por el contrario también nos encontramos temas como"Fool´s Gold" o Nothern Lights" que no me llegan a decir nada. En este segundo CD la presencia de las guitarras es mas palpable, incluso dando en algún tema unas pinceladas de Jazz. 
Mi juicio como pobre mortal es que si este disco se hubiera comprimido en uno, tendríamos un discazo brutal, no obstante a los fans incondicionales de este grupo disfrutarán como enanos y creo que no llegara a decepcionarlos porque aunque no es perfecto, es un buen sucesor de su anterior trabajo.
---
Texto: Aaabbbaaahhhttt
English:
Hello, today we have to talk about the Flowers Kings band, and although not a year ago they published their work «Waiting for Miracles», this damn pandemic has made them change their plans and since there is no tour for 2020 they advance plans and put The album that they had planned for 2021 is about to be ready. And it seems that Roine Stolt's band is taking the breaks badly and adapting to the new restrictions (this album has been recorded through the network with its components in the US, Sweden , Austria and Italy) are preparing their album "Islands". For those who do not know this band we can say that it is an experimental psychedelic progressive pop-rock band (almost naaa, but it is that this band hits all the sticks).
After the album "Insland" has been shelled, we are faced with a double CD with 21 songs and 92 minutes in length. The album is presented under the auspices of InsideOut Music and was mixed and mastered by Stolt at Cosmic Lodge Studio in Sweden, the cover is in charge by Roger Dean (Yes, Asia).
When listening to the first CD, I find an album that reminds me of groups like Iron Butterfly, Paul McCarney in their seventies or even Jean-Michel Jarre, and this first CD from my opinion has very good songs like "Black Swan", "Broken" or the instrumental "Man In A Two Peace Suit" that has a solo that reminds me a lot of maestro Vay in his experimental days. However, there are songs that pass without pain or glory like "Racing With Blinders" or "From The Ground", or songs like "Goodbye Outrage" that act as an interlude, "Journeyman" which is a progressive song that starts off well but falls short .
All this with an excellent instrumental quality, playing a lot with ambient and pop sounds that makes us transport ourselves to places of relaxation. 
In the 2nd CD we will find a more rock repertoire inevitably reminding me of Pink Floid or King Crimson, where we find very good songs like "All I Need is Love", "A New Species", or the instrumentals "Looking For Answers" ​​"Islands «Which are a joy of songs, on the contrary we also find songs like» Fool's Gold «or Nothern Lights» that do not say anything to me. On this second CD, the presence of the guitars is more palpable, even giving some jazz touches to some song.
My judgment as a poor mortal is that if this album had been compressed into one, we would have a brutal album, however the unconditional fans of this group will enjoy as dwarfs and I think it will not disappoint them because although it is not perfect, it is a good successor from your previous job.
---
Text: Aaabbbaaahhhttt
Listado / Tracklist  "Islands":
CD1:
Racing With Blinders On 4:24

From The Ground 4:02

Black Swan 5:53

Morning News 4:01

Broken 6:38

Goodbye Outrage 2:19

Journeyman 1:43

Tangerine 3:51

Solaris 9:10

Heart Of The Valley 4:18

Man In A Two Piece Suit 3:21
CD 2:
All I Need Is Love 5:48

A New Species 5:45

Northern Lights 5:43

Hidden Angles 0:50

Serpentine 3:52

Looking For Answers 4:30

Telescope 4:41

Fool's Gold

Between Hope and Fear 4:29

Islands 4:15