[ English below]
Hay momentos en los que a los grupos les llega la hora de dar «el paso» para dejar de ser una eterna promesa y convertirse en una realidad firme y potente, esto es lo que parece haber sucedido con los británicos Skarlett Riot quienes tras 10 años de carrera regresan con su tercer disco de estudio para demostrar por qué son hoy por hoy una de las mejores bandas de su país y que su momento ha llegado.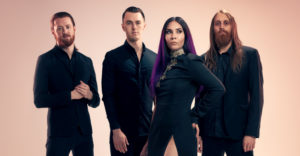 El disco cuenta con 11 cortes y en ellos nos vamos a encontrar por un lado que su combinación de metalcore melódico, toques alternativos y algo de post-hardcore, sigue sonando como un cañón y que tienen en la figura de Skarlett, su carismática vocalista a una de las mejores dentro de su estilo junto a Ash Costello de New Years Day, Mixi de Stitched Up Heart o Skye Sweetnam de Sumo Cyco entre otras, y por otro que si bien no hay grandes diferencias entre este nuevo disco y los anteriores, sí que se puede intuir en varios cortes la intención de seguir evolucionando como banda siempre fiel a su estilo y sin perder el rumbo en las canciones del disco.
Así tenemos «Breaking The Habbit», un cañonazo que abre el disco y que recuerda un poquito a lo ofrecido en sus dos trabajos previos pero con un toque más actual si cabe, si os gusta la primera época de Picture Me Broken y bandas como Atreyu, aquí se juntan lo mejor de ambos mundos y ya podemos intuir por donde irán los tiros del disco.
Aunque para ser justos mucho mejor está «Gravity», un bombazo de metalcore melódico cuya base recuerda a la mejor época de bandas como Bullet For My Valentine o Still Remains y el doble juego de voces entre Skarlett y Dan (el guitarrista y screamer del grupo) es simplemente espectacular.
Además la letra lanza un mensaje positivo para aquellos que se han sentido perdidos y solos en algún momento de su vida y sobre todo en estos tiempos tan complicados de pandemia y ellos en el estribillo explotan diciendo «You're Not Alone» unas palabras que a veces nos es necesario escuchar para seguir adelante y ellos lo hacen en este temazo del disco.
No todo serán guitarras endiabladas y distorsión, también hay espacio para que el oyente se deleite con el amplio y espectacular registro vocal de Skarlett y esto se pone de manifiesto en temas como «Black Cloud», un corte muy intenso en donde la cantante nos regala diversos tonos vocales, desde semi agudos muy cuidados hasta melodías que podrían encajar en bandas como Evanescence y Flyleaf y a nadie le sorprendería.
Además de por los giros de Skarlett, como curiosidad decir que en ciertos momentos de la canción la base rítmica recuerda bastante a «Aerials», aquel himno que System Of A Down incluyeron dentro de su obra cumbre «Toxicity» allá por 2001, un detalle cuanto menos curioso y que llamó mi atención desde el primer momento en que escuche este tema.
Hay temas más «comunes» dentro del disco como son los casos de «Underwater» (eso sí con el estribillo escrito en oro y que es uno de los momentazos del disco) y «Cut The Pieces», mientras que en otros vemos la mejor cara de la banda como es el caso del single «Stronger», de nuevo un bombazo y que nos sorprendió cuando la sacaron como single ya que pudimos comprobar como pese a los 4 años sin sacar material nuevo, la inspiración de Skarlett Riot se mantiene intacta y notable.
Por otro lado en «Into Pieces», vemos el lado más intimista de la banda y como Skarlett es capaz de dominar tonos mucho más delicados y sin tanta distorsión, este es un medio tiempo precioso que si lo manejan bien puede llegar a ser igual de importante que fue «My Immortal» para Evanescence o «Picture Perfect» para Escape The Fate y llevarles a otro tipo de público que quizás aún no se ha acercado a su atractiva propuesta.
Luego en temas como «Not Alone» y «Falling», podemos ver los dos lados musicales de la banda ya que la primera es otro cañonazo muy potente en la onda de bandas como The Raven Age, la segunda es una canción algo más lenta que algunas otras del disco sin llegar a ser una balada ni nada de eso sino más bien algo parecido a lo que Trivium hicieron en «Dying In Your Arms», es decir un tema que va in crescendo y que explota en el estribillo haciendo las delicias del oyente.
Para el final se dejan uno de los mejores cortes (quien sabe si el mejor…) del disco como es «Human», que curiosamente parece una hermanita pequeña de «Warrior», hit extraído de su anterior disco «Regenerate» de 2017 y que cierra el disco de forma notable y con un estribillo escrito en oro y que pinta a ser uno de los temas de metal alternativo más destacados del año y si no al tiempo.
Con tan sólo 3 discos, Skarlett Riot empiezan a demostrar que la etiqueta de eterna promesa se les está empezando a quedar bastante pequeña y que es hora que se les empiece a dar el reconocimiento que merecen y que mejor forma de hacerlo que con este notable «Invicta», el cual es un regreso por la puerta grande y quien sabe si el mejor trabajo de la banda hasta la fecha, Si no les conocéis aún os recomiendo que empecéis por aquí y no os perdáis uno de los discos del 2021 y a una banda que pinta a ser de las más destacadas en un futuro que está llamando a su puerta a gritos y se presenta brillante para ellos.
Texto: Lucas Capeluto
---
English: 
There are moments when the time for groups to take «the step» to stop being an eternal promise and become a firm and powerful reality, this is what seems to have happened with the British Skarlett Riot who after 10 years Careers return with their third studio album to show why they are today one of the best bands in their country and that their time has come.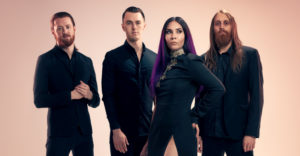 The album has 11 cuts and in them we are going to find on the one hand that its combination of melodic metalcore, alternative touches and some post-hardcore, continues to sound like a cannon and that they have in the figure of Skarlett, their charismatic vocalist a one of the best in its style along with Ash Costello from New Years Day, Mixi from Stitched Up Heart or Skye Sweetnam from Sumo Cyco among others, and on the other hand that although there are no major differences between this new album and the previous ones, yes that you can sense in several tracks the intention to continue evolving as a band always faithful to its style and without losing its way in the songs on the album.
So we have «Breaking The Habbit», a cannon that opens the album and reminds a little of what was offered in his two previous albums but with a more current touch if possible, if you like the early days of Picture Me Broken and bands like Atreyu , here the best of both worlds come together and we can already intuit where the shots of the album will go.
Although to be fair much better is «Gravity», a melodic metalcore bombshell whose base is reminiscent of the best era of bands like Bullet For My Valentine or Still Remains and the double set of voices between Skarlett and Dan (the group's guitarist and screamer ) is simply spectacular.
In addition, the lyrics launch a positive message for those who have felt lost and alone at some point in their lives and especially in these complicated times of pandemic and they explode in the chorus saying «You're Not Alone» a few words that Sometimes it is necessary for us to listen to move on and they do it in this great song on the album.
Not everything will be devilish guitars and distortion, there is also room for the listener to delight in the wide and spectacular vocal range of Skarlett and this is evident in songs like «Black Cloud», a very intense cut where the singer gives us various vocal tones, from well-cared semi-highs to melodies that could fit bands like Evanescence and Flyleaf and no one would be surprised.
In addition to Skarlett's twists, as a curiosity to say that at certain moments of the song the rhythmic base is quite reminiscent of «Aerials», that hymn that System Of A Down included in their masterpiece «Toxicity» back in 2001, a detail the less curious and that caught my attention from the first moment I heard this song.
There are more «common» themes on the album such as «Underwater» (that yes with the chorus written in gold and which is one of the moments of the album) and «Cut The Pieces», while in others we see the best face of the band as in the case of the single «Stronger», again a bombshell and that surprised us when they released it as a single since we could see how despite 4 years without releasing new material, the inspiration of Skarlett Riot remains intact and remarkable.
On the other hand in «Into Pieces», we see the more intimate side of the band and as Skarlett is capable of mastering much more delicate tones and without so much distortion, this is a precious halftime that if handled well can be just as good. important that it was «My Immortal» for Evanescence or «Picture Perfect» for Escape The Fate and take them to another type of public that perhaps has not yet approached his attractive proposal.
Then in songs like «Not Alone» and «Falling», we can see the two musical sides of the band since the first is another very powerful cannon shot in the vein of bands like The Raven Age, the second is a song somewhat slower than some others on the album without becoming a ballad or anything like that but rather something similar to what Trivium did in «Dying In Your Arms», that is to say, a song that goes in crescendo and that explodes in the chorus, delighting the listener.
For the end they leave one of the best cuts (who knows if the best …) of the album is «Human», which curiously looks like a little sister from «Warrior», a hit taken from their previous album «Regenerate» of 2017 and that closes the album in a remarkable way and with a chorus written in gold and that looks to be one of the most outstanding alternative metal songs of the year and if not time.
With only 3 albums, Skarlett Riot begin to show that the label of eternal promise is starting to get quite small and that it is time that they begin to give them the recognition they deserve and what better way to do it than with this remarkable » Invicta «, which is a return through the big door and who knows if the best work of the band to date, If you do not know them yet, I recommend that you start here and do not miss one of the albums of 2021 and a band that looks to be one of the most prominent in a future that is knocking at their door with a shout and presents itself brilliant to them.
Text: Lucas Capeluto