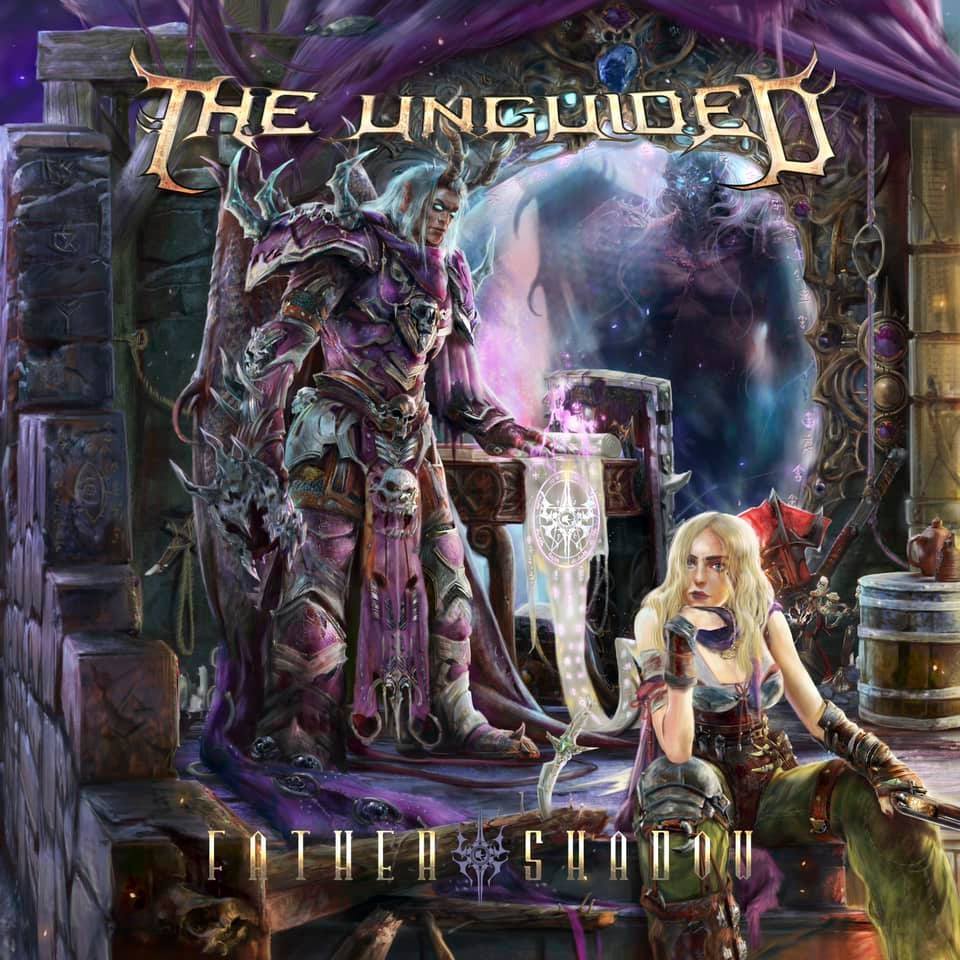 [English Below]
El grupo sueco de death metal melódico The Unguided ha lanzado su quinto álbum de estudio Father Shadow bajo el sello de Napalm Records.
Este disco cuenta con 11 canciones originales del grupo, además de contar con tres versiones de Sonic Syndicate, concretamente las de Jack of Diamonds, Denied y Jailbreak en su versión Deluxe y digital.
El disco empezó a crearse a finales del 2018, centrándose en encontrar la nueva identidad del gurpo y del crecimiento del mismo. Además, esto sirve para terminar con algunos temas que quedaron en el aire tras el disco Fragile Inmortality.
Para el grupo este es un nuevo capítulo debido a la marcha de la formación de Henric Liljesand, el que era bajista del grupo, aunque este no se ha ido sin haber dejado un granito de él al haber dejado unas líneas de bajo compuestas para este nuevo trabajo de estudio. Este nuevo rumbo lo estrenaron con el single Crown Prince Syndrome, un tema con la garra que siempre ha caracterizado al grupo junto a los samplers electrónicos que siempre les han acompañado.
Su comienzo con Childhood's End ya va dando pistas sobre ese cañón que es el disco al completo con esos sonidos tan rápidos y duros. Tras este le sigue Never Yield, el que fue el segundo adelanto que mostraron mediante un video-lyric, en el que siguen mostrando que tienen mucha fuerza.
Para los que son amantes de este género, este álbum pueden estar contentos, ya que es un disco en el que los riffs de Jonathan y Roger son muy pesados, las baterías de Richard Schill van endiabladas y el contraste de voces entre el gutural de Richard y la melódica de Jonathan sigue creando una atmósfera ideal para un momento muy movido, ya sea con singles como War of Oceans o Fate's Hand.
Por el final del disco encontramos los dos singles que fueron lanzados previamente a la salida de este disco, Gaia y Seth, que fueron muy bien aceptados por los fans del grupo. Además, para los que disfruten del disco en plataformas digitales o que hayan podido hacerse con la edición Deluxe y sean fans de Sonic Syndicate podrán tener algo de nostalgia al escuchar las tres versiones ya mencionadas al principio. Lo único que se puede resaltar es el obvio cambio de las voces melódicas que tenían en su día con Roland Johansson por las de Jonathan, pero es una vuelta a los primeros años del 2000.
Siendo honestos, la marcha de Henric levantó mucho revuelo y generó mucho miedo entre los fans del gurpo, pero ha quedado más que patente que el grupo va a seguir dando pasos al frente y que este disco es cañero, que se hace muy corto de lo que se disfruta y que dan ganas de escucharlo más de una vez.
The swedish melodic-death metal band The Unguided released their fifth studio album Father Shadow via Napalm Records.
This album has 11 new songs with three covers of Sonic Syndicate, which are Jack of Diamonds, Denied and Jailbreak, included in the digital and deluxe pack.
The album began to be created in 2018, focused to find the band's new identity and also their growth. It is also made to finish with some things that were unfinished in their Fragile Inmortality album.
This is a new chapter due to Henric Liljesand, former bass player who decided to leave the band, but who also wrote some bass lines for this album. This debut of this new moment was with the single Crown Prince Syndrome, a song with that heavy sound with those electronic samplers that always made their sound.
The beginning with Childhood's End gives some clues about how brutal this album is going to be with thouse heavy and fast sounds. This one is followed by Never Yield, which was the second one released with a lyric-video, with that strenght they want to show.
People whove this kind of music would like this album because of the heavy guitar riffs of Jonathan and Roger, the devilish drum of Richar Schill and the contrast of Jonathan and Richard's voices that keeps creating an atmosphere to make a mosh with songs like War of Oceans and Fate's Hand.
In the end we can find two songs released before the album, Gaia and Seth, very well accepted for their fans. Also, people who listen this album in digital platforms or getting the Deluxe edition and being a Sonic Syndicate fan can have some good old memories with those three covers. The only thing that can be remarable is the difference between Roland Johansson's voice and Jonathan's voice, but it's like to go back to the 2000.
Being honest, Henric's decission made to much noise and gave some fear to the fans, but it seems that they will keep on and this album is heavy, which can be short because it's really good, enjoyable and to be played more than once.