[English Below]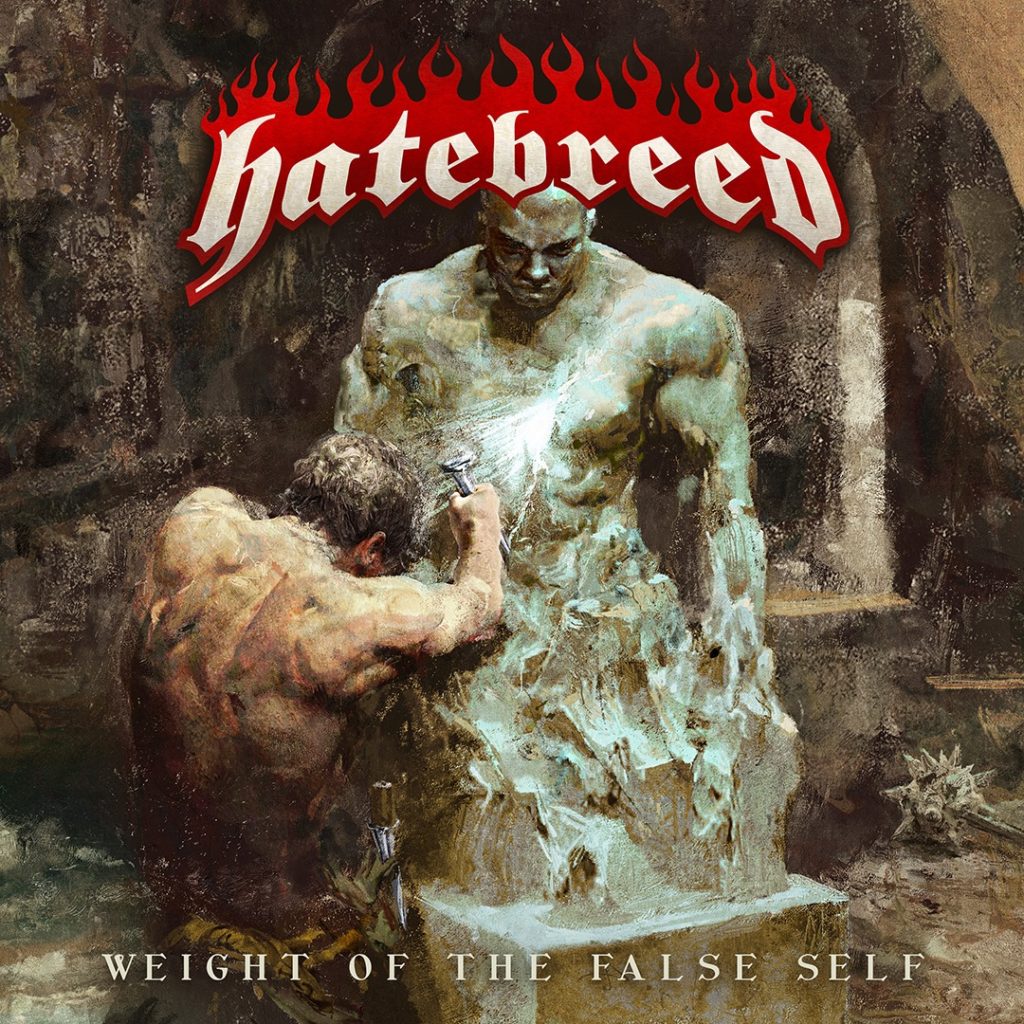 Los fans de Hatebreed pueden estar de enhorabuena porque el quinteto vuelve a la carga con un gran disco titulado Weight of the False Self, de 12 canciones concentradas en poco más de media hora de duración, bajo el sello de Nuclear Blast Records. El disco cuenta con una portada elaborada por Eliran Kantor.
El disco es una mezcla entre los toques clásicos del grupo junto a la denuncia de empatía social. Con el primer corte del tema, Instinctive (Slaugherlust) se habla de cómo el ser humano puede sacar sus garras para pelear cuando está siendo atacado anímicamente, ya sea por sus propias acciones o por terceras personas. Este fue el primer tema de adelanto del disco y ya era una declaración de intenciones de lo que se avecinaba con este álbum. Pero la cosa no se queda ahí (algo que no es de extrañar viniendo de este grupo), ya que A Stroke of Red siguen llevando esa caña a lo largo del disco, hablando este último tema sobre lo peligroso que puede ser el camino de la venganza que puede llevarnos a un camino oscuro del que es muy difícil salir. Encontramos también que hablan de cómo se puede seguir adelante tras la pérdida de algo o alguien, pudiendo suponer este hecho algo positivo como vemos en Cling to Life.
A nivel instrumental, Jamey Jasta no mintió cuando ya avisó en redes sociales que los amantes de los breakdowns iban a disfrutarlo mucho porque venía cargado de ellos, algo que sin duda a más de una persona le va a provocar torticolis; eso si lo sumamos a la caña que siempre trae este quinteto álbum tras álbum, algo que puede verse en temas como Let Them All Rot. Eso sí, no todo va a ser hardcore, ya que hay también elementos más thrasers o más metaleros, pero sin dejar de lado obviamente su propia esencia. El ritmo acelerado y pesado del grupo combinado con la inconfundible de Jamey, con esos coros que suelen acompañarle en algún que otro estribillo son un aviso de lo que ocurrirá cuando lleven este disco al directo (esperemos que más pronto que tarde) porque desde luego lo que no va a faltar es lo que más le gusta ver a los de Connecticut: mucho headbanging, moshpits y la gente sin parar de saltar.
Sin duda la canción que más me ha llegado a sorprender ha sido la que da cierre, Invoking Dominance, un tema que comienza con un riff realmente oscuro más típico de otros géneros de metal extremo, pero que da paso a pura caña que no deja de machacar hasta el final (desde luego este tema es carne de cañón para hacer un wall of death).
Hatebreed lanza un gran octavo álbum, continuando con su estilo de hardcore (aunque otras personas quieran vincularlo con otros géneros) que mezcla con otros elementos a la perfección dejando un disco que no tiene ni un solo tema prescindible. Como decía al principio, los fans van a disfrutarlo de gran manera escuchándolo, esperemos que el poder disfrutarlo en directo pueda ser lo más pronto posible.
English:
Hatebreed fans can be congratulated because the quintet is back in charge with a great album titled Weight of the False Self, with 12 songs concentrated in just over half an hour, under the label of Nuclear Blast Records. The album has a cover by Eliran Kantor.
The album is a mix between the group's classic sounds and the denunciation of social empathy. With the first one, Instinctive (Slaugherlust) talks about how the human being can take out his claws to fight when he is being attacked psychically, either by his own actions or by third parties. This was the first advance of the album and was already a statement of intent of what was coming with this album. But the thing doesn't stop there (something that is not surprising coming from this group), since A Stroke of Red continue to carry that rod throughout the album, talking about how dangerous the road to revenge can be that can lead us to a dark road from which it is very difficult to get out. We also find that they talk about how you can move forward after the loss of something or someone, and can assume this fact something positive as we see in Cling to Life.
On an instrumental level, Jamey Jasta didn't lie when he already warned on social networks that lovers of breakdowns were going to enjoy it a lot because it was loaded with them, something that undoubtedly more than one person will provoke some neck problems; that if we add it to the rod that always brings this band album after album, something that can be seen in songs like Let Them All Rot. Of course, not everything is going to be hardcore, as there are also more thrasers or more metal elements, but without leaving aside obviously their own essence. The fast and heavy rhythm of the band combined with the unmistakable Jamey, with those choirs that usually accompany him in some other chorus are a warning of what will happen when they take this album live (hopefully sooner rather than later) 'cause of course what's not going to be missing is what the people in Connecticut like the most: a lot of headbanging, moshpits and people constantly jumping.
Without a doubt the song that most surprised me has been the one that gives closure, Invoking Dominance, a song that begins with a really dark riff more typical of other extreme metal genres, but that gives way to pure cane that does not stop pounding until the end (certainly this theme is cannon fodder to make a wall of death).
Hatebreed releases a great eighth album, continuing with his hardcore style (although other people want to link it with other genres) that mixes with other elements perfectly leaving an album that doesn't have a single expendable song. As I said at the beginning, the fans are going to enjoy it very much listening to it, hopefully enjoying it live can be as soon as possible.