[English below]
Ni tan siquiera un año (11 meses) han tardado Lords of Black en traernos la segunda parte del fabuloso "Alchemy of Souls", de nuevo bajo el sello Frontiers Records y producido, una vez más, por el propio Tony Hernando (ex-Saratoga) y Roland Grapow (guitarrista de Masterplan y ex-Helloween). También repite el colombiano Felipe Machado (Axel Rudi Pell, Blind Guardian, Iron Savior, Rhapsody of Fire, etc.) con el diseño de la portada.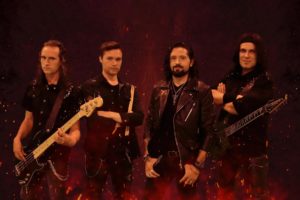 "Alchemy of Souls – Part II" es el quinto disco de esta banda liderada por los incombustibles Tony Hernando y Ronnie Romero (Rainbow, Sunstorm, The Ferrymen), guitarrista y vocalista, respectivamente, aunque creo que no necesitan mucha presentación, y muy bien secundados por Dani Criado (Kaothic) al bajo y Jo Nunez (Dragonland, Firewind, ex-Nightrage) a la batería, convirtiéndose así en uno de los grupos más importantes y mejor valorados, tanto a nivel nacional como internacional.
El disco comienza con "Prelude (Alchimia Confessio 1458 A.D.)", una breve intro, un tanto sinfónica, con unos acordes de guitarra que van in crescendo, algo que viene perfecto para enlazar con "Maker Of Nothingness", continuando con esa misma línea de acordes, atractivos y melódicos, como ya nos tiene acostumbrados Tony Hernando, pero acentuados por una base rítmica potente y sólida. Sorprende que para empezar opten por un medio tiempo, pero entre la voz de Ronnie Romero, que le da ese tono de oscuridad, fuerza, y la intensidad del resto (del solo de guitarra ya ni hablemos) me parece una decisión acertada. 
"What's Become Of Us" tiene uno de esos estribillos que enganchan (mucha culpa de ello la tiene Ronnie Romero) y un sonido algo más familiar, los que siguen a Lords of Black desde sus inicios sabrán a qué me refiero. Tema más heavy, accesible y animado que el anterior, aunque siempre encontraremos ese toque oscuro (en su justa medida, ni más ni menos) que les caracteriza tanto. 
Con "Bound To You" llega mi tema preferido del disco. Conclusión a la que he llegado después de meditarlo mucho, pero es que este en concreto tiene algo que te atrapa, no sé si será por ese inicio misterioso, ese teclado de fondo, esos riffs afilados, esas melodías, esa voz intensa o ese sonido de batería martilleante, pero lo que está claro es que en mi cabeza suena en bucle. ¡Temazo!
Sintetizadores y notas de piano abren "Before That Time Can Come" en lo que parecía la típica balada, pero que no llega a ser del todo cierto, sobre todo cuando entra en acción el belga Jo Nuñez, qué manera de aporrear la batería, y cuando Ronnie Romero va subiendo de tono. Se podría decir que camina entre una semi balada o un medio tiempo de tintes épicos, y es que el piano de fondo aporta sinfonía y queda bastante bien.
"Mind Killer" y "Death Dealer" son los dos siguientes temazos y aún siendo totalmente diferentes en cuanto a ritmos, sí que guardan alguna semejanza en la parte del estribillo y en los solos de guitarra (por momentos me recuerda a la época de Saratoga). El primero de ellos es mucho más oscuro y pesado, donde el bajo (Dani Criado) tiene un protagonismo mayor, y en el segundo predominan los ritmos rápidos, el doble bombo y las melodías de guitarra y teclado. 
"Prayers Turned To Whispers" es otro medio tiempo intenso marca de la casa que me recuerda a uno de los temas anteriores, "Before That Time Can Come", sólo que sin piano de fondo, a cambio de sintetizadores y un ritmo más contundente, la batería tiene una pegada brutal. Por supuesto, Tony Hernando y Ronnie Romero siguen a lo suyo, uno ejecutando solos memorables y el otro cantando cada vez mejor.
El comienzo de "In A Different Light" es absolutamente hipnótico, donde bajo y guitarra en modo semi acústico dan a pié a una potente batería para seguir con un riff de lo más adictivo y penetrante, dejando a Ronnie cantar en un tono más melancólico pero con ese toque oscuro y particular que tiene su voz. Posiblemente, sea uno de los temas más diversos y progresivos de todo el disco. ¡Temazo!
"How Long Do I Have Now" tiene otro de esos riffs potentes, acompañado otra vez por un envolvente sonido de teclado, un instrumento o elemento al que Tony Hernando le saca mucho partido, siendo parte importante dentro de la sesión rítmica, aportando elegantes melodías, y en este caso también detalles sinfónicos, por otra parte y a pesar de algún momento de relax, lo mejor de este tema junto al sencillo, pero virtuoso, solo de guitarra.
"Fated To Be Destroyed" también me parece muy interesante y uno de los temas más heavys (incluso coqueteando con el thrash) que han compuesto Lords of Black en su historia. Me vuelven a sorprender, gratamente, la potencia de la sesión rítmica y lo compacta que suena la batería, la capacidad de Tony Hernando para crear riffs agresivos y melódicos, y como Ronnie Romero modula su voz cuando la canción lo necesita. ¡Espectacular!
"No Hero Is Homeless" me sigue sorprendiendo, también en el buen sentido, entre otras cosas porque sigue coqueteando con el thrash metal, incluso en ocasiones me recuerda a Megadeth (igual que en el tema anterior), aunque hay muchos más matices, como medios tiempos, partes progresivas, blast beats de batería o guitarras virtuosas. Si dentro del heavy metal buscáis un tema completo o variado este sería uno de ellos. 
Y llegamos al final con una versión del tema "Sympathy" de Uriah Heep. Sinceramente, esta canción está hecha para Ronnie Romero, como él encaja perfectamente en Rainbow, pues aquí igual, lo borda de principio a fin. Luego, Lords of Black le consigue dar a esta versión un plus de contundencia y melodía fuera de lo normal. De otro planeta es el inmenso solo de guitarra que se marca Tony Hernando. Te dejará sin palabras.
En definitiva, "Alchemy of Souls – Part II" no es ni mejor ni peor que la primera parte, es simplemente complementaria, lo que sí me parece es un disco completísimo, potente, oscuro, heavy, progresivo, melódico y, dependiendo de cómo se mire, arriesgado, porque abundan los medios tiempos, pero mi sensación general es que estamos ante un discazo de heavy metal al más puro estilo Lords of Black y el que marca una evolución importante. Evolución que no sólo se percibe en Tony Hernando y en sus composiciones, sino en todo el grupo, y en particular en Ronnie Romero, parece que canta igual siempre, pero no es así. Mi consejo es que lo escuchéis con atención. Repito. ¡Discazo!
Texto: Juanma Cisneros
English:
Not even a year (11 months) has Lords of Black taken to bring us the second part of the fabulous "Alchemy of Souls", again under the Frontiers Records label and produced, once again, by Tony Hernando himself (ex-Saratoga ) and Roland Grapow (Masterplan guitarist and ex-Helloween).  The Colombian Felipe Machado (Axel Rudi Pell, Blind Guardian, Iron Savior, Rhapsody of Fire, etc.) also repeats with the cover design.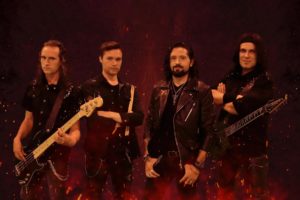 "Alchemy of Souls – Part II" is the fifth album by this band led by the incombustible Tony Hernando and Ronnie Romero (Rainbow, Sunstorm, The Ferrymen), guitarist and vocalist, respectively, although I think they don't need much presentation, and very well seconded by Dani Criado (Kaothic) on bass and Jo Nunez (Dragonland, Firewind, ex-Nightrage) on drums, thus becoming one of the most important and highly rated groups, both nationally and internationally.
The album begins with "Prelude (Alchimia Confessio 1458 AD)", a short intro, somewhat symphonic, with some guitar chords that go in crescendo, something that is perfect to link with "Maker Of Nothingness", continuing with that same line. chords, attractive and melodic, as Tony Hernando is accustomed to us, but accentuated by a powerful and solid rhythmic base.  It is surprising that they opt for a half time to begin with, but between Ronnie Romero's voice, which gives it that tone of darkness, strength, and the intensity of the rest (of the guitar solo now let's not even talk) it seems like a wise decision.
"What's Become Of Us" has one of those hook choruses (Ronnie Romero has a lot to blame for it) and a somewhat more familiar sound, those who have followed Lords of Black since its inception will know what I mean. Heavier, more accessible and lively song than the previous one, although we will always find that dark touch (in its proper measure, neither more nor less) that characterizes them so much.
With "Bound To You" comes my favorite song on the album. Conclusion I've come to after thinking about it a lot, but this one in particular has something that grabs you, I don't know if it will be because of that mysterious beginning, that background keyboard, those sharp riffs, those melodies, that intense voice or that sound. hammering drums, but what is clear is that in my head it sounds in a loop. Great song!
Synthesizers and piano notes open "Before That Time Can Come" in what seemed like a typical ballad, but that is not entirely true, especially when the Belgian Jo Nunez comes into action, what a way to beat the drums, and when Ronnie Romero is rising in tone. It could be said that it walks between a semi ballad or a halftime of epic overtones, and the piano in the background provides symphony and it looks very good.
"Mind Killer" and "Death Dealer" are the next two songs and even though they are totally different in terms of rhythms, they do bear some similarity in the chorus part and in the guitar solos (at times it reminds me of the Saratoga era ). The first one is much darker and heavier, where the bass (Dani Criado) has a greater role, and the second one is dominated by fast rhythms, the double kick drum, and guitar and keyboard melodies.
"Prayers Turned To Whispers" is another intense halftime house brand that reminds me of one of the previous songs, "Before That Time Can Come", only without background piano, in exchange for synthesizers and a more forceful rhythm, the drums have a brutal punch. Of course, Tony Hernando and Ronnie Romero go about their business, one performing memorable solos and the other singing better and better.
The beginning of "In A Different Light" is absolutely hypnotic, where bass and guitar in semi acoustic mode give on foot a powerful drummer to continue with a most addictive and penetrating riff, leaving Ronnie to sing in a more melancholic tone but with that dark and particular touch that his voice has.  Possibly one of the most diverse and progressive songs on the entire album.  Great song!
"How Long Do I Have Now" has another one of those powerful riffs, accompanied again by an enveloping keyboard sound, an element that Tony Hernando takes advantage of, being an important part of the rhythmic session, providing elegant melodies, and in this case also symphonic details, on the other hand and despite a moment of relaxation, the best of this song together with the simple, but virtuous, guitar solo.
"Fated To Be Destroyed" I also find it very interesting and one of the heaviest songs (even flirting with thrash) that Lords of Black have composed in their history.  I am again pleasantly surprised by the power of the rhythmic session and how compact the drums sound, Tony Hernando's ability to create aggressive and melodic riffs, and how Ronnie Romero modulates his voice when the song needs it. Spectacular!
"No Hero Is Homeless" continues to surprise me, also in a good way, among other things because it continues to flirt with thrash metal, even sometimes it reminds me of Megadeth (as in the previous song), although there are many more nuances, such as halves, progressive parts, drum blast beats or virtuosic guitars. If you are looking for a complete or varied theme within heavy metal, this would be one of them.
And we come to the end with a cover of the song "Sympathy" by Uriah Heep. Honestly, this song is made for Ronnie Romero, as he fits perfectly in Rainbow, because here the same, he embroiders it from beginning to end. Later, Lords of Black manages to give this version an extra forcefulness and melody out of the ordinary. From another planet is the immense guitar solo by Tony Hernando.  He will leave you speechless.
In short, "Alchemy of Souls – Part II" is neither better nor worse than the first part, it is simply complementary, what I do think is a very complete album, powerful, dark, heavy, progressive, melodic and, depending on how look at it, risky, because halftimes abound, but my general feeling is that we are facing a great heavy metal album in the purest Lords of Black style and the one that marks an important evolution. Evolution is not only perceived in Tony Hernando and in his compositions, but in the whole group, and in particular in Ronnie Romero, it seems that he always sings the same, but it is not like that. My advice is that you listen carefully. I repeat. Great album!
Text: Juanma Cisneros
---
ALCHEMY OF SOULS – PART II:
Prelude (Alchimia Confessio 1458 A.D.) (1:00)

Maker Of Nothingness (5:05)

What's Become Of Us (4:58)

Bound To You (5:20)

Before That Time Can Come (5:37)

Mind Killer (4:17)

Death Dealer (5:13)

Prayers Turned To Whispers (4:51)

In A Different Light (5:32)

How Long Do I Have Now (5:09)

Fated To Be Destroyed (6:18)

No Hero Is Homeless (5:40)

Sympathy (Bonus Track – Uriah Heep Cover) (7:07)
LORDS OF BLACK:
Tony Hernando – Guitars, Keyboards
Ronnie Romero – Vocals
Dani Criado – Bass
Jo Nunez – Drums