[English below]
Lucifer, grupo de Stoner Doom formado por miembros de Entombed, The Hellacopters y The Oath nos traen su cuarto trabajo de mano de Century Media y que se titula "IV", título cuanto menos útil porque nos simplifica seguir la cronología de todos los discos. Nada más ver la portada, se observa ese aire siniestro que desprende el grupo a lo Sabbath y es que la imagen de Johanna en rojo y atada a un crucifijo con mirada desafiante y fondo negro da escalofríos.
Desgranando el disco comienza con "Archangel of Death" donde hace patente su buen hacer en un tema con ritmos bluseros. "Wildhearses" sigue el tono del tema anterior y donde la voz de Johanna resulta especialmente melosa. "Crucifix(I Burn For You)" es un tema de rock setentero total que me recuerda a Alice. "Bring Me Is Head" sigue con la fórmula de rock blusero bastante resultón. "Mausoleum" es un tema que destaca por ese teclado Hammonds que inicia el tema y que le acompaña durante todo el tema, de los mejores. "The Funeral Pyres" funciona como un interludio preciosista a guitarra y piano del tema "Cold as a Tombstone", tema más pesado y que se asemeja más a los discos anteriores, gran tema. "Louise" vuelve a la senda del inicio del disco y me gusta especialmente el el riff guitarrero que tiene el tema. "Nightmare" me encanta el inicio del tema con el piano, guitarras más pesadas pero con unos coros muy "happys". "Orion" sigue la Estela de sus antecesores, muy buen trabajo de guitarra. "Phobos" es un tema cargado de energía y que te pone las pilas para finalizar el disco.
Definitivamente se denota la enorme calidad que atesoran los miembros del grupo, si es verdad que estamos ante un disco menos oscuro que los anteriores y que hace que sea más ameno de escuchar. Para los seguidores de sus anteriores discos le puede resultar un disco que se aleja de ese lado Doom que tenían y se les puede quedar como un disco flojo. A mi personalmente me ha gustado. Un saludo.
Texto: Aaabbbaaattthhh
English
Lucifer, a Stoner Doom group made up of members of Entombed, The Hellacopters and The Oath bring us their fourth work by Century Media and which is titled "IV", a title that is less useful because it makes it easier for us to follow the chronology of all the albums. As soon as you see the cover, you can see that sinister air that the group gives off to the Sabbath and is that the image of Johanna in red and tied to a crucifix with a challenging look and a black background gives chills.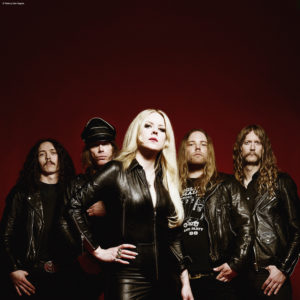 Shelling the album begins with "Archangel of Death" where he makes clear his good work in a song with bluesy rhythms. "Wildhearses" follows the tone of the previous song and where Johanna's voice is especially mellow. "Crucifix (I Burn For You)" is a total 70s rock song that reminds me of Alice. "Bring Me Is Head" continues with the bluesy rock formula that was quite successful. "Mausoleum" is a song that stands out for that Hammonds keyboard that starts the song and that accompanies it throughout the song, one of the best. "The Funeral Pyres" works as a precious guitar and piano interlude to the song "Cold as a Tombstone", a heavier song that more closely resembles previous albums, a great song. "Louise" goes back to the path of the beginning of the album and I especially like the guitar riff that the song has. "Nightmare" I love the beginning of the song with the piano, heavier guitars but with very "happys" choruses. "Orion" follows in the wake of its predecessors, very good guitar work. "Phobos" is a song full of energy and that puts the batteries to finalize the album.
Definitely denotes the enormous quality that the members of the group treasure, if it is true that we are facing a less dark album than the previous ones and that makes it more enjoyable to listen to. For the followers of his previous albums, it may be an album that moves away from that Doom side they had and it can be a loose album. I personally liked it. All the best. 
Text: Aaabbbaaattthhh
---
Listado canciones/Tracklist:
Archangel of Death

Wildhearses

Crucifix(I Burn For You)

Bring Me His Head

Mausoleum

The Funeral Pyres

Cold as a Tombstone

Louise

Nightmare

Orion

Phobos