[English below]
Tribulation es una banda procedente de Värmland (Suecia) de death/gothic metal que el próximo 29 de enero, y a través de Century Media Records, lanzarán su quinto álbum de estudio titulado «Where The Gloom Becomes Sound». Este disco se gestó en apenas dos meses, abril y junio del 2020, en los estudios Ryssviken (Estocolmo) de Linus Björklund, de las mezclas se hizo cargo el productor Tom Dalgety (Ghost, Opeth, Rammstein) y la masterización fue llevada a cabo por Magnus Lindberg (Cult of Luna) en Redmount Studios (Estocolmo). 
El primer tema, «In Remembrance», comienza sigilosamente con sonidos de sintetizadores, guitarras sincopadas y la voz rugiendo de Johannes Andersson a un ritmo parsimonioso y oscuro.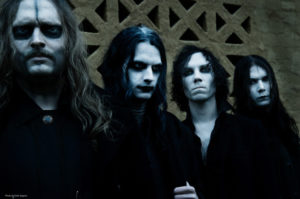 Más ritmo y melodías es lo que tiene «Hour of the Wolf», y es que con tan sólo dos canciones transcurridas son suficientes para intuir que este disco va a ir encaminado hacia terrenos más góticos y más alejados del estilo death que practicaban en sus inicios.
El mismo camino lleva «Leviathans», que me recuerda a los clásicos del rock gótico de los 80, siendo esta más compleja, donde sintetizadores y guitarras se llevan el protagonismo.
El riff inicial de «Dirge of a Dying Soul» promete, y aunque el tema se vuelve lento y atmosférico, y hasta algo progresivo, tiene su atractivo.
«Lethe» es una preciosa pieza instrumental de piano que enlaza con «Daughter of the Djinn», uno de los mejores temas del álbum, rápido, con cambios de ritmos, buenos solos de guitarra, y porque en su conjunto es puro heavy metal.
No hay muchas sorpresas en «Elementals» ni en «Inanna», en esta última quizás encuentro algo más contundente el sonido de la batería pero una vez más las guitarras consiguen que permanezcas inmerso en ese mundo gótico/melódico que ha creado Tribulation.
Mi tema favorito del disco es «Funeral Pyre», porque tiene un ritmo heavy, pegadizo y rápido, sin olvidar alguna parte gótica y más pausada que dejan para el ecuador de la canción.
Cerramos con «The Wilderness», que aunque parezca que no aporta nada nuevo, y requiera de alguna que otra escucha extra, las guitarras te vuelven a conquistar.
Es cierto que puedes encontrar en «Where The Gloom Becomes Sound» varias influencias de grupos como Fields of the Nephilim, Opeth, Paradise Lost o incluso Dark Tranquillity, pero Tribulation va más allá de toda etiqueta logrando un sello de identidad propio y su mejor disco hasta la fecha. 
---
Texto: Juanma Cisneros
English:
Tribulation is a band from Värmland (Sweden) of death / gothic metal that on January 29, and through Century Media Records, will release their fifth studio album entitled «Where The Gloom Becomes Sound». This album was made in just two months, April and June 2020, at Linus Björklund's Ryssviken studios (Stockholm), the mixes were made by producer Tom Dalgety (Ghost, Opeth, Rammstein) and mastering was carried out by Magnus Lindberg (Cult of Luna) at Redmount Studios (Stockholm).
The first track, «In Remembrance», begins quietly with the sounds of synths, syncopated guitars, and Johannes Andersson's roaring voice at a dark, slow rhythm.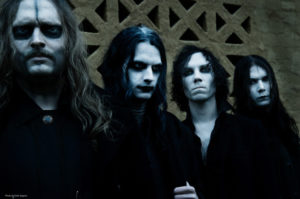 More rhythm and melodies is what «Hour of the Wolf» has, and it is that with only two songs elapsed they are enough to intuit that this album is going to go towards more gothic terrain and further away from the death style that they practiced in their beginnings.
The same path leads «Leviathans», which reminds me of the gothic rock classics of the 80s, this being more complex, where synthesizers and guitars take center stage.
The opening riff of «Dirge of a Dying Soul» promises, and while the track becomes slow and atmospheric, and even somewhat progressive, it has its appeal.
«Lethe» is a beautiful instrumental piano piece that connects with «Daughter of the Djinn», one of the best songs on the album, fast, with changes of rhythms, good guitar solos, and because as a whole it is pure heavy metal.
There are not many surprises in «Elementals» or «Inanna», in the latter perhaps I find the sound of the drums somewhat more forceful but once again the guitars make you stay immersed in that gothic / melodic world that Tribulation has created.
My favorite song on the album is «Funeral Pyre», because it has a heavy, catchy and fast rhythm, without forgetting some gothic and slower part that they leave for the middle of the song.
We close with «The Wilderness», that although it seems that it does not add anything new, and requires some extra listening, guitars will win you back.
It is true that you can find in «Where The Gloom Becomes Sound» several influences from groups like Fields of the Nephilim, Opeth, Paradise Lost or even Dark Tranquility, but Tribulation goes beyond any label, achieving its own identity stamp and its best album till the date.
---
Text: Juanma Cisneros
WHEN THE GLOOM BECOMES SOUND:
In Remembrance (6:50)

Hour of the Wolf (4:31)

Leviathans (4:54)

Dirge of a Dying Soul (5:08)

Lethe (2:12)

Daughter of the Djinn (5:34)

Elementals (3:30)

Inanna (4:37)

Funeral Pyre (4:22)

The Wilderness (6:39)
TRIBULATION: 
Johannes Andersson – bass, vocals
Jonathan Hultén – guitars
Adam Zaars – guitars
Oscar Leander – drums