En Octubre de 2020, los maestros del rock progresivo sueco, THE FLOWER KINGS estrenaron un nuevo doble álbum titulado 'Islands' a través de Inside Out Music, celebrando justo un año desde el estreno del último disco de la banda 'Waiting For Miracles'. Ahora la banda ha creado un vídeo para el tema, 'Black Swan', puedes verlo aquí:
Roine Stolt comenta: "'Black Swan' era una pequeña melodía de piano que compuse en la primavera de 2019 – Pensé que sonaba a una pieza de piano de ballet. Presenté una demo para las sesiones de grabación de Transatlantic pero no cuadraba mucho así que llevé la pieza a las sesiones de The Flower Kings. Y aquí encontró un camino en este disco y se vio acompañada por unas guitarras más secas con un sonido más cercano a The Beatles o a Queen. Al final se convirtió en una de mis canciones favoritas. Hasse hace uno de los mejores trabajos vocales de este disco con este tema."
La duración del álbum es de 92 minutos, cuenta con el trabajo artístico de la leyenda Roger Dean (Yes, Asia, Gentle Giant, Greenslade, Uriah Heep) y sin duda alguna cuenta con la marca de la banda: tanto en cuanto a sonido como melodías por las cuales la banda es bien reconocida. Desde teclados vintage hasta épicos solos de guitarra, desde extraños patrones de batería hasta elementos sinfónicos,THE FLOWER KINGS presenta un álbum dinámico y complejo y a su vez atrevido y precioso.
Puedes ver los vídeos de los singles estrenados aquí:
Morning News: https://www.youtube.com/watch?v=5ROkNn6Ng9o
From The Ground: https://youtu.be/AANDQG4R3d4
Broken: https://www.youtube.com/watch?v=z3vktAkbeRE
'Islands' está ya disponible en edición limitada 3LP & 2CD box set en vinilo de 180 gramos, edición limitada 2CD Digipak y en álbum digital. Puedes hacerte con tu copia haciendo click aquí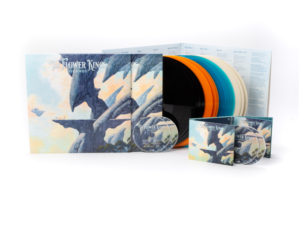 Disco 1 (49:40)
1 – Racing With Blinders On 4:24
2 – From The Ground 4.02
3 – Black Swan 5:53
4 – Morning News 4:01
5 – Broken 6:38
6 – Goodbye Outrage 2:19
7 – Journeyman 1:43
8 – Tangerine 3:51
9 – Solaris 9:10
10 – Heart Of The Valley 4:18
11- Man In A Two Peace Suit 3:21
Disco 2 (43:01)
1 – All I Need Is Love 5:48
2 – A New Species 5:45
3 – Northern Lights 5:43
4 – Hidden Angles 0:50
5 – Serpentine 3:52
6 – Looking For Answers 4:30
7 –Telescope 4:41
8 – Fool's Gold 3:11
9 – Between Hope & Fear 4:29
10 – Islands 4:12
Formación:
Roine Stolt – Cantante, ukelele, guitarras, teclados adicionales
Hasse Fröberg – Cantante, guitarra acústica
Jonas Reingold – Bajo, guitarra acústica
Zach Kamins – Piano, órgano, sintetizadores, orquestaciones
Mirko DeMaio – batería, percusión
Invitado: Rob Townsend – saxofón