Los pioneros del death metal melódico, AT THE GATES han completado hace poco las grabaciones de su nuevo álbum de estudio así que ahora pueden revelar el título de este nuevo trabajo, 'The Nightmare Of Being' que se estrenará el 2 de julio de 2021 a través de Century Media Records.
Mientras que las partes principales de 'The Nightmare Of Being' se grabaron en diferentes estudios de Suecia –  las baterías en Studio Gröndal con Jens Bogren, las guitarras y el bajo con Andy La Rocque en Sonic Train Studio y las voces en Welfare Sounds con Per Stålberg -, el disco se mezcló y masterizó en los Fascination Street Studios (Amon Amarth, Opeth, Kreator, etc.) con Jens Bogren, quién ya trabajó los discos anteriores de AT THE GATES y en su disco de regreso de 2014, 'At War With Reality"'. El concepto visual del disco lo ha desarrollado el artista., Eva Nahon.
El cantante de AT THE GATES Tomas Lindberg ha dicho lo siguiente sobre el concepto del álbum: «El tema general trata sobre el tema del pesimismo, y me he sumergido profundamente en filósofos pesimistas. Tratando de entender esta forma de ver el mundo. No es un álbum negativo, es más una puerta de entrada a nuevas ideas para mí personalmente, probando diferentes perspectivas. Se podría llamar al álbum una introducción al pesimismo como concepto, supongo. Es un álbum muy oscuro, pero no negativo… "
Y musicalmente, mientras 'The Nightmare Of Being' desvela a un «nuevo» AT THE GATES con material más aventurero, fascinante y valiente, Lindberg añade: "Sigue sonando a AT THE GATES, 100 por 100. Pero hay un poco más de todo…"
El listado de temas es el siguiente:
1. Spectre of Extinction
2. The Paradox
3. The Nightmare of Being
4. Garden of Cyrus
5. Touched by the White Hands of Death
6. The Fall into Time
7. Cult of Salvation
8. The Abstract Enthroned
9. Cosmic Pessimism
10. Eternal Winter of Reason
Se revelarán más detalles sobre el nuevo disco el 30 de abril y la preventa empezará ese mismo día.
Foto (de Peter Granberg): AT THE GATES con Andy LaRocque en Sonic Train Studio
El último y aclamado último álbum de estudio de AT THE GATES,  'To Drink From The Night Itself' entró en las listas de ventas de un montón de países:  Alemania# 10, Suecia # 13, Austria # 22, Suiza # 25, Finlandia # 18, Francia # 102 y Estados Unidos (Top Current) # 46.
Puedes ver los singles sacados de 'To Drink From The Night Itself' aquí:
"To Drink From The Night Itself" (video-clip): https://youtu.be/dhru7gT0cIE
"A Stare Bound In Stone" (video-clip): https://youtu.be/oIj6ufFSESU
"Daggers Of Black Haze" (video-clip): https://www.youtube.com/watch?v=dy-FHDx4_Pw
Puedes hacerte con tu copia de 'To Drink From The Night Itself' aquí:
https://atthegates.lnk.to/ToDrinkFromTheNightItselfPR
AT THE GATES – en directo:
23.-26.06.2021 Nummijärvi (Finlandia) – Nummirock Metal Festival
07.-10.07.2021 Ballenstadt (Alemania) – Rock Harz Festival
15.-17.07.2021 Gävle (Suecia) – Gefle Metal Festival
15.-18.07.2021 Anyksciai (Lituania) – Devilstone Festival
25.-31.07.2021 Tolmin (Eslovenia) – MetalDays
29.-31.07.2021 Wacken (Alemania) – Wacken Open Air
Más fechas por confirmar…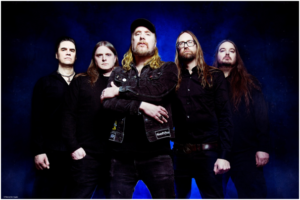 AT THE GATES formación:
(de izquierda a derecha, foto de Ester Segarra)
Adrian Erlandsson – Batería
Jonas Björler – Bajo
Tomas Lindberg Redant – Cantante
Jonas Stålhammar– Guitarrista
Martin Larsson – Guitarrista