[English below]
Con motivo del lanzamiento de «A Virtual World» su nuevo y explosivo trabajo, me reuní con Erica Ohlsson, vocalista de Metalite para que me cuente todo sobre este disco y alguna curiosidad más. 
Algoderock: Primero que nada, buenas tardes Erica, quería saber cómo estás ahora y también quiero felicitarte! este nuevo álbum es fantástico y uno de los mejores discos de 2021 con diferencia.
Erica: ¡Muchas gracias! ¡Me alegro de que te guste!
Estoy bien. La primavera llegará pronto aquí en Suecia y estoy deseando que llegue un clima más cálido y el verano. Por supuesto que es triste no poder salir y jugar, pero esperemos que podamos hacerlo pronto.
Algoderock: ¿Cómo fue el proceso de escritura de «A Virtual World» y cuánto tiempo tardaste en grabarlo?
Erica: Edwin es quien escribe las letras, las melodías y la música, así que cuando entro en el proceso, ya está bastante terminado. Verificamos la clave para que se ajuste a mí y a mi voz y luego comenzamos el proceso de grabación. Tardamos unos 4 meses.
Algoderock: Ya han pasado casi tres años de «Biomechanicals», ¿cómo te sientes con ese disco mirando hacia atrás?, ¿estás completamente contenta con él?
Erica: Lanzamos «Biomechanicals» en 2019 y estoy muy feliz con ese álbum. Ese es mi primer álbum con Metelite, así que, por supuesto, el álbum es muy especial para mí. Creo que fue bonito hacer un disco que se diferenciara del primero, pero que aún tiene el "Metalitesound". El sonido es un poco más oscuro y misterioso que «Heroes In Time». Como eso 🙂
Algoderock: Hablemos un poco de ti, ¿Quiénes son tus mayores influencias como cantante?, ¿y tu banda favorita de todos los tiempos?
Erica: Siempre he escuchado mucha música y géneros diferentes. Así que nunca he escuchado a una banda o artista especial. Creo que hay mucha música y artistas geniales en los que puedes inspirarte.
¡Foo Fighters es una banda que realmente amo! Y también he escuchado mucho a Halestorm. Y tengo que decir que Lady Gaga es una gran inspiración, creo que es una de las artistas más geniales de la historia.
Algoderock: La portada del álbum es increíble, ¿a quién se le ocurrió la idea ?
Erica: Fue idea de Edwin y la obra de arte está hecha por Jan Yrlund. Está inspirado en una película de Spielberg, «Ready Player One», donde viven en esta realidad virtual. Y queríamos construir un puente desde Biomechanicals donde la portada era yo como un robot para este guerrero / luchador en «A Virtual World».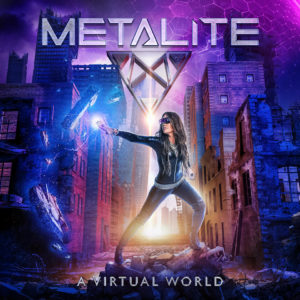 Algoderock: Personalmente creo que eres una de las mejores vocalistas europeas de esta década junto a Elize Ryd, Maja Shining Of Forever Still o Margarita de Edge Of Paradise, ¿crees que las mujeres como tú y esas chicas que menciono están abriendo nuevos caminos para las chicas más jóvenes a las que les gusta el rock o el metal y quieren estar en una banda como las vuestras?
Erica: ¡Oh, muchas gracias!
Si yo realmente lo hago. Es una oportunidad maravillosa para mostrarles a las niñas y mujeres que pertenecemos al negocio del Metal y el Rock. Es un mundo dominado por hombres, así que creo que es bueno que más mujeres entren en este negocio. ¡El Metalworld nos necesita! 🙂
Algoderock: Una pregunta delicada: ¿Te gustaría ver a Metalite en el Festival de la Canción de Eurovisión representando a Suecia?
Erica: ¡Habría sido un honor! 🙂
Algoderock: Metalite va a estar de gira por España después del verano, si el Covid19 nos lo permite, ¿qué podemos esperar de esos shows ?, ¿más canciones ?, ¿algún set acústico? y ¿os gustaría firmar el álbum con los fans después del show?
Erica: Sí, de verdad esperamos poder ir a España. No hemos podido tocar debido a la pandemia desde que tuvimos programada nuestra gira con "Biomechanicals", así que anhelamos subir al escenario y encontrarnos con nuestros fans nuevamente. Así que crucemos los dedos.
Les daremos a nuestros fans un espectáculo increíble, mucha energía y amor que puedo asegurar. Una mezcla de canciones de todos nuestros discos, ya que tenemos muchas canciones que no hemos podido tocar en directo.
¡Así que esté ahí!
Siempre queremos encontrarnos con nuestros fans después de nuestros conciertos, así que, por supuesto, nos aseguraremos de hacerlo también en España.
Algoderock: Erica, muchas gracias por tu tiempo y una vez más enhorabuena por este increíble nuevo álbum y espero verte muy pronto, si quieres enviar un mensaje a los fans españoles aquí está tu espacio.
Erica: ¡Muchas gracias por invitarme!
En primer lugar, quiero agradecerles mucho por su amor y apoyo. Y como escribí antes, estamos ansiosos por conocerlos cuando vayamos a España. Asegúrate de estar allí, no te lo querrás perder.
Hasta entonces espero que disfruten de nuestro disco "A Virtual World".
¡Cuídate y nos vemos pronto con suerte!
Entrevista: Lucas Capeluto
---
English:
On the occasion of the launch of «A Virtual World» their new and explosive work, I met with Erica Ohlsson, vocalist of Metalite to tell me all about this album and some other curiosity.
Algoderock: First Of All, good afternoon Erica, I wanted to know how are you right now and I also wanna say congratulations! this new album is fantastic and one of the best records of 2021 by far. 
Erica: Thank you so much! I'm glad you like it!
I'm doing fine. Spring is coming here in Sweden soon and I'm looking forward to warmer weather and the summer. Of course it's sad not to be able to be out and play, but let's hope we can do that soon.
Algoderock: How was the writing process of «A Virtual World» and how long take you to record it? 
Erica: Edwin is the one who writes the lyrics, melodies and music, so when I step into the process that's pretty much done. We check the key so it fits me and my voice and then we start the recording process. It took us about 4 months.
Algoderock: Now it's been almost three years of «Biomechanicals», how do you feel about that record looking back?, You are completly happy with it? 
Erica: We released Biomechanicals in 2019, and I'm very happy with that album. That is my first album with Metelite so of course the album is very special to me. I think it was nice to do an album that differed from the first one, but still has the "Metalitesound". The sound is a little bit darker and mysterious than "Heroes In Time". Like that 🙂
Algoderock: Let's talk about yourself for a bit, Who are your biggest influences as a singer? and your favourite band of all time? 
Erica: I have always listened to a lot of different music and genres. So I have never just listened to one special band or artist. I think it's a lot of great music and artists out there that you can be inspired by.
Foo Fighters is one band I really love! And I have also listened to Halestorm a lot. And I have to say that Lady Gaga is a huge inspiration, I think she is one of the coolest and greatest artists ever.
Algoderock: The Album cover is amazing, Who came up with the idea?, Was yours? 
Erica: It was Edwin's idea and the artwork is done by Jan Yrlund. It's inspired by a Spielbergmovie, "Ready Player One" where they live in this virtual reality. And we wanted to build a bridge from Biomechanicals where the cover was me as a robot to this warrior/fighter in "A Virtual World".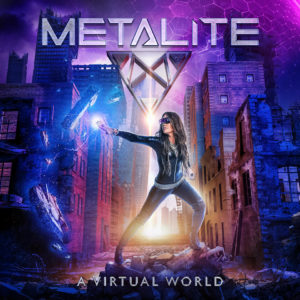 Algoderock: Personally I think you're one of the best european vocalists of this decade along with Elize Ryd, Maja Shining Of Forever Still or Margarita from Edge Of Paradise, do you think that women like you and those girls that I mention are open a new way for younger girls who like rock or metal and want to be in a band like you girls are? 
Erica: Oh, thank you so much!
Yes I really do. It's a wonderful opportunity to show girls and women that we belong in the Metal and Rock business. It's a male dominated world so I think it's a good thing that more women step into this business. The Metalworld needs us! 🙂
Algoderock: A tricky question: Do you see or wanted to Metalite in Eurovision Song Contest representing Sweden? 
Erica: That would have been an honour! 🙂
Algoderock: Metalite are going to be on tour in Spain after the summer, if the Covid19 let us, what can we expect of those shows?, more songs?, some acoustic set? and will you guys sign the album to the fans after the show? 
Erica: Yes, we really hope that we can go to Spain. We haven't been able to play because of the pandemic since we had our release show with "Biomechanicals" so we really longing to get up on stage and meet our fans again. So let's keep our fingers crossed.
We will give our fans an incredible show, a lot of energy and love I can ensure. A mix of songs from all our albums, since we have a lot of songs that we haven't been able to play live.
So be there!
We always want to meet our fans after our shows, so of course we will make sure to do that in Spain also.
Algoderock: Erica, thank you so so much for your time and again congratulations for this awesome new album and hope see you really soon, if you want to send a message to the Spanish fans here's your space. 
Erica: Thank you so much for having me!
First of all I wanna thank you so much for your love and support. And as I wrote earlier, we are really looking forward to meet you guys when we come to Spain. Make sure you'll be there, you don't wanna miss it.
Until then I hope you enjoy our album "A Virtual World".
Take care and we will see you soon hopefully!
Interview: Lucas Capeluto