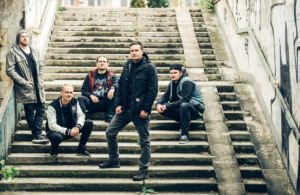 HEAVEN SHALL BURN anuncia la reedición en vinilo de 'Deaf To Our Prayers' con motivo del quince aniversario para el 4 de marzo de 2022. Preventa ya disponible.
Con motivo del 15 aniversario del disco, 'Deaf To Our Prayers', HEAVEN SHALL BURN ha anunciado la salida de una reedición en LP de este clásico del género.
Remasterizado especialmente para este formato por Alexander Dietz, esta obra maestra original de 2006 estará disponible el 4 de marzo de 2022 en LP gatefold con líneas especiales y un nuevo orden en el listado de las canciones.
La banda dice, "Tras el éxito internacional de 'Antigone', por primera vez sentimos algo así como la presión de las expectativas mientras trabajábamos en el nuevo disco. Todos estábamos muy ocupados con nuestros estudios en ese momento. Sin embargo, Alex ya se había integrado muy bien en la banda e inmediatamente asumió un papel importante en la preproducción y grabación.
Aunque las expectativas de los sellos discográficos y los fans eran bastante altas, no sabíamos cuán importante debería ser DTOP en retrospectiva.
Las canciones de DTOP son una parte indispensable en un concierto de HSB y la canción que abre el disco "Counterweight" es un ejemplo de las influencias musicales y la actitud de la banda. ¡Todavía estamos muy orgullosos del disco y esperamos que os guste tanto como a nosotros!"
Puedes hacerte con tu copia en preventa haciendo click aquí: https://HeavenShallBurn.lnk.to/DeafToOurPrayers-ReIssue2022
Haz click aquí para ver un vídeo y volver a los tiempos de cuando 'Deaf To Our Prayers' se creó.
HEAVEN SHALL BURN son:
Marcus Bischoff – cantante
Maik Weichert – guitarras principales
Alexander Dietz – guitarras
Eric Bischoff – bajo
Matthias Voigt – batería
HEAVEN SHALL BURN en directo:
3 Jun 2022 Finland, Tampere – Rockfest
10 Jun 2022 Switzerland, Interlaken – Greenfield
17 Jun 2022 Belgium, Dessel – Graspop
18 Jun 2022 France, Clisson – Hellfest
26 Jun 2022 Germany, Gräfenhainichen – Full Force
3 Jul 2022 Spain, Viveiro – Resurrection
7 Jul 2022 Czech Republic, Vizovice – Masters of Rock
16 Jul 2022 Sweden, Gävle – Gefle Metal Festival
21 Jul 2022 Bulgaria, Plovdiv – Hills of Rock
6 Aug 2022 Romania, Rasnov – Rockstadt Extreme Fest
19 Aug 2022 Germany, Sulingen – Reload Festival
20 Aug 2022 Germany, Dinkelsbühl – Summer Breeze
21 Aug 2022 Netherlands, Eindhoven – Dynamo Metal Fest
12 Jan 2023 United Kingdom, Glasgow – O2 Academy
13 Jan 2023 United Kingdom, Birmingham – O2 Academy
14 Jan 2023 United Kingdom, Manchester – O2 Victoria Manchester
15 Jan 2023 United Kingdom, London – O2 Academy Brixton
17 Jan 2023 Netherlands, Tilburg – O13
18 Jan 2023 Germany, Saarbrücken – Saarlandhalle
20 Jan 2023 Germany, Düsseldorf – Mitsubishi Electric Halle
21 Jan 2023 Germany, Erfurt – Messe
22 Jan 2023 Czech Republic, Prague – Forum Karlín
23 Jan 2023 Poland, Warsaw – Stodola
27 Jan 2023 Sweden, Stockholm – Fållan
28 Jan 2023 Denmark, Copenhagen – Amager Bio
29 Jan 2023 Germany, Leipzig – Haus Auensee
31 Jan 2023 Belgium, Brussels – AB
1 Feb 2023 France, Paris – L'Olympia
3 Feb 2023 Spain, Bilbao – Santana 27
4 Feb 2023 Portugal, Lisbon – Sala Tejo
5 Feb 2023 Spain, Madrid – La Riviera
7 Feb 2023 Spain, Barcelona – Razzmatazz
8 Feb 2023 France, Lyon – Le Transbordeur
10 Feb 2023 Germany, Ludwigsburg – MHP Arena
11 Feb 2023 Germany, Hamburg – Sporthalle
12 Feb 2023 Germany, Berlin – Verti Music Hall
14 Feb 2023 Hungary, Budapest – Barba Negra
15 Feb 2023 Austria, Vienna – Gasometer
17 Feb 2023 Germany, Munich – Zenith
18 Feb 2023 Switzerland, Zurich – Samsung Hall *venue change
19 Feb 2023 Italy, Milano – Alcatraz
20 Feb 2023 Germany, Frankfurt – Jahrhunderthalle