Neal Morse, Mike Portnoy & Randy George volvieron a las andadas con el estreno de las series Cover To Cover y con un nuevo 'Cov3r To Cov3r', el nuevo tercer álbum de la banda. Y ahora por primera vez, se estrena el primer y segundo disco en formato de vinilo. Estos se pondrán a la venta el 23 de abril de 2021 y ambos estarán disponibles en un 2 LP de 180 gramos con el disco entero en CD como extra. La preventa ya está disponible a través de los siguientes links:
Cover to Cover: https://morseportnoygeorge.lnk.to/CovertoCover
Cover 2 Cover: https://morseportnoygeorge.lnk.to/Cover2Cover
Puedes encontrar el listado entero de canciones a continuación.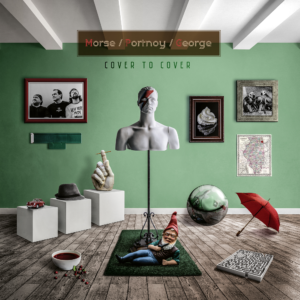 Cover To Cover:
Where The Streets Have No Name (U2)
I'm The Man (Joe Jackson)
What Is Life? (George Harrison)
Badge (Cream)
Maybe I'm Amazed (Paul McCartney)
Day After Day (Badfinger)
Pleasant Valley Sunday (The Monkees)
Tuesday Afternoon (The Moody Blues)
Can't Find My Way Home (Blind Faith)
I'm Free / Sparks (The Who)
Where Do The Children Play (Cat Stevens)
Feelin' Stronger Everyday (Chicago)
Rock N Roll Suicide (David Bowie)
Cover 2 Cover
(What's So Funny About) Peace, Love & Understanding (Elvis Costello)
Lido Shuffle (Boz Scaggs)
Crazy Horses (The Osmonds)
Driven To Tears (The Police)
Come Sail Away (Styx)
Rikki Don't Lose That Number (Steely Dan)
Lemons Never Forget (The Bee Gees)
The Letter (Joe Cocker)
I Saw The Light (Todd Rundgren)
Teacher (Jethro Tull)
Southern Man/Needle And The Damage Done/Cinnamon Girl (Neil Young)
Starless (King Crimson)
---
Morse, Morse, Portnoy y George empezaron a trabajar juntos en el proyecto Neal Morse's Testimony Live en 2003, y desde entonces han compuesto y grabado y montón de álbumes de Neal Morse, incluidos tres para The Neal Morse Band.
 
Los tres amigos han sacado hasta fecha con Morse, Portnoy & George:  dos álbumes Cover to Cover que suponen una colección de sus canciones favoritas. Como Portnoy explica: "Una de las primeras cosas de las que normalmente hablamos Neal, Randy y yo suele ser qué versiones de canciones queremos hacer para los álbumes de Neal en solitario para cuando acabamos la sesión y tenemos tiempo al final de la misma.  Muchas de las canciones son temas de los años 60 y 70 de bandas con las que crecimos." George explica, "Todos compartimos la misma visión musical, así que lanzamos ideas sobre las canciones y ¡grabamos las que más nos gustan!"
 
El trío ha hecho versiones de Paul McCartney, Cream, The Who, Jethro Tull, Steely Dan y muchos más al igual que temas clásicos de bandas como King Crimson y Yes.