[English below]
Avalanche es una banda procedente de Sydney que se estrena con la publicación del EP "Second Hand Band" vía Sliptrick Records, saliendo a la venta el 11 de Mayo. ¿Y qué nos vamos a encontrar?, nada más ver la portada nos podemos hacer una idea pero cuando suenan los primeros acordes, nos llegan las influencias inconfundibles de AC/DC, Airbourne o Rose Tattoo. Y es como dice la propia banda "es como si AC/DC tropezara con Wolfmother yen la caída estuviera sonando Rose Tattoo dando como resultado final Avalanche".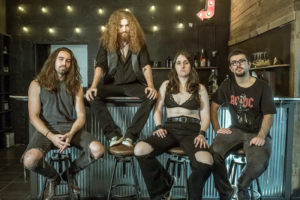 Nada más comenzar el disco, con los primeros riffs de "Killer Instinct" obtenemos el sonido de rock ochentero  con un claro toque más moderno y que me recuerda a Airbourne. "Second Hand Band" son más marcados los riffs con esos toques bluseros y recordando de marera inconfundible a AC/DC más ochentero siguiendo la misma tónica en el tema "Get Back (the Fuckwit City) . En "Spit in my Mouth" volvemos a imprimir a esas guitarras rockeras una marcha más y nos queda un tema la mar de movido en la que no puedes evitar dar saltos. "Down on the Gutter" sigue el ritmo del tema anterior dando pausas en los riffs de guitarra y donde la batería se erige como la responsable de marcar el ritmo, para luego dar una ligera pausa y dar un punteo con toques bluseros acompañados por la impertérrita batería. "Permanent Ink" encontramos un tema con tintes más modernos recordándome a Airbourne y Rose Tattoo.
Definitivamente es un disco donde las influencias comentadas antes son palpables y donde la banda suena muy  bien, sin tapujos ni aditivos, puro rock-blues de escuela australiana que hará las delicias de más de uno. Un saludo.
Texto: Aaabbbaaahhhtttt
---
English:
Avalanche is a band from Sydney that debuts with the release of the EP "Second Hand Band" via Sliptrick Records, going on sale on May 11th. And what are we going to find? As soon as we see the cover we can get an idea but when the first chords sound, we get the unmistakable influences of AC / DC, Airbourne or Rose Tattoo. And it is as the band itself says "it is as if AC / DC trumpeted with Wolfmother and in the fall Rose Tattoo was playing, resulting in Avalanche.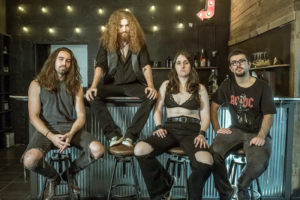 Right after the start of the album, with the first riffs of "Killer Instinct" we get the sound of eighties rock with a clear more modern touch and that reminds me of Airbourne. "Second Hand Band" are more marked riffs with those bluesy touches and unmistakably reminiscent of AC / DC more 80s following the same trend in the song "Get Back (the Fuckwit City). In "Spit in my Mouth" we reprinted those rock guitars one more march and we have a song left over from the sea in which you can't help but jump. "Down on the Gutter" follows the rhythm of the previous song, giving pauses in the guitar riffs and where the drums stand as responsible for setting the rhythm, then take a slight pause and tap with bluesy touches accompanied by the undaunted drums. "Permanent Ink" we found a theme with more modern tints reminding me of Airbourne and Rose Tattoo.
It is definitely an album where the influences mentioned above are palpable and where the band sounds very good, without restrictions or additives, pure rock-blues from the Australian school that will delight more than one. All the best. 
Text: Aaabbbaaahhhtttt
Listado de canciones/tracklist :
Killer Instinct

 

Second Hand Band

Get Back (the Fuckwit City) 

Spit in my Mouth

Down on the Gutter

Permanent Ink