[English below]
Tras sorprender a medio mundo con su primer Ep «Dirty Blonde» y ganarse aún más seguidores con su debut discográfico «Coming In Hot» (Better Noise Music, 2018) y compartir escenario con algunas de las bandas alternativas más importantes el país como Breaking Benjamin, Five Finger Death Punch, Asking Alexandria, Halestorm, Three Days Grace y Bad Wolves, una nueva etapa independiente se abre para la rockera norteamericana Diamante, quien apenas dos años y poco más desde su debut vuelve a por todas con su nuevo y explosivo trabajo «American Dream» para demostrar porque es una de las artistas más interesantes y notables de la actualidad dentro de su estilo.
La mujer del pelo azul ha dado carpetazo a su etapa en Better Noise Music (From Ashes To New, Five Finger Death Punch, Bad Wolves) y desde la independencia lanza 11 nuevos cortes en donde su estilo rockero, alternativo y descarado sigue sonando como un cañón y puede sorprender a más de algún no habitual oyente a su propuesta.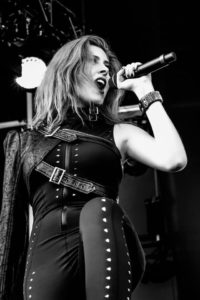 El disco lo abre con el corte que da título al disco «American Dream», un corte que te transporta a la carretera y a ir por ella con el coche y que en sus altavoces suena a todo volumen esta canción mientras recorres cualquier paisaje de la misma.
Es súper pegadiza y recuerda a la primera época de bandas como Halestorm e incluso si Hinder siguiesen haciendo buenas canciones sonarían como lo hace ella en la actualidad, imposible mejorar el comienzo del disco, es un «Hit» escrito en oro.
Lo mismo que ocurre con «Ghost Myself», en donde la sensualidad de la voz se adueña de Diamante y te atrapa desde el minuto uno, no en vano fue recibida con los brazos abiertos por los seguidores de la cantante el mismo día que fue lanzada como single.
Quizás por la similitud sonora entre las dos primeras, «Serves You Right» aporta un toque alternativo ya que comienza más lenta y con la voz de Diamante medio susurrante, salvo por algún momento puntual y con una subida in crescendo maravillosa que explota en el estribillo con un toque más cercano a Breaking Banjamin y que podría ser un tema de Amy Lee y a nadie le sorprendería… Sin duda un gran acierto haber incluido esta pieza en el disco y seguro hará las delicias de quién la escuche sea o no seguidor de Diamante.
Cuando parece que el disco sigue, llega «Obvious» y por favor si hasta que empieza a cantar, no parece un tema de Three Days Grace ¡pues poco le falta! , impresionante el tono vocal que alcanza ella en esta canción, con esos semi agudos y esos coros dignos de la mejor época de TDG y Skillet son brutales y nos muestran el lado más alternativo de la banda.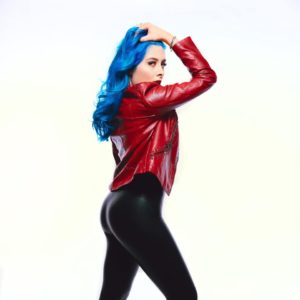 Llegamos al ecuador del disco y lo hacemos con el lado más intimista de Diamante gracias a la hermosa y dolorosa balada «Unlovable», que pone los pelos de punta desde el segundo en el que empieza con el piano como único acompañante para Diamante que en esta ocasión nos emociona con la gran voz que tiene y lo delicada que suena en este tema, el cual podría ir de la manita con las grandes baladas de bandas como The Pretty Reckless, Evanescence y Halestorm.
Y tras la calma… Llega la tormenta con el que seguramente sea de los tres mejores cortes del disco como es la furiosa «Wake Up Call», un tema que es imposible no quitarte de la cabeza desde el segundo escucho y que combina a la perfección estilos como el rock alternativo y el pop rock (hay momentos en los que tiene cierto toque a la Demi Lovato de canciones como «Remember December»), simplemente una delicia y de nuevo demostrando que a la hora de hacer «Hits» de rock para radios, esta muchacha de azulada melena no tiene prácticamente rivales a día de hoy en su estilo.
En la misma sintonía estarían temas como «UnFuckYou», con una base digna de bandas como Papa Roach o incluso bandas extintas como Saving Abel (¿alguno se acuerda de ellos?, seguro que somos 4) o la mejor resuelta «I Love Myself For Hating You», otra gran pieza de rock/pop alternativo que recuerda a la Kelly Clarkson más rockera y que en discos como «Breakaway» de la popular cantante tejana hubiese encajado de perlas, con ese toque 2000 nostálgico que la hace de las mejores dentro del nuevo disco de Diamante.
Para el final nos dejan una sorpresa y es la inclusión de «Iris» (famosísima pieza de los norteamericanos Goo Goo Dolls y que salió en películas como «City Of Angels»), que pese a haber sido versionada en muchísimas ocasiones, en esta versión destacamos el juego vocal entre Diamante y Ben Bunley (Voz y Guitarra de Breaking Benjamin) cuyo resultado es fantástico y la cereza en la tarta para rematar un gran disco como es este «American Dream».
Y el disco se acaba y para ello Diamante nos deja «Hopeless» muy en la línea del resto del disco y una versión acústica de «Obvious» (que apenas si difiere de la original pero demuestra lo bien que se defiende Diamante en el formato unplugged).
Si bien no hay grandes diferencias entre este nuevo trabajo y el anterior, Diamante ha vuelto a demostrar porque es una de las artistas más importantes de la actualidad y un espejo para muchísimas chicas que están empezando a tocar la guitarra, el piano o a cantar y tienen en ella un gran ejemplo en el que fijarse como pasa con compañeras como Lzzy Hale y Taylor Momsen.
Si lo que hago está bien y funciona porqué cambiarlo dice el refrán, pues Diamante certifica este mensaje con su nuevo disco y su futuro no sabemos qué le depara pero su presente es casi tan brillante como su nombre artístico lo indica, así que no la perdáis de vista.
Texto: Lucas Capeluto
---
English:
After surprising half the world with his first Ep («Dirty Blonde», ed.) And gaining even more followers with his debut album «Coming In Hot» (Better Noise Music, 2018) and sharing the stage with some of the most important alternative bands the country like Breaking Benjamin, Five Finger Death Punch, Asking Alexandria, Halestorm, Three Days Grace and Bad Wolves, a new independent stage opens for the North American rocker Diamante, who just two years and little more since her debut returns for all with her new and explosive work «American Dream» to demonstrate why she is one of the most interesting and notable artists of today within her style.
The blue-haired girl has sheltered her stage in Better Noise Music (From Ashes To New, Five Finger Death Punch, Bad Wolves) and since independence she has released 11 new tracks where her rocker, alternative and shameless style continues to sound like a cannon and can surprise more than one non-regular listener to your proposal.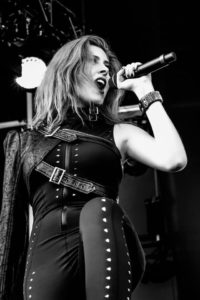 The album opens with the track that gives title to the album «American Dream», a track that transports you to the road and to go along it with the car and that this song sounds at full volume on its speakers while you travel through any landscape of the same .
It's super catchy and reminiscent of the early days of bands like Halestorm and even if Hinder continued to make good songs they would sound like she does today, impossible to improve on the beginning of the album, it's a «Hit» written in gold.
The same thing that happens with «Ghost Myself», where the sensuality of the voice takes over Diamante and catches you from minute one, it was not in vain that it was received with open arms by the singer's followers the same day it was released. as single.
Perhaps due to the sound similarity between the first two, «Serves You Right» provides an alternative touch as it starts out slower and with Diamante's voice half whispering, except for a specific moment and with a marvelous crescendo ascent that explodes in the chorus. with a touch closer to Breaking Banjamin and that could be a song by Amy Lee and no one would be surprised … Without a doubt, it is a great success to have included this piece on the album and it will surely delight whoever listened to it, whether or not they are followers of Diamond.
When it seems that the album continues, «Obvious» arrives and please if until she starts singing, it does not seem like a Three Days Grace song because it has little to do! The vocal tone that she achieves in this song is impressive, with those semi-highs and those choruses worthy of the best time of TDG and Skillet are brutal and show us the more alternative side of the band.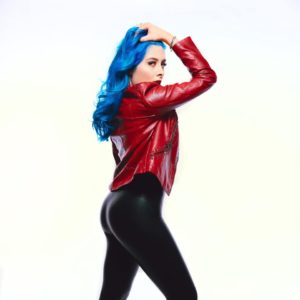 We reach the halfway point of the album and we do it with the more intimate side of Diamante thanks to the beautiful and painful ballad «Unlovable», which makes our hair stand on end from the second in which it begins with the piano as the only companion for Diamante than in this occasion moves us with the booming voice he has and how delicate it sounds in this song, which could go hand in hand with the great ballads of bands like The Pretty Reckless, Evanescence and Halestorm.
And after the calm … The storm arrives with what is surely one of the three best cuts on the album, such as the furious «Wake Up Call», a song that is impossible not to get out of your head from the second listen and that combines the perfection styles such as alternative rock and pop rock (there are times when it has a certain touch to the Demi Lovato of songs like «Remember December»), simply a delight and again showing that when it comes to making rock «Hits» Radiant, this girl with blue hair has practically no rivals today in her style.
In the same vein would be songs like «UnFuckYou», with a base worthy of bands like Papa Roach or even extinct bands like Saving Abel (does anyone remember them? Surely there are 4 of us) or the best resolved «I Love Myself For Hating You «, another great alternative rock / pop piece that recalls the rockier Kelly Clarkson and that in records like» Breakaway «by the popular Texan singer would have fitted perfectly, with that 2000 nostalgic touch that makes her one of the best in the world. new Diamond album.
For the end they leave us a surprise and it is the inclusion of «Iris» (a very famous piece by the North American Goo Goo Dolls and that appeared in films like «City Of Angels»), which despite having been covered many times, in this version We highlight the vocal game between Diamante and Ben Bunley (Breaking Benjamin's Voice and Guitar) whose result is fantastic and the cherry on the cake to finish off a great album like this «American Dream».
And the album is over and for this Diamante leaves us «Hopeless» very much in line with the rest of the album and an acoustic version of «Obvious» (which hardly differs from the original but shows how well Diamante defends itself in the unplugged format. ).
Although there are no major differences between this new work and the previous one, Diamante has once again demonstrated why she is one of the most important artists of today and a mirror for many girls who are beginning to play the guitar, the piano or sing and have in her a great example in which to notice how it happens with colleagues like Lzzy Hale and Taylor Momsen,
If what I'm doing is right and it works, why change it, the saying goes, because Diamante certifies this message with his new album and his future we don't know what he has in store for him, but his present is almost as bright as his stage name indicates, so don't lose it. of sight.
Text: Lucas Capeluto