[English below]
Lycanthro es una banda canadiense que nació en 2014 bajo el nombre de Death Wish, posteriormente se cambiaron el nombre y tras la edición de una demo y un EP nos traen su primer trabajo "Mark of the Wolf" bajo el auspicio de Alone Records. El grupo realiza un Heavy Metal clásico con rasgos de power, rock clásico y progresivo. La banda desarrolla una temática basada en el terror de los 80, de ahí esa portada gráfica tan típica de esa época.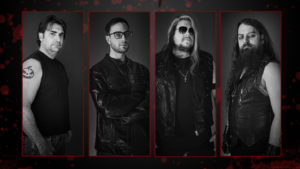 Desgranando el disco, este comienza con el tema "Crucible" el cual recuerda meramente a los Judas Priest de los principios de los 80 y donde James realiza unos agudos que nos recuerda al Rob de aquella época en algunos momentos. "Fallen Angels Player" me recuerda a a Maiden con el uso de unos coros en la zona intermedia del tema que le da un toque tenebroso muy guapo. "Mark of the Wolf" sigue la tónica realizando un rock con esa influencia de NWOBHM con guitarras algo más pesadas en su inicio. "Enchantress" sigue con la tónica pero manejando momentos de rock más pesado recordándome en ciertos momentos a Queensryche salvando las distancias.
Seguimos con "In Metal we Trust" volvemos a los fueros del inicio del disco, comenzando el tema con una intro guapisima de batería e imprimiendo un ritmo más acelerado con  guitarras heavys creando un tema hecho para el directo. "Into Oblivion" tenemos un tema donde los teclados intentan imprimir carácter al tema, una lástima que no se aprecien nítidamente, destacando en el tema solo la voz de James, con unas guitarras muy rockeras. "Ride the Dragon" tira de nuevo del US power metal más clásico, tema movido, recordándome a Virgin Steele. Finaliza el disco "Evangelion", una canción más compleja con varios cambios de ritmo recordándome de nuevo a los a Queensryche de los ochenta y quedándole un tema muy trabajado que pone el punto y final al disco.
Definitivamente el disco tiene un buen trabajo de guitarras y James está a un gran nivel vocal. Se nota que el grupo ha querido plasmar la influencia en su estilo de distintas vertientes, notándose mucho más cómodos en el inicio del disco y menos resueltos en la vertiente más progresiva. Con una mejor producción, el disco hubiera brillado más pero no obstante tengo que decir que es un buen disco para su punto de partida. Un saludo.
Texto: Aaabbbaaattthhh
---
English:
Lycanthro is a Canadian band that was born in 2014 under the name of Death Wish, later they changed the name, and after the edition of a demo and an ep they bring us their first album «Mark of the Wolf» under the auspices of Alone Records. The group performs a classic Heavy metal with traits of power, classic and progressive rock. The band develops a theme based on the terror of the 80s, hence the graphic cover so typical of that time.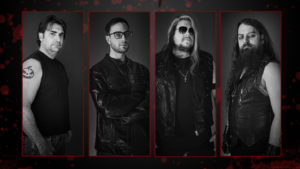 Unraveling the album, it begins with the song «Crucible» which merely recalls the Judas Priest of the early 80's and where James performs a treble that reminds us of the Rob of that time in some moments. «Fallen Angels Player» reminds me of Maiden with the use of choruses in the middle of the song that gives it a very handsome dark touch. «Mark of the Wolf» continues the tonic, making a rock with that NWOBHM influence with somewhat heavier guitars at the beginning. «Enchantress» continues with the tonic but handling moments of heavier rock reminding me at times of Queensryche saving the distances.
Continue with «In Metal we Trust» we return to the privileges of the beginning of the album, starting the song with a beautiful intro of drums and printing a faster rhythm with heavy guitars creating a theme made for live. «Into Oblivión» we have a song where the keyboards try to print character to the song, a pity that they are not clearly appreciated, highlighting in the song only the voice of James, with some very rock guitars .. «Ride the Dragon» pulls again. More classic US power metal, moving theme, reminding me of Virgin Steele. The album "Evangelion" ends, a more complex song with several rhythm changes reminding me of the eighties Queensryche and leaving a very worked song that puts the end to the album.
The album definitely has a good guitar work and James grates on a good vocal level. You can see that the group has wanted to express the influence in their style of different aspects, feeling much more comfortable at the beginning of the album and less resolute in the more progressive aspect. With a better production, the album would have shone more but nevertheless I have to say that it is a good album for its starting point. All the best.
Text: Aaabbbaaattthhh
Listado de temas/Tracklist:
Crucible

Fallen Angels Player

Mark of the Wolf

Enchantress

In Metal we Trust

Into Oblivion

Ride the Dragon

Evangelion