[English below]
Buenas y al lio!
God save the sin!!! Hoy traemos el nuevo disco de MAD SIN, «UNBREAKBLE» , banda de psychobilly formada a principios de 1987 en Berlín. En sus inicios tocaba por dinero en la calle para turistas o en bares de mala muerte hasta llegar a estar presente en los festivales más importantes del mundo y con una legión de fans  detrás bastante fiel.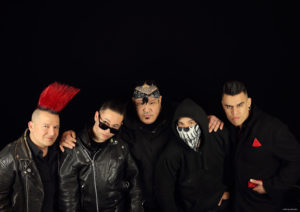 Para este nuevo Lp debutan con el sello Century Media Records y hay cambios importantes en la formación, como la salida de Andy Laaf a la batería o Ramón a la guitarra, pero la que más sorprende es la del guitarrista Stein, guitarra original de la banda desde sus principios cuando eran un trío.
En este disco se nota la evolución de la banda hacia una música más aceptable y que llega a más público, pero seguimos encontrando una buena dosis de psychobilly, country y metal.
16 trallazos encontramos en este largo trabajo, el primer single que han sacado con su correspondiente videoclip es «Moon over Berlín», tema muy bueno que cuanto más escuchas más engancha, el disco tiene melodías muy pegadizas con sus coros perfectamante montados para los conciertos, uno de los temas que más me llama la antención es «Hallucinate», tema psychobilly de la vieja escuela de los que se echan de menos.
En «Shine a light» encontramos una pieza de country bastante amena, el disco está bien distribuido para que no sea monótono, si seguimos escuchando podemos encontrar varias pistas más metaleras mezcladas con psychobilly como «Agression» , «Till death do us part» o «Totgesagte leben langer».
Pero lo que más predomina en este adisco son canciones bailables como» House of fun» , «Something wrong» o la canción que da nombre a este álbum , «Unbreakable».
Resumiendo si hace tiempo que no escuchas a Mad Sin podrás encontrar una gran diferencia con sus primeros discos, pero eso no significa que esté mal solo que suena diferente y si escuchas el disco dos o tres veces te empezará a gustar y no podrás parar de escucharlo.
---
Texto: Aberración o muerte, Yogui Basurilla
English:
God save the sin !!!
Today we bring the new album from MAD SIN, «UNBREAKBLE», a psychobilly band formed in early 1987 in Berlin. In the beginning he played for money on the street for tourists or in seedy bars until he was present at the most important festivals in the world and with a legion of fans behind quite faithful.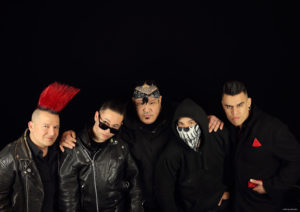 For this new LP they make their debut with the Century Media Records label and there are important changes in the line-up, such as the departure of Andy Laaf on drums or Ramón on guitar, but the one that most surprises is that of the guitarist Stein, the band's original guitar. from the beginning when they were a trio.
On this album you can see the evolution of the band towards a more acceptable music that reaches more audiences, but we continue to find a good dose of psychobilly, country and metal.
16 whips we find in this long work, the first single they have released with its corresponding video clip is «Moon over Berlin», a very good song that the more you listen to, the more it engages, the album has very catchy melodies with its choirs perfectly mounted for concerts, one of the themes that most attracts my attention is, hallucinate, psychobilly theme of the old school of those who are missed.
In shine a light we find a quite pleasant country piece, the album is well distributed so that it is not monoto, if we continue listening we can find several more metal tracks mixed with psychobilly such as, aggression, till death do us part or totgesagte leben langer.
But what most predominates in this some are dance songs that can be house of fun, something wrong or the song that gives this album its name, unbreakable.
In short, if you haven't listened to Mad for a long time without finding a big difference with his first lps, but that doesn't mean that this is wrong, it just sounds different and if you listen to the album two or three times you will start to like it and you will not be able to stop listening to it.
---
Texto: Aberración o muerte, Yogui Basurilla