[English below]
Los portugueses Moonspell cumplen 30 años de existencia y lo celebran con un nuevo disco de estudio, decimotercero ya, que lleva por título «Hermitage», producido por su líder y cantante, Fernando Ribeiro, grabado, mezclado y masterizado en los Orgone Studios de Londres por el colombiano Jaime Gomez Arellano (Bull Elephant, Cathedral, Ghost, Paradise Lost, etc.) y distribuido por Napalm Records desde el pasado 26 de febrero. El ingeniero de sonido y el creador de la portada, el letón Arthur Berzinsh, debutan con Moonspell pero la novedad más significativa es la incorporación del batería Hugo Ribeiro (Desolate Plains, Godvlad) en detrimento de Miguel Gaspar, que llevaba en la banda desde los inicios de la misma. Así que con estas premisas veremos qué nos depara este disco.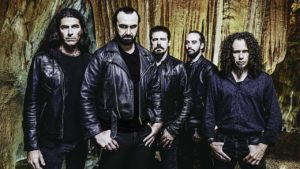 El primer tema, «The Greater Good», es una sorpresa, pero agradable, porque viene marcada por sonidos de sintetizador y la voz de Fernando Ribeiro en plan suave y susurrante, algo que encaja más con el rock progresivo. Lo bueno es que según avanza la canción esta se vuelve más rítmica y potente.
La siguiente, «Common Prayers», sí resulta más familiar, teniendo en cuenta la trayectoria de los lusos. Metal gótico marca de la casa hecho con elegancia, voces limpias y guturales, cambios de ritmo, riffs pegadizos y adictivos, y lo que más me llama la atención es el sonido del bajo de Aires Pereira, predominante en estas dos primeras canciones.
«All or Nothing» también sorprenderá a más de uno. En mi caso por dos motivos, primero, porque me parece pronto para una balada o una canción tan ambiental, lenta y densa, también es cierto que gana muchos enteros cuando aparecen teclado y guitarra (esas melodías de tintes melancólicos son de lo mejor del tema) y segundo, porque camina entre el progresivo de Pink Floyd, algo que no me esperaba, y el gótico de Fields of Nephilim.
En la homónima, «Hermitage», tenemos a un Fernando más rabioso, una base rítmica contundente y directa, buenos coros y un gran trabajo de Ricardo Amorim, los punteos y el solo de guitarra son, sencillamente, geniales. De mis temas preferidos. 
Un ambiente oscuro y gótico abre «Entitlement», y volvemos a tener al Fernando más apacible, donde bajo y batería te llevan con buen ritmo hasta otro de los mejores solos de guitarra del álbum, tremendamente hipnótico.
Llegamos al ecuador del disco con la guitarrera e instrumental «Solitarian», de corte técnico y tonos grises (sonidos de sintetizador, teclado y guitarra pesados). Definitivamente, lo que se aprecia aquí es una mezcla de rock progresivo, psicodélico y gótico.
«The Hermit Saints» es otro tema a destacar, tiene épica, voces intensas, reminiscencias gótico/folk, cambios de ritmo, partes progresivas y un brutal trabajo de Hugo Ribeiro (impresionante como suena la batería)
«Apophthegmata» nos presenta al Fernando más dual, ese registro susurrador, a lo David Gahan (Depeche Mode) y otro más agresivo, característico suyo, combinan muy bien en esta canción electro/ambiental con diferentes grados de intensidad. 
El colofón final es para la psicodélica y progresiva «Without Rule» y la outro «City Quitter». La primera es una canción lenta, profunda y oscura. Demasiado para mi gusto. Y la segunda es una pieza sombría y desoladora, fiel reflejo de la portada.
Para los que obtengan la edición limitada, tendrán la posibilidad de escuchar un tema extra, «Darkness In Paradise» de Candlemass. Moonspell respeta el estilo doom de los suecos, incluso dándole un toque más oscuro, pero es Fernando Ribeiro quien hace suya esta canción con ese registro vocal tan particular.
Bueno, pues tengo que reconocer que la primera vez que escuché «Hermitage» no me dejó buenas sensaciones, y más cuando tengo el primer disco, «Wolfheart», en un pedestal, de hecho aún lo conservo en cinta de cassette, pero con las sucesivas escuchas, y aún sabiendo que aquel álbum queda lejos de este, te vas dando cuenta de los muchísimos matices que no se aprecian si no le prestas la debida atención, incluyendo la excelente producción. El caso es que te encuentras a unos Moonspell más vanguardistas, intimistas, evolutivos, progresivos, reflexivos y sosegados como nunca los habías oído antes y te podrán gustar más o menos, pero claro está que es un buen disco, quizás no sea el esperado por la mayoría de fans, pero recomendable, sobre todo si te gustan los últimos trabajos de Katatonia, Paradise Lost o Tiamat, por ejemplo.
Texto: Juanma Cisneros
English:
The Portuguese Moonspell celebrates 30 years of existence and they celebrate it with a new studio album, already thirteenth, entitled «Hermitage», produced by its leader and singer, Fernando Ribeiro, recorded, mixed and mastered at the Orgone Studios in London by Colombian Jaime Gomez Arellano (Bull Elephant, Cathedral, Ghost, Paradise Lost, etc.) and distributed by Napalm Records since last February 26.  The sound engineer and the creator of the cover, the Latvian Arthur Berzinsh, debuted with Moonspell but the most significant novelty is the incorporation of the drummer Hugo Ribeiro (Desolate Plains, Godvlad) to the detriment of Miguel Gaspar, who had been in the band since the  beginnings of it. So with these premises we will see what this album has in store for us.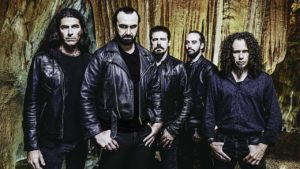 The first song, «The Greater Good», is a surprise, but pleasant, because it is marked by synthesizer sounds and Fernando Ribeiro's voice in a soft and whispering plan, something that fits more with progressive rock. The good thing is that as the song progresses it becomes more rhythmic and powerful.
The next one, «Common Prayers», is more familiar, taking into account the trajectory of the Portuguese. House-brand gothic metal done with elegance, clean and guttural vocals, rhythm changes, catchy and addictive riffs, and what strikes me the most is Aires Pereira's bass sound, predominant in these first two songs.
«All or Nothing» will also surprise more than one. In my case for two reasons, first, because it seems early for a ballad or such an ambient, slow and dense song, it is also true that it gains many integers when keyboard and guitar appear (those melodies with melancholic tints are the best of the song) and second, because it walks between the progressive of Pink Floyd, something that I did not expect, and the gothic of Fields of Nephilim.
In the homonymous, «Hermitage», we have a more rabid Fernando, a forceful and direct rhythmic base, good choirs and a great work by Ricardo Amorim, the plucks and the guitar solo are, simply, great. Of my favorite subjects.
A dark and gothic atmosphere opens «Entitlement», and we once again have the calmer Fernando, where bass and drums take you with a good rhythm to another of the best guitar solos on the album, tremendously hypnotic.
We reached the halfway point of the album with the guitar and instrumental «Solitarian», with a technical cut and gray tones (heavy synthesizer, keyboard and guitar sounds).  Definitely a mix of progressive, psychedelic and goth rock on here.
«The Hermit Saints» is another song to highlight, it has epic, intense vocals, gothic / folk reminiscences, rhythm changes, progressive parts and a brutal work by Hugo Ribeiro (impressive as the drums sound)
«Apophthegmata» presents us with the more dual Fernando, that whispering register, David Gahan (Depeche Mode) style and a more aggressive one, characteristic of him, combine very well in this electro / environmental song with different degrees of intensity.
The final climax is for the psychedelic and progressive «Without Rule» and the outro «City Quitter». The first is a slow, deep and dark song. Too much for my taste. And the second is a bleak and bleak piece, a true reflection of the cover.
For those who obtain the limited edition, they will have the possibility to listen to a bonus track, «Darkness In Paradise» by Candlemass. Moonspell respects the Swedish doom style, even giving it a darker touch, but it is Fernando Ribeiro who makes this song his own with that particular vocal register.
Well, I have to admit that the first time I listened to «Hermitage» it didn't leave me feeling good, especially when I have the first album, «Wolfheart», on a pedestal, in fact I still have it on cassette tape, but with the  successive listens, and even knowing that that album is far from this one, you are realizing the many nuances that are not appreciated in one go, including the excellent production. The fact is that you find Moonspell more avant-garde, intimate, evolutionary, progressive, thoughtful and calm as you have never heard before and you may like them more or less, but of course it is a good album, it may not be the one expected by the majority of fans, but recommended, especially if you like the latest works by Katatonia, Paradise Lost or Tiamat, for example.
Text: Juanma Cisneros
---
HERMITAGE:
The Greater Good (5:04)

Common Prayers (4:08)

All or Nothing (7:22)

Hermitage (4:43)

Entitlement (6:16)

Solitarian (4:07)

The Hermit Saints (4:22)

Apophthegmata (5:41)

Without Rule (7:42)

City Quitter (outro) (2:59)

Darkness In Paradise (Candlemass cover) (7:10)
MOONSPELL:
Fernando Ribeiro – Vocals
Pedro Paixão – Keyboards
Ricardo Amorim – Guitars
Aires Pereira – Bass
Hugo Ribeiro – Drums