[English below]
Steve Hackett es uno de los mejores guitarristas de progresivo que existen hoy en día, ha sido influencia de guitarristas como Bryan May o Eddie Van Halen, pero posiblemente no haya tenido el reconocimiento mundial merecido. Pero si hablamos de que ha sido componente de la formación Genesis hasta 1977, el grupo que dio cabida a Peter Gabriel o Phill Collins, ya nos ponemos en situación. Pues que es lo que vamos a encontrar en este «Selling England by the Pound And Spectral Morning: live in the Hammersmith «, pues se compone de la reproducción por primera vez al completo del disco del 73 del grupo Genesis junto a una selección de temas de su álbum en solitario "Spectral morning", disco además que cumple su 40 aniversario, y que es grabado en el último concierto de la gira en la sala Hammersmith Eventin Apollo, composiciones que Steve les tiene un cariño muy especial. Si encima de la calidad de Steve, agregamos la polivalencia multi-instrumental de Rob Townsend, la contundencia de la base rítmica formada por el  batería Craig Blundell y el bajista Jonas Reingold y el virtuosismo del  teclista Roger King, y la voz inconmensurable de Nad Sylvan ; el resultado de este directo es alucinante, la calidad sonora es abrumadora y el de Steve junto a su pedazo de banda va a hacer las delicias del os seguidores del metal progresivo.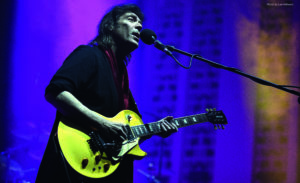 En este doble CD nos vamos a encontrar en su primera parte un mix del disco "Spectral morning", al que Steve le tenía un especial aprecio con 3 temas de su último álbum en solitario "At the Edge of Light" que son "Under The Eye Of The Sun", "Fallen Walls and Pedestals" y "Beast in Our Time". Esta primera parte del concierto es muy bien recibida por los fans de Steve ya que es de los mejores disco en solitario que tiene, con las colaboraciones de Jonh Hackett a la flauta y la de Amanda Lehmann a la guitarra y voz. Para acabar esta primera parte tocan "Dancing with the Moonlight Knight" y una versión alargada de "I Know What I Like" donde Steve toca la guitarra que es una delicia, una gozada de canción; ambos temas del SEBTP.
El segundo CD está compuesto por los restantes de los temas de SEBTP con un tema extra "Deja vu", tema que comenzó a componer Peter Gabriel para este disco y se quedó en proceso, pidiendo permiso Steve para finalizarla compartiendo derechos quedando un tema redondo. De esta segunda parte es reseñable el tema "Firth of Fifth" donde el batería Craig le impronta un ritmo brutal, aunque me siento osado al decir esto porque simplemente es un discazo, acabando el concierto con las inevitables "Dance On A Volcano" y "Los Endo". 
Es verdad que los últimos lanzamientos de Steve constan de directos de su época en Genesis con lo que puede resultar un poco repetitivo, pero tienen tal calidad, que resultan todos los trabajos en directo imprescindibles.
La versión Blu-ray podemos apreciar el juego de luces tan cuidado y la puesta en escena tan preciosista. En definitiva, disco imprescindible para los amantes del progresivo. 
---
Texto: Aaabbbaaattthhh
English: 
Steve Hackett is one of the best progressive guitarists that exist today, he has been influenced by guitarists like Bryan May or Eddie Van Halen but possibly he has not had the worldwide recognition he deserved. But if we talk about what has been a component of the Genesis line-up until 1977, the group that made room for Peter Gabriel or Phill Collins, we are already in a situation. Well, what are we going to find in this «Selling England by the Pound And Spectral Morning: live in the Hammersmith», since the reproduction for the first time in full of the album of the group Genesis' 73 together with a selection of songs from their album solo "Spectral morning", an album that also celebrates its 40th anniversary, and which is recorded in the last concert of the tour at the Hammersmith Eventin Apollo hall, compositions that Steve has a very special affection for. On top of Steve's quality, we add the multi-instrumental versatility of Rob Townsend, the forcefulness of the rhythmic base formed by drummer Craig Blundell and bassist Jonas Reingold and the virtuosity of keyboardist Roger King, and the immeasurable voice of Nad Sylvan. ; The result of this live show is amazing, the sound quality is overwhelming and Steve's perfectionist and his piece of band will delight fans of progressive metal.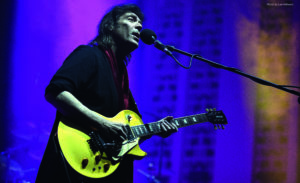 In this double CD we are going to find in its first part a mix of the album «Spectral morning», to which Steve had a special appreciation with 3 songs from his last solo album «At the Edge of Light» which are «Under The Eye Of The Sun "," Fallen Walls and Pedestals "and" Beast in Our Time ". This first part of the concert is very well received by Steve's fans as it is one of the best solo albums he has, with the collaborations of Jonh Hackett on flute and Amanda Lehmann on guitar and vocals. To end this first part they play "Dancing with the Moonlight Knight" and a long version of "I Know What I Like" where Steve plays the guitar which is a delight, a joyous song; both topics of the SEBTP.
The second CD is made up of the rest of the SEBTP songs with an extra song "Deja vu", a song that Peter Gabriel began to compose for this album and was in the process, Steve asking permission to finalize it sharing rights, leaving a round song. Of this second part, the song "Firth of Fifth" is worth mentioning, where drummer Craig gives a brutal rhythm, although I feel daring to say this because it is simply a great album, ending the concert with the inevitable "Dance On A Volcano" and " The Endo ".
It is true that Steve's latest releases consist of live shows from his time at Genesis, which can be a bit repetitive, but they have such quality that they are all essential live work. The Blu-ray version we can appreciate the play of lights so careful and the staging so precious. In short, an essential album for lovers of progressive. 
---
Text: Aaabbbaaattthhh
Tracklist / Listado canciones
CD1
Intro




2. Every Day




3. Under The Eye of The Sun




4. Fallen Walls And Pedestals




5. Beasts Of Our Time




6. The Virgin And The Gypsy




7. Tigermoth




8. Spectral Mornings




9. The Red Flower Of Tai Chi Blooms Everywhere




10. Clocks – Angel of Mons




11. Dancing With The Moonlit Knight




12. I Know What I Like (In Your Wardrobe)
CD2
Firth Of Fifth




2. More Fool Me




3. The Battle Of Epping Forest




4. After The Ordeal




5. The Cinema Show




6. Aisle of Plenty




7. Deja Vu




8. Dance On A Volcano




9. Los Endo