[English below]
Si hay una palabra que defina la carrera de los californianos The Offspring, es sin duda «Imprecisa» o «Irregular» y que los de Dexter Holland han sido capaces de crear obras tan potentes y acertadas como «Smash» (Discazo mítico donde los haya), «Ixnay On The Hombre» o incluso el multiplatino «Americana», pero luego han entregado discos correctos como «Rise And Fall, Rage And Grace» y bodrios como «Splinter» y «Days Go By» (Sin duda los dos peores discos de su carrera) por no hablar de su directo que lo mismo te dan bolazos que otros bastante soporíferos, con lo cual uno nunca sabe que esperar cuando se estrena un nuevo disco de la banda.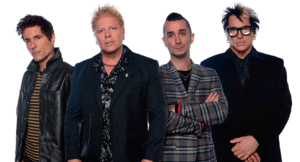 Por tanto a la hora de enfrentarme al décimo disco de la banda, tenía una sensación de vértigo sobre qué esperar y qué versión encontrarme de los californianos.
Ya han pasado 8 años desde la salida del flojo y decepcionante «Days Go By» , con lo que uno ya no las tenía todas consigo mismo pero es cierto que cuando salió el primer single «Let The Bad Times Roll» si que nos llevamos una pequeña y grata sorpresa ya que nos devolvió la cara que más nos gusta de la banda, la de los estribillos certeros y ese punk pop melódico que tan bien han ejecutado desde el comienzo de su historia y con el cual han influenciado a dos generaciones de bandas y chicas y chicos que se metieron en este estilo gracias a ellos, Green Day, Bad Religion, Lagwagon o Blink-182.
La banda además de este nuevo disco nos trae la novedad de tener a Todd Morse (H2O, The Operation M.D.) como nuevo bajista en reemplazo de Greg.K quien dejó la banda y a Dexter y Noodles como únicos miembros originales en la misma.
Metiéndonos de lleno en el disco, si podemos afirmar que la banda vuelve a recuperar su mejor versión al menos la de los 00's y deja de lado la mediocridad y los experimentos fallidos de sus últimos 4 discos y se centra en lo que mejor se les da: Canciones pegadizas y bien ejecutadas con gancho y estribillos fácilmente identificables.
Es decir aquí vamos a encontrar temas más cercanos a la época dorada de la banda que a la más contemporánea e irregular, aunque algún destello de esta todavía es palpable.
Ahí están temas tan notables como la rápida y old school «We Never Have Sex Anymore», la sorprendente y cañera «The Opioid Diaries» y la más ligera «Hassan Chop».
Pero también hay lugar para la dispersión y hasta alguna confusión ya que mientras la instrumental «In The Hall Of The Mountain» cumple en su función de interludio, no se entiende la presencia de «Lullaby» que es prácticamente un calco del tema que da título al disco y ahí uno se da cuenta que llegan al final del mismo casi pidiendo la hora porque las ideas ya se les quedaron cortas y justas, tal y como pasaba con sus compañeros de Sum 41 cuando en Underclass Hero repetían la formula del hit que los hizo mundialmente famosos «Fat Lip», justamente esto ocurre con «Lullaby» y es uno de los puntos negativos del disco.
Y la sorpresa mayúscula es la inclusión de «Gone Away Requiem», que no es otra cosa que una versión a piano de su hit «Gone Away» (Incluído en «Ixnay On The Hombre») y cuyo resultado es simplemente maravilloso y sorprenderá a más de un/a seguidor/a de la banda.
Pese a lo último comentado, The Offspring vuelven por la puerta de la cual nunca debieron salir y nos entregan su mejor disco seguramente en dos décadas desde el clásico «Conspiracy Of One» , así da gusto ver como una de las mejores bandas de su generación y de su estilo vuelve a retomar el vuelo y ojalá que sea por muchos discos y años más.
Texto: Lucas Capeluto
English
If there is a word that defines the career of the Californians The Offspring, it is undoubtedly «Imprecise» or «Irregular» and that those of Dexter Holland have been able to create works as powerful and successful as «Smash» (Mythical album where they exist ), «Ixnay On The Hombre» or even the multiplatinum «Americana», but then they have delivered correct albums like «Rise And Fall, Rage And Grace» and clunkers like «Splinter» and «Days Go By» (Without a doubt the two worst records of his career) not to mention his live show that the same give you balls that other quite soporific, with which one never knows what to expect when a new album by the band is released.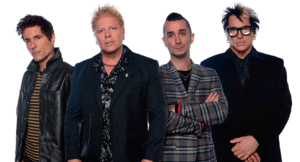 So when it came to facing the band's tenth album, I had a giddy feeling about what to expect and what version of Californians to find.
8 years have passed since the release of the lazy and disappointing «Days Go By», so one no longer had them all with himself but it is true that when the first single «Let The Bad Times Roll» came out, we did take a small and pleasant surprise as it gave us back the face that we like the most of the band, that of the accurate refrains and that melodic punk pop that they have executed so well since the beginning of their history and with which they have influenced two generations of bands and girls and boys who got into this style thanks to them, Green Day, Bad Religion, Lagwagon or Blink-182.
The band, in addition to this new album, brings us the news of having Todd Morse (H2O, The Operation M.D.) as a new bassist replacing Greg.K who left the band and Dexter and Noodles as the only original members in it.
Getting fully into the album, if we can say that the band returns to recover its best version at least that of the 00's and leaves aside the mediocrity and the failed experiments of their last 4 albums and focuses on what they do best : Catchy, well-executed songs with easily identifiable hook and choruses.
In other words, here we are going to find songs closer to the golden age of the band than to the more contemporary and irregular, although some glimpse of it is still palpable.
There are songs as notable as the fast and old school «We Never Have Sex Anymore», the surprising and fierce «The Opioid Diaries» and the lighter «Hassan Chop».
But there is also room for dispersion and even some confusion since while the instrumental «In The Hall Of The Mountain» fulfills its role as an interlude, the presence of «Lullaby» is not understood, which is practically a carbon copy of the title track. to the album and there one realizes that they reach the end of it almost asking for the time because the ideas were already short and fair, as happened with their colleagues from Sum 41 when in Underclass Hero they repeated the formula of the hit that the made «Fat Lip» world famous, this is precisely what happens with «Lullaby» and it is one of the negative points of the album.
And the major surprise is the inclusion of «Gone Away Requiem», which is nothing more than a piano version of his hit «Gone Away» (Included in «Ixnay On The Man») and whose result is simply wonderful and will surprise more than one follower of the band.
Despite the last comment, The Offspring return through the door from which they should never have left and give us their best album surely in two decades since the classic «Conspiracy Of One», so it is a pleasure to see them as one of the best bands of their generation. and of his style he returns to take flight and hopefully it will be for many more albums and years.
Text: Lucas Capeluto