[English below]
En la escena del rock progresivo de las últimas dos décadas Transatlantic aparecería entre los más destacados, sin lugar a dudas, pero si hablamos de los cuatro pilares que sustentan este grupo, habría que sumarle, como mínimo, una década más como referentes de este género musical gracias a sus respectivos trabajos en diferentes grupos o proyectos individuales. Estamos hablando del cantante y multi instrumentista Neal Morse (ex-Spock's Beard, Flying Colors), el baterista Mike Portnoy (ex-Dream Theater, Liquid Tension Experiment, Sons of Apollo, etc.), el guitarrista Roine Stolt (The Flower Kings) y el bajista Peter Trewavas (Marillion).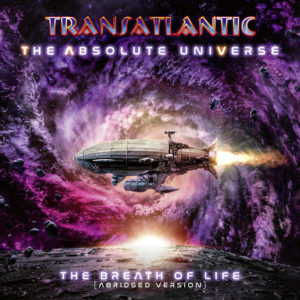 Estos músicos llevan juntos desde 1999 y ahora nos presentan su quinto álbum de estudio, «The Absolute Universe», y lo hacen sacando dos versiones del mismo. Una reducida, «The Breath Of Life», con 14 canciones y 60 minutos de duración, y otra extendida, «Forevermore», con 18 canciones, repartidas en un doble cd, y 90 minutos en total. Estas ediciones, más una en formato caja que contiene ambas versiones juntas como un set de 5LP + 3 CD + Blu-ray, se pusieron a la venta el pasado 5 de febrero por cortesía de Inside Out Music.
Un aspecto a destacar es el retorno de ese dirigible (obra del ilustrador Pavel Zhovba) que caracterizaba todas las portadas de los discos anteriores, excepto en el último, «Kaleidoscope», y el resto del diseño cósmico de las portadas e ilustraciones que fueron creadas por Thomas Ewerhard.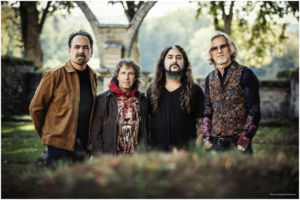 Por otra parte, alguno/a se preguntará, ¿por qué dos versiones y qué diferencias hay entre ellas? Pues las hay. De hecho, con las sucesivas escuchas te da la sensación de que son dos discos diferentes. ¿Por qué? Porque aunque estén conectados y, musicalmente, la base sea la misma, la versión extendida, además, cuenta con arreglos ampliados, letras adicionales y cambio de vocalista en algunos temas. Por lo tanto, si queremos pillar la esencia de lo que Transatlantic ha querido transmitir en este trabajo con la versión reducida será suficiente. En cambio, la versión extendida (mi preferida) sería la apropiada y recomendada para apreciar todos los detalles de «The Absolute Universe».
Naturalmente, voy a resumir y destacar lo mejor de ambas versiones, pero centrándome más en «Forevermore». Comenzamos con la «Overture», convirtiéndose en un tema, llamémosle, cinematográfico, como cuando una película va ganando en ritmo, con elementos progresivos, pasajes de teclado, sintetizadores e instrumentos de cuerda (violines, viola, cello). 
«Heart Like A Whirlwind» o «Reaching For The Sky» (en la versión reducida) y «Higher Than The Morning» me recuerdan a Kansas, rock sinfónico y melódico setentero con una gran base rítmica y unas voces muy cuidadas.
«The Darkness In The Light» y «Bully» son fusiones de estilos jazz y blues con rock progresivo. En el primero, el ritmo de la batería es más dinámico y la guitarra tiene un sonido arábico e incluso algún punteo a lo Santana. La segunda es más rápida y desenfadada, con un estribillo que recuerda a Pink Floyd.
La balada «Take Now My Soul» (versión reducida) o «Swing High, Swing Low» con guitarra acústica al principio, para luego volver a la década de los setenta, más en concreto al rock sureño de los Reo Speedwagon.
También podemos encontrar influencias de The Beatles en un espectro más progresivo como es el caso de la pegadiza «Rainbow Sky» o la épica y sinfónica «The Sun Comes Up Today». Me quedo con esta última por su complejidad y los cambios de ritmo que tiene. 
Uno de los momentos sorprendentes del disco se produce cuando Mike Portnoy pone la voz principal en «Looking For The Light». Se defiende bien en unos tonos graves. Se trata de un tema oscuro, pesado, pero melódico a la vez, y con un sonido de guitarra blusero.
«Owl Howl» es lo más parecido a Dream Theater que nos vamos a encontrar en todo el disco y, también, el tema más diferente de todos. Tal vez, por ser algo psicodélico y oscuro (Roine Stolt es ahora el que lleva la voz cantante) o, quizás, por parecerse a King Crimson o a Deep Purple, por como suena el teclado.
«The Greatest Story Never Ends» destaca por la combinación de rock progresivo y sinfónico, y por el recuerdo a Queen, sobre todo por esos coros en plan «Bohemian Rhapsody».
Para finalizar, quiero señalar dos temas, de los más extensos y complejos de todo el disco. «The World We Used To Know» que explota todas las cualidades técnicas de Mike Portnoy a la batería y las de Roine Stolt con la guitarra, sin olvidarnos de Pete Trewavas (todas las líneas de bajo se notan a la perfección) y el broche de oro, «Love Made A Way» (versión reducida), que comienza con una parte sinfónica donde tenemos cambios de ritmo pausados e intensos y a un Neal Morse estelar con una voz sosegada pero profunda.
En definitiva, a pesar de ser una propuesta arriesgada, la de sacar dos versiones simultáneas, y de esa forma tan inusual, algo que no ha hecho ningún grupo hasta ahora, o al menos, que yo recuerde, creo que Transatlantic salen airosos. Aunque, me parece excesivo, hasta para el fan más acérrimo, el someterse a ambas versiones de una sentada. Yo lo hubiera dejado en una y todos tan contentos. En cualquier caso, «The Absolute Universe» es una obra maestra del rock progresivo compuesta por excelentes músicos que también gustará y sorprenderá a los fans del rock melódico y sinfónico. 
Texto: Juanma Cisneros
English:
In the progressive rock scene of the last two decades, Transatlantic would appear among the most prominent, without a doubt, but if we talk about the four pillars that support this group, we should add, at least, one more decade as references of this genre musical thanks to their respective works in different groups or individual projects. We're talking about singer and multi instrumentalist Neal Morse (ex-Spock's Beard, Flying Colors), drummer Mike Portnoy (ex-Dream Theater, Liquid Tension Experiment, Sons of Apollo, etc.), guitarist Roine Stolt (The Flower Kings)  and bassist Peter Trewavas (Marillion).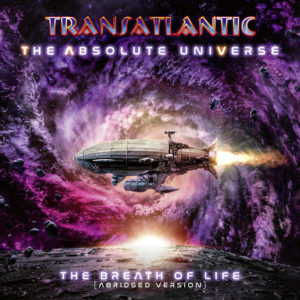 These musicians have been together since 1999 and now they present their fifth studio album, «The Absolute Universe», and they do so by releasing two versions of it.  A reduced one, «The Breath Of Life», with 14 songs and 60 minutes long, and another extended one, «Forevermore», with 18 songs, distributed in a double cd, and 90 minutes in total. These editions, plus a boxed one containing both versions together as a 5LP + 3 CD + Blu-ray set, went on sale on February 5 courtesy of Inside Out Music.
One aspect to highlight is the return of that airship (the work of the illustrator Pavel Zhovba) that characterized all the covers of the previous albums, except the last one, «Kaleidoscope», and the rest of the cosmic design of the covers and illustrations that were created by Thomas Ewerhard.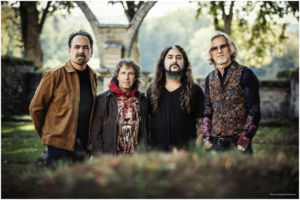 On the other hand, some will ask, why two versions and what are the differences between them? Well there are. In fact, with the successive listens it gives you the feeling that they are two different albums. Why?  Because although they are connected and, musically, the base is the same, the extended version also has expanded arrangements, additional lyrics and a change of vocalist in some songs. Therefore, if we want to catch the essence of what Transatlantic has wanted to convey in this work, with the reduced version it will be enough. Instead, the extended version (my favorite) would be appropriate and recommended to appreciate all the details of «The Absolute Universe».
Naturally, I will summarize and highlight the best of both versions, but focusing more on «Forevermore».  We started with the «Overture», becoming a theme, let's call it, cinematic, like when a movie is gaining in rhythm, with progressive elements, keyboard passages, synthesizers and string instruments (violins, viola, cello).
«Heart Like A Whirlwind» or «Reaching For The Sky» (in the reduced version) and «Higher Than The Morning» remind me of Kansas, symphonic and melodic rock of the seventies with a great rhythmic base and very careful voices.
«The Darkness In The Light» and «Bully» are a fusion of jazz and blues styles with progressive rock. In the first, the rhythm of the drums is more dynamic and the guitar has an Arabic sound and even some Santana plucking. The second is faster and more casual, with a chorus reminiscent of Pink Floyd.
The ballad «Take Now My Soul» (reduced version) or «Swing High, Swing Low» with acoustic guitar at the beginning, then return to the seventies, more specifically to the southern rock of the Reo Speedwagon.
We can also find influences from The Beatles on a more progressive spectrum such as the catchy «Rainbow Sky» or the epic and symphonic «The Sun Comes Up Today». I prefer the latter because of its complexity and the changes of rhythm it has.
One of the surprising moments on the album occurs when Mike Portnoy provides lead vocals on «Looking For The Light». It defends well in low tones. It is a dark theme, heavy, but melodic at the same time, and with a bluesy guitar sound.
«Owl Howl» is the closest thing to Dream Theater that we are going to find in the whole album and, also, the most different theme of all. Perhaps, because it is something psychedelic and dark (Roine Stolt is now the one who calls the shots) or, perhaps, because it looks like King Crimson or Deep Purple, because of how the keyboard sounds.
«The Greatest Story Never Ends» stands out for the combination of progressive and symphonic rock, and for the memory of Queen, especially for those «Bohemian Rhapsody» choruses.
To finish, I want to point out two themes, one of the most extensive and complex on the entire album. «The World We Used To Know» that exploits all the technical qualities of Mike Portnoy on drums and those of Roine Stolt on guitar, not forgetting Pete Trewavas (all the bass lines are perfectly noticeable) and the brooch of gold, «Love Made A Way» (reduced version), which begins with a symphonic part where we have slow and intense rhythm changes and a stellar Neal Morse with a calm but deep voice.
In short, despite being a risky proposal, to release two simultaneous versions, and in such an innovative way, something that no group has done so far, or at least, as far as I remember, I think Transatlantic comes out successful. Although, it seems excessive to me, even for the most staunch fan, to submit to both versions in one sitting. I would have left it in one and everyone's so happy. In any case, «The Absolute Universe» is a masterpiece of progressive rock composed by excellent musicians that will also like and surprise fans of melodic and symphonic rock.
Text: Juanma Cisneros
---
'The Absolute Universe: The Breath Of Life (Abridged Version)'.
Available in: CD edition, 2LP black on gatefold + CD or digital album.
      Overture (5:52)

      Reaching For The Sky (5:40)

      Higher Than The Morning (4:31)

      The Darkness In The Light (5:43)

      Take Now My Soul (3:31)

      Looking For The Light (4:04)

      Love Made  A Way (Prelude) (2:13)

      Owl Howl (5:27)

      Solitude (4:23)

    Belong (2:22)

    Can You Feel It (3:17)

    Looking For The Light (Reprise) (4:56)

    The Greatest Story Never Ends (2:57)

    Love Made A Way (9:16)
'The Absolute Universe: Forevermore (Extended Version)'.
Available in: Edition 2CD, 3LP + 2CD Boxset or in digital album.
Disc 1:
      Overture (8:11)

      Heart Like A Whirlwind (5:11)

      Higher Than The Morning (5:29)

      The Darkness In The Light (5:43)

      Swing High, Swing Low (3:48)

      Bully (2:11)

      Rainbow Sky (3:19)

      Looking For The Light (3:59)

      The World We Used To Know (9:21)
Disc 2:
      The Sun Comes Up Today (5:38)

      Love Made A Way (Prelude) (1:26)

      Owl Howl (7:05)

      Solitude (5:41)

      Belong (2:49)

      Lonesome Rebel (2:53)

      Looking For The Light (Reprise) (5:13)

      The Greatest Story Never Ends (4:17)

      Love Made A Way (8:02)
TRANSATLANTIC:
Neal Morse – Lead Voice and Keyboards
Mike Portnoy – Drums and Backing Vocals
Roine Stolt – Guitar and Backing Vocals
Pete Trewavas – Bass and Backing Vocals