[English below]
Under Attack es una banda italiana de Classic metal/Hard Rock que presentan su segundo trabajo a través de Sliptrick Records y que sale a la venta el 12 de Enero, la portada es realizada por Gianni Nakos (Evergrey). En este trabajo llamado "Virus Alert" nos presentan una obra conceptual que está basada en un futuro disto pico donde las finanzas y la manipulación global dominan el poder en el mundo orweliano y apocalíptico y donde las medidas de opresión se ceban en los estamentos económicos y social. Los bancos, mercados y medios de comunicación dominan el mundo llevando a este a una dictadura feroz y acabando en una guerra mundial.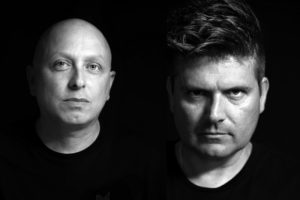 Musicalmente la banda recuerda a las bandas de rock de los 80, recordándome a bandas como Alice Cooper, Dokken y su referente más actual es Europe en su 2ª etapa, encontrando incluso a veces similitudes con Joei Tempest. Desgranando el álbum, el primer tema "Soldier" me parece una elección desacertada como tema inicial ya que empieza con un buen ritmo de guitarra para acabar diluyendose como un azucarillo perdiendo todo el ritmo inicial, quedando un tema muy flojo. El siguiente "Ready for Escape" y "Secret Plan" son en cambio 2 buenos temas con muy buen ritmo, coros y trabajo de guitarras. En cambio, el siguiente tema "The Rules" que empieza con una estrofa a coro, acaba en una canción monótona, pesada y que lo único que la salva es el punteo de guitarra del final de la misma. "Beyond the Sea" se erige como un tema con mayor ritmo, buen ritmo de batería, guitarra y donde la voz de Daniele brilla más. "Under Attack" es junto al tema anterior de los que más me gustan del disco, siguen siendo protagonista las guitarras eléctricas, además con la curiosidad de que todos los temas del disco acaban con la bajada de volumen de los temas, típico de los 80, y este tema no.
En "The Sing and the Cross" tenemos otro tema flojete, que empieza como balada y se queda como una canción lenta y donde Daniele adquiere algo más de protagonismo. En "The Last War" tenémos otro tema para ponerse las pilas. Para acabar el disco es en el tema "End of The Road" donde tanto la intro del teclado como el registro de voz de Daniele me ha recordado enteramente a Europe, buen tema.
El problema de este disco es que al tratarse una obra conceptual, los temas se rigen por la historia de fondo creando una serie de altibajos musicales en el disco que te deja un gran sinsabor. También Daniele no explota totalmente su capacidad vocal, salvados sólo el trabajo de guitarras. Disco flojo, otra vez será.
Texto :Aaabbbaaattthhh
English:
Under Attack is an Italian Classic metal / Hard Rock band that presents their second album through Sliptrick Records and that goes on sale on January 12, the cover is made by Gianni Nakos (Evergrey). In this work called "Virus Alert" they present us with a conceptual work that is based on a future distopic where finance and global manipulation dominate power in the Orwellian and apocalyptic world and where the measures of oppression are primed in the economic and social sectors. Social. Banks, markets and the media dominate the world leading to a fierce dictatorship and ending in a world War.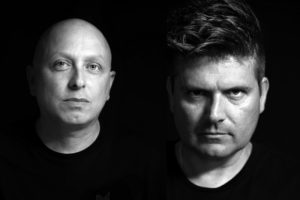 Musically the band reminds me of the rock bands of the 80s, reminding me of bands like Alice Cooper, Dokken and their most current reference is Europe in their 2nd stage, sometimes even finding similarities with Joei Tempest. Unraveling the album, the first song "Soldier" seems to me to be an unfortunate choice as the initial theme, since it starts with a good guitar rhythm and ends up dissolving like a sugar, losing all the initial rhythm, leaving a very weak theme. The following "Ready for Escape" and "Secret Plan" are instead 2 good songs with a very good rhythm, chorus and guitar work. Instead, the next song "The Rules" that begins with a chorus verse, ends in a monotonous, heavy song that the only thing that saves it is the guitar plucking at the end of it. "Beyond the Sea" stands as a song with a higher rhythm, good rhythm of drums, guitar and where Daniele's voice shines more. "Under Attack" is together with the previous song that I like the most on the album, electric guitars continue to be the protagonist, also with the curiosity that all the songs on the album end with the volume drop of the songs, typical of the 80s , and this topic does not.
In "The Sing and the Cross" we have another weak song, which begins as a ballad and remains as a slow song and where Daniele takes on a little more prominence. In "The Last War" we have another theme to get the batteries. To finish the album, it is on the song "End of The Road" where both the keyboard intro and Daniele's voice register have reminded me entirely of Europe, a good song.
The problem with this album is that since it is a conceptual work, the themes are governed by the backstory creating a series of musical ups and downs on the album that leaves you with great discomfort. Also Daniele does not fully exploit his vocal capacity, except only the guitar work. Loose disk, it will be again. 
Text: Aaabbbaaattthhh
Listado temas/ Tracklist:
Soldier  

Ready For Escape 

Secret Plan 

The Rules 

Beyond The Sea 

Under Attack 

The Sign And The Cross 

The Last War 

The End Of The Road