[English below]
Qué podemos decir de Alestorm, grupo fundado en Escocia por el señor Bowes y que realiza una mezcla de Happy metal con tintes auténticamente piratas, sonido  peculiar, letras malsonantes, ingredientes que sólo puede disfrutar un buen pirata. Simplemente o te encantan o no puedes soportarlos.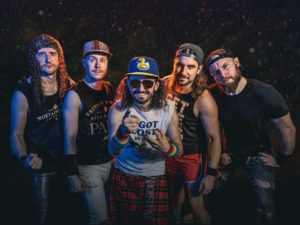 En esta última entrega, titulada "Seventh Rum of a Seventh Rum", la primera curiosidad es el paralelismo de la portada y el título con el aclamado disco de Iron Maiden "Seventh Son of a Seventh Son". Con este pequeño homenaje encubierta de la joya de la dama de hierro, el disco nos trae música pirata con baterías Power y ritmos para tararear y gritar sin cesar con ciertos matices Folk. Sinceramente este disco ha mejorado a su antecesor "Curse of the Crystal Coconut", la calidad compositiva de las guitarras a cargo de Máté Bodor es  patente en temas como "Maguellan's Expedition", "Bite the Hook Hand that Feeds" o en  "Under Blackened Bunners". Luego no puede faltar la parte más Freak o happy de la mano de temas como "P. A. R. T. Y", "Come to Brasil" o la incongruente "Cannonball" con el inicio del teclado de videojuego ochentero. También me gustaría hacer mención el trabajo de la batería al más estilo power y hacer mención al tema Folk "Wooden Leg" en la que parte de la letra se canta en castellano.
Definitivamente estamos ante otro disco de Alestorm con todos los ingredientes que nos hacen saltar y corear a los metaleros repletos de cerveza en los festivales, si es verdad que tengo que decir que Bowes debe de gastar cuidado porque no aporta nada nuevo pudiendo a llegar a ser cansino en ciertos momentos. Además en la edición expandida si bien uno de los discos nos ofrece la versión de los temas en acústica que a mi personalmente me ha parecido un punto, la frivolidad de un tercer CD con la voz modificada a lo que se parece un ladrido de perro me parece un insulto para el fan que compra tus discos. No perdamos el rumbo capitán. Un saludo.
Texto: Aaabbbaaattthhh
English:
What can we say about Alestorm, a group founded in Scotland by Mr. Bowes and that makes a mix of Happy metal with authentic pirate overtones, peculiar sound, bad-sounding lyrics, ingredients that only a good pirate can enjoy. You just either love them or you can't stand them.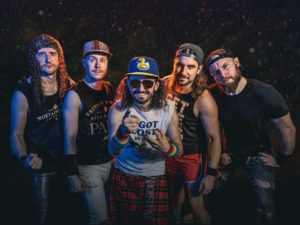 In this latest installment, entitled "Seventh Rum of a Seventh Rum", the first curiosity is the parallelism of the cover and the title with the acclaimed Iron Maiden album "Seventh Son of a Seventh Son". With this little covert tribute to the iron lady's jewel, the album brings us pirate music with Power drums and rhythms to hum and shout endlessly with certain Folk nuances. Honestly, this album has improved on its predecessor "Curse of the Crystal Coconut", the compositional quality of the guitars by Máté Bodor is evident on songs like "Maguellan's Expedition", "Bite the Hook Hand that Feeds" or "Under Blackened Bunners". Then you can not miss the most Freak or happy part of the hand of songs like "P. A. R. T. Y", "Come to Brasil" or the incongruous "Cannonball" with the beginning of the eighties video game keyboard. I would also like to mention the work of the drums in the most power style and mention the Folk song "Wooden Leg" in which part of the lyrics are sung in Spanish.
We are definitely facing another Alestorm album with all the ingredients that make us jump and chant to metalheads full of beer at festivals, if it is true that I have to say that Bowes must be careful because he does not contribute anything new and can become tired at times. Furthermore, in the expanded edition, although one of the discs offers us the version of the songs in acoustics which has seemed like a point to me personally, the frivolity of a third CD with the voice modified to what resembles a dog's barking seems like an insult to the fan who buys your records. Let's not lose our way captain. All the best.
Text: Aaabbbaaattthhh
---
Listado canciones/tracklist
Maguellan's Expedition
The Battle of Cape Fear River
Cannonball
A. R. T. Y
Under Blackened Bunners
Magyarorszag
Seventh Rum of a Seventh Rum
Bite the Hook Hand that Feeds
Return to Tortuga
Come to Brasil
Wooden Leg  (part III)