[English below]
Corría el año 2000 cuando estaba en pleno auge el Power metal, y un servidor seguidor acérrimo de Helloween y Stratovarius se empapaba de la multitud de bandas europeas que surgieron abanderando dicho género. Una de esas bandas que me llamaron especialmente la atención fue Burning Point, grupo fines que destacaba por unos riffs y voz muy característica a cargo de Pete Ahonen. Y es que Burning Point suena a Burning Point y aquel que haya seguido todos sus discos son simplemente inconfundibles. En 2015 publicaron su sexto disco homónimo donde hubo un cambio en la voz, esta pasó a cargo de Nitte Valo (ex Battle Beast) y donde rescataron grabaciones de temas antiguos y alguno nuevo, y donde los seguidores de la banda nos llevamos un verdadero fiasco. El siguiente disco "The Blaze" fue a mi parecer una joya del Power de ese año.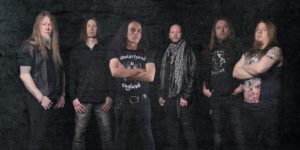 Ahora Pete regresa con una formación totalmente nueva, con cambio de voz incluido que recae en Luca Sturniolo, y que nos hace temblar en cuál es el posible resultado. El disco de título "Arsonist of the Soul" es publicado por AFM Record y sale a la venta el 22 de Octubre. En una primera visual reconozco que la portada es horrible, ese corazón cadavérico rojo con fondo negro se aleja de sus portadas anteriores, pero no nos llevemos al engaño, estamos ante un disco de Power metal con el sello inconfundible de BP.
El disco se inicia con el tema "Blast the Past" que es un auténtico trallazo y donde los teclados dan ese toque armónico que potencia el estribillo y no te lo puedes sacar de la cabeza. "Rules the Universe" sigue con la dinámica del tema anterior, con un estribillo que recuerda al epic power. "Out of Control (Savage Animals)" destacan por unos riff iniciales a lo Judas y por momentos nos puede recordar a Stratovarius. "Persona non grata" es un tema donde vuelve ese riff y teclado tan BP y donde Luca esta pletórico. "Arsonist of the Soul" es un medio tiempo que en mitad de la canción aumenta el ritmo dándole un toque de color al tema, para mi uno de los más flojos del disco. "Hit the Night" vuelve a la fórmula de la vieja escuela y que tan buen resultados le da a Pete, con un punteo brutal. "Running in the Darkness" tiene una estructura de metal alemán con unos teclados que acompañan a la melodía y que dinamiza enormemente el tema. "Calling" es un tema que se puede enmarcar perfectamente en su álbum predecesor "Empire", un medio tiempo con coros armónicos potentes. "Off the Radar" temazo BP con Luca manteniendo los agudos que eran tan característicos de Pete en sus primeros discos. "Fire with Fire" me recuerda inevitablemente a la banda alemana At Vance o Dream Evil, tema a medio tiempo contundente. "Will I Rise in the Sun" sigue la Estela del tema anterior, con uno de los mejores estribillos del disco. "Eternal Life" finiquitar el disco con un tema BP 100% jugando con un inicio a medio tiempo para después tras el grito de Luca nos adentramos en un tema Power alucinante.
Definitivamente tras las reticencias por el tener que superar su anterior álbum estamos ante un disco de  noventero cojonudo, si es verdad que en ciertos temas pierden su identidad a experimentar otro sonido de guitarras y encontramos temas que me costaría reconocerlos como suyos. Luca me ha sorprendido en sobremanera en todos sus registros y este disco en cada escucha me ha ido enamorando poco a poco. Para ser el primer disco con esta nueva formación estamos ante un disco muy bueno, el siguiente huele a DISCAZO. OJO, siendo fan incondicional de la banda, estoy plenamente satisfecho por el resultado. Enhorabuena, un saludo. 
Texto: Aaaaabaaaaathhh
English:
It was the year 2000 when Power metal was in full swing, and a staunch follower of Helloween and Stratovarius was soaked up by the multitude of European bands that emerged to champion this genre. One of those bands that caught my attention was Burning Point, a late group that stood out for its riffs and very characteristic voice by Pete Ahonen. And is that Burning Point sound like Burning Point and whoever has followed all their albums are simply unmistakable. In 2015 they published their sixth self-titled album where there was a change in the voice, this was carried out by Nitte Valo (ex Battle Beast) and where they rescued re-recordings of old songs and some new ones, and where the followers of the band got a real fiasco . The next album "The Blaze" was in my opinion a jewel of the Power of that year.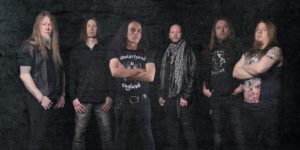 Now Pete returns with a totally new line-up, including a voice change that falls on Luca Sturniolo, and that makes us tremble at what the possible outcome is. The title album "Arsonist of the Soul" is published by AFM Record and goes on sale on October 22nd. In a first visual I recognize that the cover is horrible, that red cadaverous heart with a black background is far from its previous covers, but let's not be fooled, this is a Power metal album with the unmistakable stamp of BP.
The album begins with the song "Blast the Past" which is a real whiplash and where the keyboards give that harmonic touch that enhances the chorus and you can't get it out of your head. "Rules the Universe" continues with the dynamics of the previous song, with a chorus reminiscent of epic power. "Out of Control (Savage Animals)" stand out for their initial Judas riffs and at times it may remind us of Stratovarius. "Persona non grata" is a song where that riff and keyboard so BP returns and where Luca is full. "Arsonist of the Soul" is a halftime that in the middle of the song increases the rhythm giving a touch of color to the song, for me one of the weakest on the album. "Hit the Night" goes back to the old school formula and how well it works for Pete, with a brutal punctuation. "Running in the Darkness" has a German metal structure with some keyboards that accompany the melody and that greatly energizes the song. "Calling" is a song that can be perfectly framed on their previous album "Empire", a halftime with powerful harmonic choruses. "Off the Radar" BP hit with Luca maintaining the highs that were so characteristic of Pete on his early albums. "Fire with Fire" inevitably reminds me of the German band At Vance or Dream Evil, a strong mid-tempo theme. "Will I Rise in the Sun" follows in the wake of the previous song, with one of the best choruses on the album. "Eternal Life" finalize the album with a 100% BP song, playing with a mid-time start and then after Luca's shout we delve into an amazing Power song.
Definitely after the reluctance of having to overcome their previous album, we are facing a great 90s album, so it is true that in certain songs they lose their identity to experience another guitar sound and we find songs that would be difficult for me to recognize as theirs. Luca has surprised me greatly in all his registers and this album in each listen has made me fall in love little by little. To be the first album with this new line-up, we are facing a very good album, the next one smells like BIG LP. ATTENTION, being an unconditional fan of the band, I am fully satisfied with the result. Congratulations, greetings.
Text: Aaaaabaaaaathhh
---
Tracklist/Listado de canciones:
Blast the Past

Rules the Universe

Out of Control (Savage Animals)

Persona non grata

Arsonist of the Soul

Hit the Night

Running in the Darkness

Calling

Off the Radar

Fire with Fire

Will I Rise in the Sun

Eternal Life