[English Below]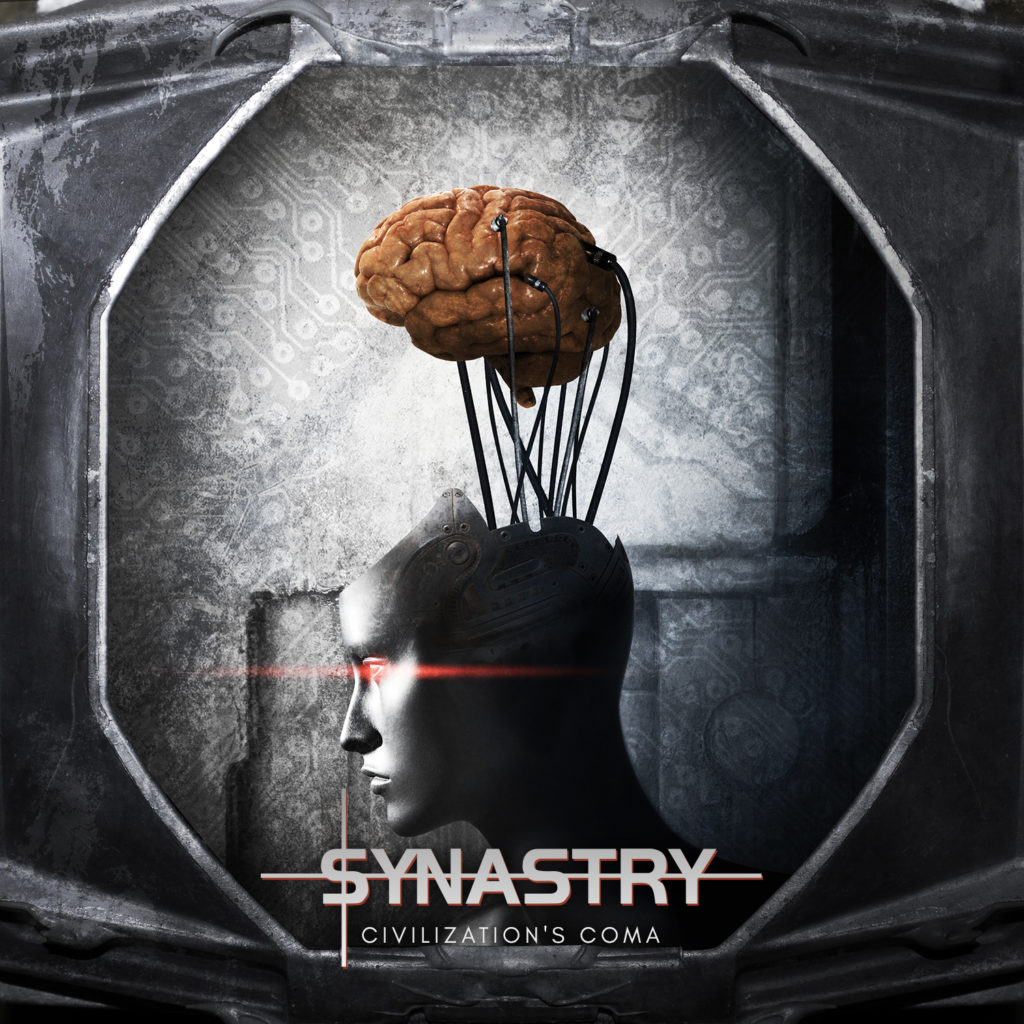 Después de más de una década sin lanzar un nuevo trabajo (concretamente desde el 2008) el grupo de Montreal Synastry vuelve a sacar un trabajo bajo el nombre Civilization's Coma, un pequeño EP de tres canciones que dura unos 10 minutos.
El sonido en general del disco, por poner un símil, es como si se metieran en una batidora sonidos del djent, death metal, groove, thrash y distintos toques del metal insutrial para conseguir precisamente el sonido que nos muestran en este álbum. Pero ya que estamos ante algo que es tan corto, creo que sería más lógico analizarlo canción por canción:
Civilization's Coma: el punto de partida del disco con un inicio de samplers electrónicos que es industrial al 100% por sonido instrumental y la combinación con esos samplers. La distorsión de la guitarra de Paul Iverson hace que precisamente haya momentos en los que siga esos ritmos, llevando una continuidad muy chula. En cuanto a los ritmos de bajo y batería de Gary Vee y Kay Kessler respectivamente son algo bestiales: muchísima rapidez para que no puedas evitar meterte en el pogo o empezar a hacer headbanging. En cuanto al registrovocal de James Aniston, es brutal entre voz desgarrada gutural (que me recuerda en cierta manera a la de Randy Blythe de Lamb of God) llegando incluso a introducir unos screamos que ponen los pelos de punta en un momento en el que alterna además estos dos registros.
Dead to Me: por el momento es el único single que se ha lanzado con un lyric video. Este corte comienza con un ritmo más thrasher/death en lo que respecta al ritmo, aunque hay determinados momentos en los que se puede apreciar ese toque de djent que tiene también el grupo. Siendo este el tema más corto de 2:17, está muy concentrado y es un verdadero cañonazo, aunque a diferencia del anterior, este tiene más rabia y furia concentrada.
Narcomancy: el cierre de este disco es una mezcla entre groove e industrial: la combinación entre acordes abiertos y riffs acelerados y los samplers introducidos encajan a la perfección como los buenos engranajes de una máquina, por no hablar de que volvemos a encontrar ese contraste de voces entre el gutural rasgado y el screamo. Al igual que en los otros dos temas, este final no iba a ser menos en lo que respecta a estar moviendo el cuello hasta que te quedes sin el o bien meterte en el moshpit y darlo todo dentro.
Para concluir la review de este disco, la vuelta de este grupo suena realmente interesante, con mucha potencia, teniendo una combinación de estilos de los que han sabido que elementos escoger y donde ponerlos para lograr haber lanzado un EP que es más corto de lo habitual pero que no tiene nada de prescindible, sino todo lo contrario, es un trabajo que se hace extremadamente corto. Sin duda recomiendo a la gente que sea amante de grupos como Fear Factory, Lamb of God, Slipknot o Veil of the Maya que sigan a Synastry y escuchen este disco porque van a disfrutarlo mucho, además de estar atentos porque según su trayectoria, después de este trabajo vendrá algo más largo de duración y más potente.
English:
After more than a decade without releasing a new album (specifically since 2008) the Montreal band Synastry again release a work under the name Civilization's Coma, a small three-song EP that lasts about 10 minutes.
The overall sound of the album, to put a simile, is as if you put in a mixer sounds of djent, death metal, groove, thrash and different touches of insutrial metal to get precisely the sound they show us in this album. But since we're looking at something that's so short, I think it would be more logical to do the review song by song:
Civilization's Coma: the starting point of the album with a start of electronic samplers that is industrial at 100% by instrumental sound and combining with them. The distortion Paukl Iverson's guitar makes that there are precisely moments in which to follow those rhythms, carrying a very cool continuity. As for the bass and drumming rhythms of Gary Vee and Kay Kessler respectively are something beastly: very fast so you can not avoid getting into the mosh or start headbanging. As for James Aniston's registrovocal, it's brutal between guttural torn voice (which kind of reminds me of Randy Blythe's Lamb of God) introducing some screams that put the hair of point in a moment in which it alternates in addition these two registers.
Dead to Me: at the moment is the only single that has been released with a lyric video. This song starts with a more thrasher/death rhythm when it comes to rhythm, although there are certain moments when you can appreciate that djent touch that the band also has. This being the shortest song of 2:17, it is very concentrated and is a real cannon shot, although unlike the previous one, it has more anger and concentrated fury.
Narcomancy: the closure of this disc is a mixture between groove and industrial: the combination between open chords and accelerated riffs and the samplers introduced fit perfectly like the good gears of a machine, not to mention that we find again that contrast of voices between the torn guttural and the screamo. As with the other two tracks, this ending wasn't going to be any less as far as moving your neck until you run out or getting into the moshpit and giving it all in.
Finishing this album's review, the return of this band sounds really interesting, with a lot of power, having a combination of styles that they have known which elements to choose and where to put them to achieve having released an EP that is shorter than usual but that has nothing dispensable, but quite the contrary, it's an extremely short job. I would definitely recommend that people who love bands like Fear Factory, Lamb of God, Slipknot or Veil of the Maya follow Synastry and listen to this album because they are going to enjoy it a lot, as well as being attentive because according to their trajectory, After this work will come something longer and more powerful.