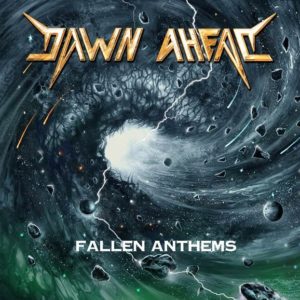 [English Below]
Normalmente cuando se habla de la fusión del thrash metal con otros estilos suelen venirnos a la cabeza automáticamente el death, el hardcore o el speed en alguna que otra ocasión. Luego encontramos el caso de Dawn Ahead, que deciden poner en una batidora el thrash con sonidos del death metal combinados con ligeros toques de hardcore y con algún que otro coletazo al black si se afina un poco el oído. Este cuarteto, después de haber lanzado dos EPs lanza el que es su primer LP, Fallen Anthems, de la mano de Art Gates Records.
El disco comienza con Death Roll, una breve intro para ir abriendo boca para romper con los riffs rápidos y contundentes en State of Mind, donde su cantante Christian «Chrischaan» Wilsberg intercala registros limpios con guturales para darle más potencia si cabe a la furia con la que viene el grupo.
En Suffer hay un toque más gamberro, más tirando al hardcore, que es para mover el cuello al ritmo endiablado que también invita al moshpit como puede pasar perfectamente con grupos como Municipal Waste. Todo ello con un solo a mitad de tema que puede resultar poca cosa en su comienzo pero que luego demuestra tener mucha garra.
Con Anthem of the Fallen, uno de los temas más largos del disco, volvemos a ver ese toque más hardcore, pero que de vez en cuando nos encontramos con los guturales o voces más desgarradas en determinados momentos que le dan un gran toque al tema y saben ponerle un acento un tanto superior.
Cerca de la mitad del disco llega I Command, tema que es pura rapidez y furia, donde además la voz tiene un growl muy potente a la par de llevar desgarrados que suelen ser muy típicos del black metal, sin dejar de lado la voz limpia en el estribillo. Sin duda alguna este es de esos temas en los que la gente tiene dos opciones de ser interpretados en vivo: o se meten en el moshpit a dejarse la vida o se dejan el cuello con el headbanging. Sin duda es uno de esos temas de los que el público lo disfruta y lo da todo en el directo si lo interpreta el grupo sobre unas tablas.
Para «bajar las revoluciones», Among the Blind es de esos temas de thrash donde no brilla por la rapidez, es de esos temas que puede ser más como esas mazas de demolición con un ritmo contundente en el que se busca el meneo constante de la melena al viento. Además de que en el siguiente tema, Shot at Dawn, intentan seguir llevando ese ritmo contundente pero en el que poco a poco las revoluciones van  haciéndolo una montaña rusa debido a los cambios que va teniendo en lo que dura sus cerca de 7 minutos.
All I Have to Do es, de nuevo, otra demostración de ese cóctel de estilos que es el grupo, tanto a nivel instrumental como a nivel vocal, ya que hay momentos en los que se puede llegar a dudar qué estilo se está escuchando según qué momento de la canción sea por los cambios de ritmo, de registros vocales y del estilo de riffs que llevan.
Casi al final del disco, Pride sigue teniendo esa ambigüedad de estilos con un inicio más parecido al hardcore con una parte intermedia más death y un final más cercano al heavy a nivel instrumental y, como no, los cambios de voces.
El tema más largo, Summon the Black, de cerca de 10 minutos de duración, es un crescendo de revoluciones por contar con un comienzo más «lento» cercano al heavy que va incrementando a la rapidez que manejan en el resto del disco, aunque a mitad de tema dejan un breve respiro más armónico para volver a transmitir la oscuridad que puede recordar en algunos momentos a la estructura que manejaba el Blackwater Park de los míticos Opeth.
Para finalizar el disco, Excess comienza de una manera muy lúgubre, con un ritmo de guitarras que transmite un aura oscura que luego da lugar a una explosión de velocidad con una voz desgarrada que, una vez más, podría asociarse más con un grupo de death o de black metal.
Sin duda, este disco es muy difícil de catalogar por mucho que sea un grupo de thrash metal, ya que se pueden apreciar muchos estilos a la hora de escucharlo, lo que puede ser un beneficio para ellos y atraer a muchos fans de distintos estilos, sean más asiduos a escuchar death, black, hardcore, thrash o heavy.
English:
Usually when you talk about the fusion of thrash metal with other genres usually come to mind automatically death, hardcore or speed on some occasion. Then we find the case of Dawn Ahead, who decide to put in a mixer the thrash with death metal sounds combined with light touches of hardcore and with some other black touches if the ear is refined a little. This quartet, after having released two EPs, released their first LP, Fallen Anthems, ivia Art Gates Records.
The album begins with Death Roll, a brief intro to begin to break with the fast and forceful riffs in State of Mind, where its singer Christian «Chrischaan» Wilsberg intersperses clean voices with gutturals to give more power to the fury with which the group comes.
In Suffer there is a more thuggish touch, more pulling the hardcore, which is to move the neck to the devilish rhythm that also invites the moshpit as it can happen perfectly with groups like Municipal Waste. All this with a single halfway through that can turn out to be little thing in its beginning but that later proves to have a lot of rage.
With Anthem of the Fallen, one of the longest songs on the album, we see again that more hardcore touch, but that from time to time we find the gutturals or voices more torn in certain moments that give a great touch to the song and know how to put a somewhat superior point.
About half of the album comes I Command, a song that is pure speed and fury, where in addition the voice has a very powerful growl along with wearing torn ones that are usually very typical of black metal, without leaving aside the clean voice in the chorus. Without a doubt this is one of those songs in which people have two options to be interpreted live: either they get into the moshpit to live or die or they leave the neck with the headbanging. Without a doubt it is one of those themes that the audience enjoys and gives everything on the live if the group interprets it on stage.
To «low the revolutions», Among the Blind is one of those thrash themes where it does not shine for the speed, it is one of those themes that can be more like those demolition maces with a forceful rhythm in which you look for the constant wiggling of the hair to the wind. Besides that in the next song, Shot at Dawn, they try to continue to carry that strong rhythm but in which little by little the revolutions are making it a roller coaster due to the changes that it is having in what lasts its about 7 minutes.
All I Have to Do is, again, another demonstration of that cocktail of styles that is the group, both instrumental and vocal level, as there are times when you can get to doubt which style you are listening to according to what moment of the song is due to the rhythm changes, of vocal records and the style of riffs they carry.
Almost at the end of the album, Pride continues to have that ambiguity of styles with a more hardcore-like start with a more death-like intermediate part and a more instrumental-level heavy ending and, of course, vocal changes.
The longest track, Summon the Black, about 10 minutes long, is a crescendo of revolutions by having a more «slow» start close to the heavy that increases to the speed they handle in the rest of the album, although halfway through the theme they leave a more harmonious brief respite to re-transmit the darkness that you may recall at times to the structure that ran the Blackwater Park of the mythical Opeth.
To finish the album, Excess begins in a very grim way, with a rhythm of guitars that transmits a dark aura that then results in an explosion of speed with a torn voice that, once again, could be associated more with a death or black metal band.
Without a doubt, this album is very difficult to catalog no matter how much it is a thrash metal band, as you can appreciate many styles when listening to it, which can be a benefit for them and attract many fans of different styles, be more assiduous to listen to death, black, hardcore, thrash or heavy.