[English below]
Hammer King es una banda teutona de Power metal que nos trae su cuarto trabajo homónimo vía Napalm Records. Para quien no conozca la banda, esta compuesta por Titan Fox (ex vocalista Ross the Boss), Dolph A. Macallan (ex batería de Salvatio Mortis), G. Thundersword de bajo y Gino Wilde guitarra. El grupo responde a un estilo a caballo entre Ross the Boss y Hammerfall sin perder nunca su impronta de grupo Power alemán.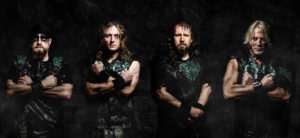 El disco comienza con "Awaken the Thunder" que me recuerda totalmente a Hammerfall con esos coros tan característicos y con el registro de voz de Titan que me recuerda en cierto momento a Cans. "Baptized by Hammer" en cambio en el trato de las guitarras cabalgadas me recuerda en ciertos momentos a Ross the Boss dando un tema con bastante fuerza. "Onward to Victory"  Sigue con la dinámica del tema anterior, un tema en medio tiempo que no por ello carente de fuerza, acercándonos mucho a lo que se llamó True Metal con los Manowar como máximo exponente.
"Hammerschlag" es un tema power alemán que va a toda pastilla y donde colabora Andreas "Gerre" de Tankard, Isaac Delahaye de Épica y The Crusader de Warking, TEMAZO brutal. "Atlantis(Epilogue) " es una canción mucho más pulida y que se asienta en el medio tiempo para dar ese toque épico y que en ciertos momentos me llega a recordar a Judas Priest, sobre todo en el solo de guitarra.
"We are the Kingdom" me gusta el tratamiento de la guitarra en la melodía con el seguimiento del plato ride, reminiscencia a Ross the Boss. "Into the Storm" combina magistralmente una parte Power más rápida con medios tiempos y donde el tratamiento de guitarras y coros me recuerda a Iron Maiden totalmente. "Ashes to ashes" tenemos patente la influencia de Judas en la guitarra rítmica y con varios cambios de ritmo que lo convierten en otro TEMAZO.
"In the Name of the Hammer" tenemos un tema Power recordando a Hammerfall de nuevo, con coros potentes en el estribillo. "King of Kings" inicia el tema con voz en off introduciéndonos en la historia, dando lugar al tema power alemán que para mi gusto flojea en el estribillo, ya que al querer darle un aire de solemnidad deja el tema muy parado. Finaliza el disco con el tema "Outro" que es un soliloquio de guitarra con aires bardianos sin más relevancia.
Definitivamente es un disco que se presenta más pulido que los anteriores, que no nos descubre nada nuevo pero que no necesita nada más. Power metal alemán en un disco tremendamente ameno y que hará las delicias de todos los amantes del género. Un saludo.
Texto: Aaaaaaaabbbaaaathhhh
---
English:
Hammer King is a Teutonic Power metal band that brings us their fourth self-titled album via Napalm Records. For those who do not know the band, it is made up of Titan Fox (former vocalist Ross the Boss), Dolph A. Macallan (former Salvatio Mortis drummer), G. Thundersword on bass and Gino Wilde on guitar. The group responds to a style that straddles Ross the Boss and Hammerfall without ever losing its imprint as a German Power group.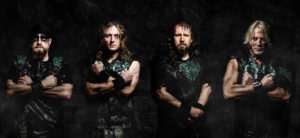 The album begins with "Awaken the Thunder" that totally reminds me of Hammerfall with those characteristic choruses and Titan's voice range that reminds me at one point of Cans. "Baptized by Hammer", on the other hand, when it comes to riding guitars, reminds me at times of Ross the Boss giving 7n song quite strongly. "Onward to Victory" It continues with the dynamics of the previous song, a song in half time that is not lacking for that reason, getting very close to what was called True Metal with the Manowar as the maximum exponent.
"Hammerschlag" is a German power song that goes full throttle and featuring Andreas "Gerre" from Tankard, Isaac Delahaye from Epica and The Crusader from Warking, BIG SONG brutal. "Atlantis (Epilogue)" is a much more polished song that sits at halftime to give that epic touch and that at certain moments reminds me of Judas Priest, especially in the guitar solo.
"We are the Kingdom" I like the guitar treatment of the melody with the ride cymbal follow-up, reminiscent of Ross the Boss. "Into the Storm" masterfully combines a faster Power part with midbeats and where the treatment of guitars and backing vocals totally reminds me of Iron Maiden. "Ashes to ashes" we have a clear influence of Judas on rhythm guitar and with several rhythm changes that make it another BIG SONG.
"In the Name of the Hammer" we have a Power theme reminiscent of Hammerfall again, with powerful chorus in the chorus. "King of Kings" starts the song with a voiceover, introducing us to the story, giving rise to the German power theme that for my taste lacks in the chorus, since by wanting to give it an air of solemnity, it leaves the song very stopped. The album ends with the song "Outro" which is a guitar soliloquy with bardian airs without any further relevance.
It is definitely a disc that is more polished than the previous ones, that does not reveal anything new to us but does not need anything else. German power metal in a tremendously enjoyable album that will delight all lovers of the genre. All the best.
Text: Aaaaaaaabbbaaaathhhh
Listado de canciones/Tracklist :
Awaken the Thunder

Baptized by Hammer

Onward to Victory

Hammerschlag

Atlantis(Epilogue)

We are the Kingdom

Into the Storm

Ashes to ashes

In the Name of the Hammer

King of the Kings

Outro