[English below]
Posiblemente el nombre de Jonas Lindberg, bajista, compositor y productor de origen sueco, no sea muy conocido más allá de su país, aunque los fanáticos del rock progresivo en general seguro que ya les habrán echado el ojo. "Miles From Nowhere" es el segundo disco (cuarto si contamos los dos eps) de Jonas Lindberg & The Other Side que vió la luz el pasado 18 de febrero a través de Inside Out Music, y donde el propio Lindberg se convierte en todo un multi instrumentista, ya que además de componer, producir y tocar el bajo también se atreve con la guitarra, los teclados e incluso pone voz en algunas canciones. ¿Estaremos ante un nuevo genio como Neal Morse? Se aceptan apuestas, pero primero vamos por partes, y a ver que nos encontramos en este "Miles From Nowhere"..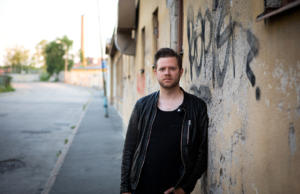 El disco se abre con "Secret Motive Man" y guitarras entrecortadas se funden con ritmos que van desde el funk, el folk y el rock progresivo más clásico, y es aquí donde noto las primeras influencias de Neal Morse Band o Transatlantic. Luego los dos principales vocalistas, Jonas Sundqvist en primer plano y Jenny Storm en los coros, hacen que la mezcla de sus voces le den al tema un equilibrio perfecto entre potencia y melodía.
"Little Man" comienza, sorpresivamente, con una guitarra acústica, una voz más tranquila y un ritmo orientado al pop de los 80, vamos que si te dicen que Colin Hay (Men at Work, Ringo Starr & His All-Starr Band) está detrás de esto te lo crees. Por suerte, la intensidad y el resto de instrumentos irán apareciendo progresivamente, con lo cuál esta circunstancia hace que al final todo resulte dinámico y agradable, como el conjunto de voces o el buen solo de guitarra, que son puntos a destacar en un tema con subidas y bajadas pero elegante. 
"Summer Queen" se podría definir como un paisaje sonoro progresivo, delicado, épico y alegre. Sus casi dieciséis minutos de duración (y qué esperabais, jaja) liderados por la sutil voz de Jenny Storm exploran atmósferas delicadas y sinfónicas, entre partes semi acústicas y reminiscencias de Pink Floyd. Evidentemente los cambios de ritmo están presentes y en concreto hay dos momentos brillantes, una subida de tempo bastante animada (funky) casi a mitad de canción y un efectivo solo de guitarra alrededor del minuto diez.
"Oceans Of Time" baja unos minutos con respecto al anterior pero también se puede considerar extenso. Aquí Lindberg también presta su voz (susurradora e intensa) y hay una atmósfera más folk, sobre todo gracias al sonido de una flauta, que seguramente te recordará a Jethro Tull. Aunque lo que más me atrae son los fabulosos intercambios de guitarras y teclados, siendo estos muy purplelianos (Deep Purple) y predominantes en toda la canción.
"Astral Journey" es una pista instrumental, semi acústica, básicamente folk, en la que Lindberg expone toda su creatividad y toca la gran mayoría de instrumentos, incluso sintetizadores. En cambio, en "Why I'm Here", la más corta del álbum, nuevamente Lindberg se erige como cantante y cuenta con su hermano Joel Lindberg apareciendo en la guitarra principal. Tema que rezuma un aire a rock progresivo clásico y que mezcla muy bien las guitarras (acústica-eléctrica) con el resto de instrumentos (y alguna voz sampleada).
Y para cerrar tenemos la mastodóntica "Miles From Nowhere", 25 minutos épicos repartidos en 5 partes o pistas, cada una con un título diferente, y es que visto así hasta se te hace más ameno, como si se tratase de un mini álbum o ep (cosas de la psicología, tal vez). El caso es que es una obra maestra de arriba a abajo y, posiblemente, lo mejor que haya compuesto Jonas Lindberg hasta ahora. Desde la "Overture", pasando por la emotiva "Don't Walk Away" o la vertiginosa "I Don't Know Where You Are" hasta llegar a la última parte, "Miles From Nowhere", que por cierto da nombre al disco y que cuenta con la presencia de Roine Stolt (The Flower Kings, Transatlantic) a la guitarra principal (espectacular el solo que se marca el tipo), pues son 25 minutos de una calidad y una elegancia musical sublimes. 
Conclusión, el rock progresivo seguirá muy vivo durante las próximas décadas. Los grandes de este género, como por ejemplo Neal Morse, tienen en Jonas Lindberg un garantizado relevo. Por otra parte, "Miles From Nowhere" es otro disco imprescindible para todos los amantes (clásicos o modernos) del rock progresivo, épico, sinfónico y folk, además de estar perfectamente interpretado por excelentes músicos. 
English:
Possibly the name of Jonas Lindberg, bassist, composer and producer of Swedish origin, is not well known beyond his country, although fans of progressive rock in general have surely already had their eye on him.  "Miles From Nowhere" is the second album (fourth if we count the two eps) by Jonas Lindberg & The Other Side, which was released on February 18 through Inside Out Music, and where Lindberg himself becomes a multi-instrumentalist, since in addition to composing, producing and playing the bass he also dares with the guitar, the keyboards and even gives voice to some songs.  Will we be facing a new genius like Neal Morse?  Bets are accepted, but first we go by parts, to see what we find in "Miles From Nowhere".
The album opens with "Secret Motive Man" and choppy guitars merge with rhythms that range from funk, folk and more classic progressive rock, and it is here that I notice the first influences of Neal Morse Band or Transatlantic.  Then the two main vocalists, Jonas Sundqvist in the foreground and Jenny Storm in the choirs, mix their voices to give the song a perfect balance between power and melody.
"Little Man" starts, surprisingly, with an acoustic guitar, a calmer voice and an 80s pop-oriented rhythm, if they tell you that Colin Hay (Men at Work, Ringo Starr & His All-Starr Band) is behind this you believe it.  Luckily, the intensity and the rest of the instruments will appear progressively, with which this circumstance makes everything dynamic and pleasant in the end, such as the group of voices or the good guitar solo, which are points to highlight in a song with ups and downs but elegant.
"Summer Queen" could be defined as a progressive, delicate, epic and joyful soundscape.  It's almost sixteen minutes long (and what did you expect, haha) led by the subtle voice of Jenny Storm exploring delicate and symphonic atmospheres, between semi-acoustic parts and reminiscences of Pink Floyd.  Evidently the changes of rhythm are present and in particular there are two brilliant moments, a quite lively (funky) tempo rise almost halfway through the song and an effective guitar solo around minute ten.
"Oceans Of Time" is a few minutes lower than the previous one but it can also be considered extensive.  Here Lindberg also lends his voice (whispering and intense) and there is a more folk atmosphere, thanks to the sound of a flute, which will surely remind you of Jethro Tull.  Although what attracts me the most are the fabulous exchanges of guitars and keyboards, these being very purplelian (Deep Purple) and predominant throughout the song.
"Astral Journey" is an instrumental track, semi-acoustic, basically folk, in which Lindberg exposes all his creativity and plays the vast majority of instruments, including synthesizers.  Instead, on "Why I'm Here", the shortest on the album, Lindberg once again stands as a singer and has his brother Joel Lindberg appearing on lead guitar.  Theme that exudes an air of classic progressive rock and that mixes very well the guitars (acoustic-electric) with the rest of the instruments (and some sampled voices).
And to close we have the mammoth "Miles From Nowhere", 25 epic minutes divided into 5 parts or tracks, each one with a different title, and it is that seen like this it even makes it more enjoyable, as if it were a mini album or ep (psychology stuff, maybe).  The fact is that it is a masterpiece from top to bottom and possibly the best Jonas Lindberg has written so far.  From the "Overture", through the emotional "Don't Walk Away" or the vertiginous "I Don't Know Where You Are" until reaching the last part, "Miles From Nowhere", which by the way gives the album its name and that has the presence of Roine Stolt (The Flower Kings, Transatlantic) on lead guitar (the guy's spectacular solo), as they are 25 minutes of sublime musical quality and elegance.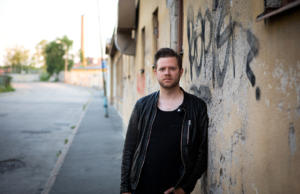 Conclusion, progressive rock will continue to be very much alive in the coming decades.  The greats of this genre, such as Neal Morse, have an excellent replacement in Jonas Lindberg.  On the other hand, "Miles From Nowhere" is another essential album for all lovers (classic or modern) of progressive, epic, symphonic and folk rock, as well as being perfectly interpreted by great musicians.
---
MILES FROM NOWHERE:
Secret Motive Man (7:26)

Little Man (5:49)

Summer Queen (15:52)

Oceans Of Time (11:37)

Astral Journey (5:50)

Why I'm Here (4:26)

Miles From Nowhere (25:32)
      PT I – Overture
      PT II – Don't Walk Away 
      PT III – I Don't Know Where You Are
      PT IV – Memories 
      PT V – Miles From Nowhere
JONAS LINDBERG & THE OTHER SIDE:
Jonas Lindberg – bass, guitars, keyboards, lead & backing vocals
Jonas Sundqvist – lead vocals
Jenny Storm – lead & backing vocals
Calle Stålenbring – guitars
Nicklas Thelin – guitars
Jonathan Lundberg – drums
Maria Olsson – percussion
Special guests:
Simon Wilhelmsson – drums (Tracks 2 & 4)
Joel Lindberg – lead guitar (Track 6)
Roine Stolt – lead guitar (Track 7 – PT V)