[English below]
Es de recibo y prácticamente mi obligación acometer la reseña del disco de KK Downing como fan que soy de Judas Priest. Y es que independientemente de las desavenencias que hayan podido surgir entre KK y sus antiguos compañeros de Judas, es nuestro deber reconocer la aportación de KK durante 50 años a los Judas y uno de los principales responsables de la evolución de estos últimos durante los 70 hasta el 2011. Y KK regresa este año uniéndose a antiguos miembros de los Judas (Tim Owens, Les Binks, A.J. Mills y Tony Newton),llamándose la formación KK's Priest y trayendonos su primer trabajo titulado "Sermons of the Sinner" a través de Explorer 1 Music Group.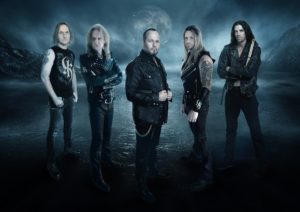 El disco se inicia con la Intro "Incarnation" en la que una voz en off nos antecede lo que nos espera con el sonido de lluvia y truenos de fondo. Comienza la tralla "HellFire Thunderbolt", temazo Priest noventero con Owens en plena forma y con base rítmica contundente. Le sigue "Sermons of the Sinners" que ya sirvió de single de este disco y que continúa la tónica del tema anterior, guitarras potentisimas y base rítmica brutal. Un sonido de campana nos inicia en el tema "Sacerdote y Diablo" con unas guitarras endiabladas y donde no hay descanso en este disco. "Raise Your Fits" Nos acerca a Judas más ochenteros, canción algo más pausada con buenos coros. "Brothers of the Road" sigue con la tónica del tema anterior, guitarras muy pegadizas.
Es en el siguiente tema "Metal Through and Through" donde en menos de un minutos nos recuerda a Hammerfall en los coros, a Iron Maiden en la guitarra rítmica inicial y a Manowar en la parte cantada; una auténtica gozada de tema. "Wild and Free" volvemos a los Judas de los 90, un tema que entra como un tiro y que en un momento dado realiza como un cambio de ritmo para volver a reconducir el tema a toda velocidad. "Hail for the Priest" sigue la tónica del tema anterior, en especial me encanta los coros y los solos de guitarra vertiginosos. "Return of the Sentinel" es el segundo tema largo del disco y donde me gusta especialmente un riff de guitarra que coincide con la palabra Sentinel gritada y que me recuerda a la guitarra del clásico de Judas, por contrario la parte final del tema en la que se queda la guitarra de KK con "Ripper" me parece excesivamente largo.
Definitivamente KK no inventa nada nuevo, pone a nuestra disposición un número de temas en los que despliega todo su saber y evolución con su antigua formación Judas Priest y lo plasma en un listado de temas mejorados en sonido por las nuevas tecnologías y que son una auténtica delicia. Para un servidor que es fan de los Judas Priest y Primal Fear, es un disco para tener SÍ o SÍ, y para los amantes del metal clásico es imprescindible. Un saludo.
Texto: Aaabbbaaattthhh
English:
It is of receipt and practically my obligation to undertake the review of the album of KK Downing as a fan that I am of Judas Priest. And it is that regardless of the disagreements that may have arisen between KK and his former Judas companions, it is our duty to recognize KK's contribution to the Judas for 50 years and one of the main responsible for the evolution of the latter during the 70's until in 2011. And KK returns this year joining former Judas members (Tim Owens, Les Binks, AJ Mills and Tony Newton), calling themselves the KK'Priest formation and bringing us their first work entitled "Sermons of the Sinner" through Explorer 1 Music Group.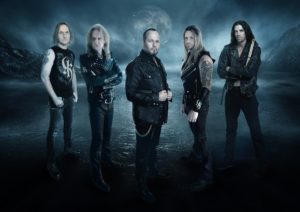 The album begins with the Intro "Incarnation" in which a voiceover precedes what awaits us with the sound of rain and thunder in the background. The whiplash begins "HellFire Thunderbolt", a great 90s Priest song with Owens in top form and with a forceful rhythmic base. It is followed by "Sermons of the Sinners" which has already served as a single on this album and which continues the tonic of the previous song, extremely powerful guitars and brutal rhythmic base. A bell sound starts us on the song "Priest and Devil" with some devilish guitars and where there is no rest on this album. "Raise Your Fits" brings us closer to Judas in his 80s, a somewhat slower song with good backing vocals. "Brothers of the Road" continues with the tonic of the previous song, very catchy guitars.
 It is in the next song "Metal Through and Through" where in less than a minute he reminds us of Hammerfall in the backing vocals, Iron Maiden in the initial rhythm guitar and Manowar in the sung part; a real blissful theme. "Wild and Free" we return to the Judas of the 90s, a song that enters like a shot and that at a given moment it performs like a change of rhythm to redirect the song at full speed. "Hail for the Priest" follows the theme of the previous song, I especially love the backing vocals and the dizzying guitar solos. "Return of the Sentinel" is the second long song on the album and where I especially like a guitar riff that matches the shouted Sentinel word and that reminds me of the classic Judas guitar, on the contrary the final part of the song in the that KK's guitar stays with "Ripper" seems excessively long to me.
Definitely, KK does not invent anything new, he puts at our disposal a number of songs in which he displays all his knowledge and evolution with his old Judas Priest line-up and reflects it in a list of songs improved in sound by new technologies and that are authentic. delight. For a server who is a fan of Judas Priest and Primal Fear, it is a record to have SI or SI, and for lovers of classic metal it is a must. All the best.
Text: Aaabbbaaattthhh
---
Tracklist / Listado de canciones:
Incarnation

HellFire Thunderbolt

Sermons of the Sinners

Sacerdote y Diablo

Raise Your Fits

Brothers of the Road

Metal Through and Through

Wild and Free

Hail for the Priest

Return of the Sentinel