[English below]
Fue en el Rock Machina del año 2001, celebrado en Moncofa (Castellón), cuando descubrí a un grupo italiano de gothic metal llamado Lacuna Coil, entonces venían presentando su segundo álbum, "Unleashed Memories". Aquella puesta en escena, espectacular y llamativa, con atuendos largos de color negro, y liderados por la bellísima Cristina Scabbia y el no tan bello, con todo el cariño, Andrea Ferro, me dejaron totalmente boquiabierto y desde entonces he seguido la trayectoria de estos milaneses.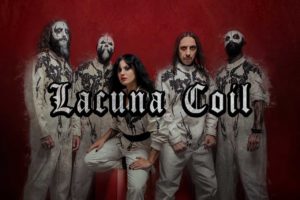 Y a día de hoy, Lacuna Coil, es una de las bandas que más ha crecido y evolucionado en estas dos últimas décadas, e internacionalmente, ha conseguido una fama y un reconocimiento a la altura de los grandes del metal. También, otro de los factores que, posiblemente, les ha llevado a lograr tal éxito es su incondicional fidelidad a Century Media Records, juntos desde el principio, y el mismo sello discográfico que el pasado 25 de junio puso a la venta su último disco en directo, "Live From The Apocalypse".
Se trata de un concierto especial pero diferente, especial porque se grabó durante la pandemia, septiembre de 2020, en el famoso Alcatraz Club (Milán) y diferente porque fue retransmitido en streaming, sin el aliento del público, ni adulaciones ni aplausos, pero con toda la energía y pasión que la banda ha demostrado siempre en directo, las cámaras grabando, y los fans del mundo entero conectados. 
Un directo de poco más de una hora dedicado, exclusivamente, a su último disco, "Black Anima", con la particularidad de que los temas no siguen el mismo orden sino que se irán sucediendo de forma aleatoria con respecto a ese disco, incluyendo todos los bonus tracks de la edición limitada y el single "Bad Things" (editado para Amazon). 
Por lo tanto, a los que les encantó "Black Anima" van a disfrutar de lo lindo con este concierto porque dentro de "Live From The Apocalypse" hay momentos memorables, por no decir todos, como el inicio del concierto con la intro "Anima Nera", inspirada en la película "Suspiria" de Dario Argento, seguido de un desgarrador "¡We are the Anima!", tremendo el grito que pega Andrea Ferro enlazando con "Sword Of Anger", un tema que bien se podría etiquetar como metalcore melódico por su agresividad musical y vocal (la de Ferro), sin olvidar las pegadizas melodías y la sutil e intensa voz de Cristina Scabbia.
La pasión y la energía de la que hablaba antes y la contundencia con la que tocan estos italianos queda más que demostrada en "Save Me", todo un himno, "Now or Never", uno de los temas más vanguardistas de su historia y de riffs demoledores, "Reckless", pegadiza y nacida para ser tocada en directo, la brutal "Under The Surface", con un ritmo de batería potentísimo o "Layers Of Time", que si quitamos de la ecuación a Cristina estaríamos hablando de otro trallazo de metalcore o de death metal melódico.
También quiero destacar algunos temas que me recuerdan a sus primeros trabajos, fieles a su esencia gótica y melancólica, como es el caso de los medios tiempos "Through the Flames", "Apocalypse", donde el solo de guitarra es una maravilla, "The End Is All I Can See", que nos sumerge de lleno en unas atmósferas angustiosas, "Veneficium", repleta de elementos orquestales y oscuros e incluso "Bad Things", teniendo esta un ritmo más alto y con otro gran solo de guitarra.
La sorpresa viene al final, cuando ya no hay más que rascar del "Black Anima", y Cristina Scabbia vuelve a aparecer en el escenario, vestida con un vestido largo y negro, junto a Silvia Zanaboni al piano, para cantar la   versión acústica de "Save Me". Un cierre, sencillamente, espectacular y conmovedor. 
En definitiva, estamos ante uno de los mejores directos de Lacuna Coil, sólo tiene un defecto, la ausencia de público in situ, por lo demás, tiene un sonido espectacular, muy bien mezclado, incluso se aprecia una contundencia mayor que la del propio "Black Anima", pero sobre todo, muestra a una banda compenetrada al máximo, como siempre, y en plena forma. Además ese dueto vocal que forman Cristina Scabbia y Andrea Ferro parece cada vez más incorruptible. 
"Live From The Apocalypse" está disponible en formato digital, LP y CD, ambos incluyen el directo en DVD como extra.
Texto: Juanma Cisneros
English:
It was at Rock Machina in 2001, held in Moncofa (Castellón), when I discovered an Italian gothic metal group called Lacuna Coil, then they were presenting their second album, "Unleashed Memories". That spectacular and striking staging, with long black outfits, and led by the beautiful Cristina Scabbia and the not so beautiful, with all the affection, Andrea Ferro, left me totally speechless and since then I have followed the trajectory of these Milanese.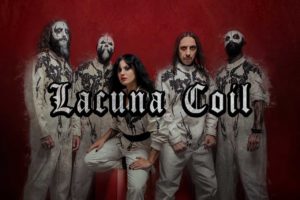 And today, Lacuna Coil, is one of the bands that has grown and evolved the most in these last two decades, and internationally, it has achieved fame and recognition at the height of the greats of metal. Also, another factor that, possibly, has led them to achieve such success is their unconditional loyalty to Century Media Records, together from the beginning, and the same record label that last June 25 put their latest album on sale in direct, "Live From The Apocalypse".
It is a special but different concert, special because it was recorded during the pandemic, September 2020, at the famous Alcatraz Club (Milan) and different because it was broadcast in streaming, without the encouragement of the public, or adulation or applause, but with all the energy and passion that the band has always shown live, the cameras recording, and the fans from all over the world connected.
A live show of just over an hour dedicated exclusively to his latest album, "Black Anima", with the particularity that the songs do not follow the same order but will follow each other randomly with respect to that album, including all the limited edition bonus tracks and the single "Bad Things" (released for Amazon).
Therefore, those who loved "Black Anima" are going to really enjoy this concert because within "Live From The Apocalypse" there are memorable moments, if not all, like the beginning of the concert with the intro "Anima Nera", inspired by the film "Suspiria" by Dario Argento, followed by a heartbreaking "We are the Anima!", the scream that Andrea Ferro hits, linking with "Sword Of Anger", a theme that could well be labeled as melodic metalcore for its musical and vocal aggressiveness (that of Ferro), without forgetting the catchy melodies and the subtle and intense voice of Cristina Scabbia.
The passion and energy of which I spoke before and the forcefulness with which these Italians play is more than demonstrated in "Save Me", a whole anthem, "Now or Never", one of the most avant-garde songs in their history and devastating riffs, "Reckless", catchy and born to be played live, the brutal "Under The Surface", with a very powerful drum beat or "Layers Of Time", that if we remove Cristina from the equation we would be talking about another whiplash metalcore or melodic death metal.
I also want to highlight some songs that remind me of his early works, faithful to its gothic and melancholic essence, as is the case of the middle times "Through the Flames", "Apocalypse", where the guitar solo is wonderful, "The End Is All I Can See", which immerses us fully in anguished atmospheres, "Veneficium", full of orchestral and dark elements and even "Bad Things", having a higher rhythm and with another great guitar solo.
The surprise comes at the end, when there is no more scratch from the "Black Anima", and Cristina Scabbia reappears on stage, dressed in a long black dress, along with Silvia Zanaboni at the piano, to sing the acoustic version of "Save Me". A closing, simply spectacular and thrilling.
In short, this is one of the best live performances by Lacuna Coil, it only has one flaw, the absence of an audience in situ, otherwise, it has a spectacular sound, very well mixed, even more forceful than its own "Black Anima", but above all, it shows a band that is fully sympathetic, as always, and in top form. Furthermore, that vocal duet formed by Cristina Scabbia and Andrea Ferro seems more and more incorruptible.
"Live From The Apocalypse" is available in digital format, LP and CD, both include the direct one on DVD as a bonus.
Text: Juanma Cisneros
LIVE FROM THE APOCALYPSE:
Anima Nera (01:56)

Sword Of Anger (03:25)

Save Me (04:30)

Now Or Never (04:20)

Reckless (03:06)

Through The Flames (05:11)

Apocalypse (04:12)

Black Feathers (04:10)

Under The Surface (04:15)

The End Is All I Can See (04:00)

Veneficium (06:04)

Black Dried Up Heart (03:49)

Bad Things (03:11)

Layers Of Time (04:03)

Black Anima (03:19)

Save Me (Apocalypse version) (04:07)
LACUNA COIL:
Cristina Scabbia – Vocals
Andrea Ferro – Vocals
Diego Cavallotti – Guitars
Marco Coti Zelati – Bass, Keyboards, Guitars
Richard Meiz – Drums