[English below]
Tras su sorprendente y explosiva victoria en el festival de Eurovisión 2021, el nombre del cuarteto italiano Maneskin ha empezado a expandirse y a subir como la espuma en cuestión de semanas, de conocidos por muy pocos fuera de su Italia natal a tener millones de reproducciones de sus canciones y su himno «Zitti e Buoni» se ha convertido en uno de los temas rockeros del año , poniendo a Maneskin como «El grupo más hot del momento» y una de las revelaciones del año junto a los (también eurovisivos participantes) finlandeses Blind Channel, demostrando que hay vida rockera y alternativa fuera de las fronteras americanas y del Reino Unido.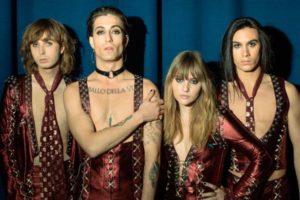 Tal es el tirón que están teniendo los italianos que han visto cómo su tercer trabajo «Teatro D'Ira» ha sido editado en numerosos países, siendo España uno de ellos para la sorpresa y alegría de sus seguidores ibéricos.
Pero…¿Está el resto del disco a la altura del hit eurovisivo? o corren peligro de ser carne de un solo hit. Estas dudas se despejan desde el comienzo ya que tras el mencionado temazo, la banda arremete con «Coraline», un corte bastante más pausado en donde Damiano (David,vocalista) se hace acompañar únicamente por una guitarra y lo cierto es que suena muy bien, pero la banda sube la intensidad tras el primer minuto y medio dándole un toque algo más rockero a este bello medio tiempo que desprende cierto aroma al rock noventero que tanto reinaba por aquellos días y demuestra que no sólo del hit eurovisivo pretenden vivir estos chicos. La canción se adorna con un precioso solo de guitarra a cargo de Thomas Raggi, el guitarrista de la banda que acaba por redondear esta intensa y delicada pieza.
Las guitarras vuelven a dar caña con «Lividi Sui Gomiti», y aquí Damiano nos sorprende con un tono medio rapeado y rasgado mientras que Victoria (De Angelis, Bajista) dibuja unas interesantísimas líneas de bajo, adquiriendo un gran protagonismo mientras que la canción va in crescendo y explota hacia el final, con ciertas reminiscencias a bandas como Red Hot Chili Peppers e incluso Foo Fighters.
La sensualidad y el erotismo se adueña con las líneas de bajo que dibuja Victoria mientras que Damiano se pone más descarado en esta pieza tan funky y rockera llamada «I Wanna Be Your Slave», de la cual se acaba de publicar una nueva versión ni más ni menos que junto al maestro Iggy Pop, quien no ha dudado ni un segundo en reconocer el talento de estos chicos y mostrarles sus respetos, poca broma para una banda de la cual hasta hace unos meses no muchos tenían conocimiento.
Una de las piezas más contundentes e intensas es la feroz «In Nome Del Padre», con unas bases súper rockeras y un Daminano desatado en las voces rapeadas, de nuevo con cierto aroma a la mejor época de RHCP pero con el toque personal que este tipo le da al micrófono a la hora de cantar.
Quizás sea incluso aún mejor que «Zitti e Buoni» o quizás no pero debería ser single a la voz de ya porque menudo cañonazo señoras y señores.
El inglés se vuelve a hacer presente en «For Your Love», y es que los chicos han querido combinar el inglés y el italiano en este nuevo trabajo , siendo el resultado todo un acierto y afortunadamente como pasa con compañeros de profesión suyos como Lacuna Coil, se defienden muy bien y no suena nada postizo, cosa que es un punto a su favor ya que otras bandas parecidas no pueden decir lo mismo.
Quizás esta sea menos destacada que la anterior pero cumple como continuación y quizás vaya ganando puntos con las escuchas y sobre todo en él directo de la banda, el cual se ha expandido por toda europa ya que todo el mundo quiere ver a la «nueva sensación del rock italiano» en los festivales y más adelante en los conciertos de presentación de este nuevo disco.
«La Paura del buio», es la penúltima pieza del disco y de nuevo es sorprendente lo bien producidas que están sus canciones y como en su estilo medio rockero , medio alternativo se mueven como pez en el agua, estando aquí de nuevo la figura de Victoria a las cuatro cuerdas y ese tono tan personal que tiene Damiano, sin duda todo un descubrimiento.
Con el medio tiempo o semi balada «Vent'Anni», la banda cierra este nuevo disco que se hace bastante corto y sobre todo calla a todos los que creían que estábamos ante una banda de un sólo hit, este disco podría haber estado firmado por bandas como Palaye Royale y a nadie le sorprendería y no, aquí hay más de una canción destacada más allá del hit con el que se han hecho mundialmente conocidos.
Es muy bonito el tratamiento que le han dado a la guitarra en esta pieza y como han podido hacer una gran canción rock semi lenta y que está a pesar de ser la última esté a la altura del resto del disco.
No sabemos qué les espera en el futuro a estos chicos, pero por lo ofrecido en este nuevo disco podemos afirmar de que estamos ante una de las bandas del año a la cual no hay que perder de vista, porque «Teatro D'ira» no sólo es su tercer disco si no también uno de los más destacados dentro del rock europeo que nos ha dejado este 2021 y por lo que se ve…esto no ha hecho más que empezar, avisados y avisadas estáis.
Texto: Lucas Capeluto
---
English:
Following their surprising and explosive victory at the 2021 Eurovision Song Contest, the name of the Italian quartet Maneskin has started to spread and skyrocket in a matter of weeks, from known to very few outside their native Italy to millions of views of their songs. songs and their anthem «Zitti e Buoni» has become one of the rock songs of the year, putting Maneskin as «The hottest group of the moment» and one of the revelations of the year with the Finnish (also Eurovisive participants) Blind Channel, showing that there is rock and alternative life outside the American and UK borders.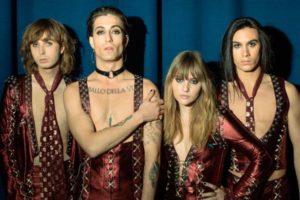 Such is the pull that Italians are having who have seen how their third work «Teatro D'Ira» has been published in many countries, Spain being one of them to the surprise and joy of their Iberian fans.
But … Is the rest of the album at the height of the Eurovision hit? or they are in danger of being one-hit meat. These doubts are cleared from the beginning since after the aforementioned hit, the band attacks with «Coraline», a much more leisurely cut where Damiano (David, vocalist) is accompanied only by a guitar and the truth is that it sounds very good , but the band raises the intensity after the first minute and a half giving a somewhat more rocker touch to this beautiful halftime that gives off a certain aroma of the 90s rock that reigned so much in those days and shows that not only the Eurovision hit are these guys trying to live. The song is adorned with a beautiful guitar solo by Thomas Raggi, the band's guitarist who ends up rounding out this intense and delicate piece.
The guitars hit the ground running again with «Lividi Sui Gomiti», and here Damiano surprises us with a rapping and ripped mid-tone while Victoria (De Angelis, Bassist) draws some very interesting bass lines, acquiring a great prominence while the song goes in crescendo and explodes towards the end, with certain reminiscences of bands like Red Hot Chili Peppers and even Foo Fighters.
Sensuality and eroticism take over the bass lines that Victoria draws while Damiano gets more cheeky in this funky and rock piece called «I Wanna Be Your Slave», of which a new version has just been published no more Nor less than with the teacher Iggy Pop, who has not hesitated for a second to recognize the talent of these boys and show them their respects, little joke for a band of which not many were aware until a few months ago.
One of the most forceful and intense pieces is the fierce «In Nome Del Padre», with some super rock bases and a Daminano unleashed in the rapped voices, again with a certain aroma of the best time of RHCP but with the personal touch that this guy hits the mic when singing.
Maybe it is even better than «Zitti e Buoni» or maybe not but it should be a single on the voice of ya because often the cannon shot ladies and gentlemen.
English is once again present in «For Your Love», and the boys have wanted to combine English and Italian in this new job, the result being a great success and fortunately as happens with their colleagues such as Lacuna Coil They defend themselves very well and nothing false sounds, which is a point in their favor since other similar bands cannot say the same.
Perhaps this is less prominent than the previous one, but it is a continuation and perhaps it will be gaining points with the listeners and especially in the direct of the band, which has spread throughout Europe since everyone wants to see the «new sensation of Italian rock «at festivals and later at the presentation concerts of this new album.
«La Paura del buio», is the penultimate piece of the album and again it is surprising how well produced their songs are and how in their half-rocker, half-alternative style they move like a fish in water, here again the figure of Victory on the four strings and that very personal tone that Damiano has, without a doubt a real discovery.
With the halftime or semi ballad «Vent'Anni», the band closes this new album that is quite short and above all it shuts up all those who believed that we were in front of a one-hit band, this album could have been signed by Bands like Palaye Royale and no one would be surprised and no, here is more than one outstanding song beyond the hit with which they have become known worldwide.
The treatment that they have given to the guitar in this piece is very nice and how they have been able to make a great semi slow rock song and that despite being the last one is at the level of the rest of the album.
We do not know what awaits these guys in the future, but from what is offered in this new album we can say that we are facing one of the bands of the year which we must not lose sight of, because «Teatro D'ira» does not It is only his third album if not also one of the most prominent within European rock that 2021 has left us and from what you see … this has only just begun, you are warned and warned.
Text: Lucas Capeluto