[English below]
A comienzos del año pasado, los fans del pop-punk entraron en pánico cuando la banda de Illinois Real Friends, una de las más populares del estilo actualmente junto a Neck Deep , As It Is , The Story So Far y State Champs, anunciaba la partida de su vocalista original Dan Lambton y confirmaba a la vez que no se separaban si no que se abría un nuevo capítulo para la banda y una nueva etapa.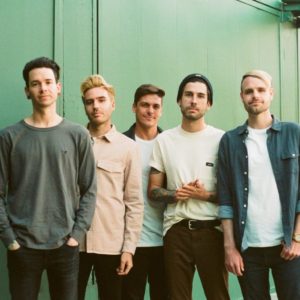 Pues bien ahora con el nuevo cantante Cody Muraro (Ex-Youth Fountain y Parting Ways), la banda acaba de editar vía Pure Noise Records (State Champs, Four Year Strong , Boston Manor) su nuevo EP/album "Torn In Two" en donde habrá que ver como arranca la etapa con Cody a las voces en RF.
El disco se abre con "Remedy In Reality" y ya podemos comprobar que la banda sigue sonando como en su último disco ("Composure", de 2018 ndr.) y que Cody aún teniendo un tono algo más limpio que Dan se ha integrado muy bien en el sonido de la banda, algo que por otro lado no sorprende en exceso ya que Youth Fountain compartían ciertos matices musicales con RF.
Aunque siendo justos, todos estaremos de acuerdo en que "Nervous Wreck" es aún mejor que la anterior y que la voz de Cody suena increíble y pegadiza desde el segundo uno en que empieza la canción, esta incluso recuerda a la etapa del segundo disco de Real Friends ("Home Inside My Head", el cual posiblemente sea el mejor de la banda hasta la fecha) y podría haber encajado en aquel trabajo y nos invita a una tarde de otoño soleada frente a un parque viendo las hojas caer, sin duda un futuro "HIT" para la banda norteamericana.
Bajamos un poquito las revoluciones para la entrada acústica de "Teeth", una delicada pieza en donde vemos la cara más sensible de la banda, la cual en estos dos años ha visto como su vocalista principal se iba, como una pandemia explotaba alrededor del mundo y no sólo frenaba en seco el trabajo de mucha gente como ellos sino también hacía que muchos seres cercanos perdieron la vida por el virus y esto ha afectado en la salud física y mental de todos nosotros, es un tema hermoso que podría haber sido firmado por gente como This Wild Life y Grayscale sin duda y con el que más de uno puede sentirse identificado.
El pop-punk más tradicional vuelve a sonar en la nostálgica "Spinning" , que nos devuelve a inicios de esta década y que podría recordarnos a los primeros All Time Low con ciertos toques de NFG , dando como resultado un tema muy veraniego y que nos transporta a épocas pasadas.
El ecuador del disco lo marca el primer single del disco y con el que conocimos la nueva etapa de Real Friends y no es otro que "Storyteller", un corte que resume a la perfección el adn de la banda ya que comienza de forma algo más pausada para ir subiendo en intensidad y explotar en el estribillo de forma memorable, cerrando el EP de forma brillante.
Para la segunda parte lo que tenemos son las mismas cinco piezas pero "reinterpretadas", con lo cual no vamos a encontrar demasiadas sorpresas.
Así mientras el "semi-remix" de Remedy For Reality , no sorprende en exceso y nos recuerda bastante a la época de Nothing Personal de sus amigos y compañeros All Time Low ,la versión algo más "pop" de Nervous Wreck sí que nos suena un poquito más convincente demostrando porque es una de las mejores canciones del EP, si no la mejor.
La versión "Full Band" de "Teeth" si bien apenas si varía la estructura de la versión original, no hace más que reafirmar lo bien que se le dan a estos chicos los medios tiempos y las baladas tristonas, pero siendo justos es un tema que por letra le pega más el formato acústico original de la canción que añadirle una ligera distorsión a la misma.
Justo lo contrario que "Spinning" a la cual le queda de perlas la "reversión" algo más pausada que en su versión original y que puede quedar genial para un "futuro" álbum acústico de la banda.
Con "Storyteller" (Reimagined) cerramos el disco y de nuevo es difícil mejorar una canción que es casi perfecta en su estilo, aunque la producción aquí es demasiado pulida no empaña uno de los mejores temas en la historia de Real Friends y cierra de forma notable este nuevo capítulo en la historia de la banda de Illinois.
Cuando algo va bien para qué cambiarlo no? , dice el refrán pues eso mismo pasa con este nuevo ep de Real Friends, en donde la banda mantiene su sonido habitual y sigue la senda de su último disco. Es cierto que a veces se echa de menos un poco la voz de Dan que era algo más áspera y rasgada en las canciones pero no se puede negar que Real Friends con este nuevo disco han despejado cualquier tipo de duda sobre el presente de la banda y solo deseamos que su nuevo disco sea igual o mejor que este trabajo, porque aquí hay banda para rato.
Texto: Lucas Capeluto
English:
At the beginning of last year, fans of pop-punk panicked when the Illinois band Real Friends, one of the most popular of the style today along with Neck Deep, As It Is, The Story So Far and State Champs, announced the departure of its original vocalist Dan Lambton and confirmed at the same time that they did not separate but that a new chapter was opening for the band and a new stage.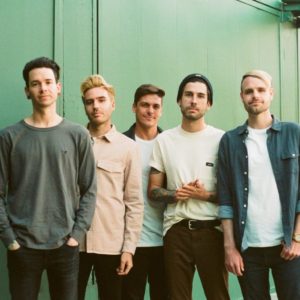 Well now with new singer Cody Muraro (Ex-Youth Fountain and Parting Ways), the band has just released via Pure Noise Records (State Champs, Four Year Strong, Boston Manor) their new EP / album "Torn In Two" on where we will have to see how the stage starts with Cody on vocals in RF.
The album opens with "Remedy In Reality" and we can already see that the band continues to sound like their last album ("Composure", from 2018 ndr.) And that Cody, even having a somewhat cleaner tone than Dan, has been very integrated. good in the sound of the band, something that on the other hand does not surprise in excess since Youth Fountain shared certain musical nuances with RF.
Although being fair, we will all agree that "Nervous Wreck" is still better than the previous one and that Cody's voice sounds incredible and catchy from the second one the song begins, this one even reminds of the stage of the second album of Real Friends ("Home Inside My Head", which is possibly the best of the band to date) and could have fit in in that job and invites us to a sunny autumn afternoon in front of a park watching the leaves fall, without a doubt a future "HIT" for the North American band.
We lowered the revolutions a little bit for the acoustic entrance of "Teeth", a delicate piece where we see the most sensitive face of the band, which in these two years has seen its main vocalist leave, like a pandemic exploded around the world and not only did it stop short the work of many people like them but also caused many close beings to lose their lives due to the virus and this has affected the physical and mental health of all of us, it is a beautiful theme that could have been signed by people like This Wild Life and Grayscale without a doubt and with whom more than one can identify.
The most traditional pop-punk sounds again in the nostalgic "Spinning", which takes us back to the beginning of this decade and which could remind us of the first All Time Low with certain touches of NFG, resulting in a very summery song that transport to bygone times.
The halfway point of the album is marked by the first single on the album and with which we got to know the new stage of Real Friends and it is none other than "Storyteller", a cut that perfectly sums up the band's DNA as it begins in a somewhat more paused to go up in intensity and explode in the chorus in a memorable way, closing the EP brilliantly.
For the second part what we have are the same five pieces but "reinterpreted", with which we are not going to find too many surprises.
Thus, while the "semi-remix" of Remedy For Reality is not too surprising and reminds us quite of the time of Nothing Personal of his friends and colleagues All Time Low, the somewhat more "pop" version of Nervous Wreck does sound like it. a little more convincing showing why it is one of the best songs on the EP, if not the best.
The "Full Band" version of "Teeth" although the structure of the original version hardly changes, it only reaffirms how well these guys are at halftime and sad ballads, but to be fair it is a theme. that by letter the original acoustic format of the song fits more than adding a slight distortion to it.
Just the opposite of "Spinning" to which the "reversion" is something more leisurely than in its original version and that can be great for a "future" acoustic album of the band.
With "Storyteller" (Reimagined) we closed the album and again it is difficult to improve on a song that is almost perfect in its style, although the production here is too polished it does not tarnish one of the best songs in the history of Real Friends and closes in a Remarkable this new chapter in the history of the Illinois gang.
When something is going well, why not change it? The saying goes because the same thing happens with this new Real Friends ep, where the band maintains its usual sound and follows the path of their latest album. It is true that sometimes the voice of Dan is missed a bit, which was somewhat harsher and ragged in the songs but it cannot be denied that Real Friends with this new album have cleared up any kind of doubt about the present of the band and We only wish that his new album is equal to or better than this work, because there is a band here for a while.
Text: Lucas Capeluto