[English below]
Los germanos SETYOURSAILS nos traen su segundo álbum, primero con el sello Napalm Records, que se titula "Nightfall". El grupo se define como un estilo post hardcore con retazos de Metalcore y elementos melódicos siendo apetecible para seguidores de Jinjer, Hatebreed, incluso Evanescence. Destaca la temática del disco donde trata temas tan candentes por desgracia como el racismo, el sexismo y la homofobia.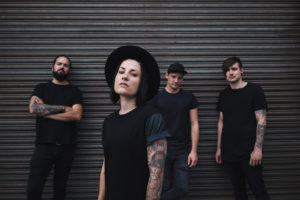 A decir verdad el disco cuenta de temas buenos donde destacan aquellos donde los elementos hardcore y Metalcore más clásicos están presentes, como ocurre en los temas "Why" que es pura adrenalina con el uso alterno de guitarras sucias y limpias y ese ritmo tan frenético. O el tema "Into the Storm" donde afloran elementos Deathcore y donde destaca la voz desgarradora de Jules Mitch."Forgive me" le sigue a la par y uno de los temas que más  me gusta es "Fckoff" que recuerda a ese hardcore intransigente, rabioso y rápido de la vieja escuela. Por último cabe destacar los temas "Ghost" con la colaboración de Rudi Schwarzer del grupo Annisokay y el tema que da título al disco  "Nightfall" con la inestimable colaboración de Andreas Dörner de los incombustibles Caliban donde los elementos Metalcore combinan con partes más melódicas que suelen coincidir con estribillos que resultan muy pegadizos.
Por el contrario nos encontramos con una serie de temas como "Anchor", "Secrets" o "What's Wrong" que responden a la faceta más melódica del grupo recordando a la banda Evanescence y resultando en cierto modo anodinos en comparación al resto de los temas del disco.
Definitivamente estamos ante un disco tremendamente ameno de escuchar para todos los amantes del metal, con la voz de Jules que me parece espectacular en sus distintas tesitura y con una producción exquisita como no podía ser de otra manera viniendo de Napalm Records. Por el contra el disco adolece de temas más melódicos que te resultan repetitivos y que no te llaman la atención. Para mí no es un disco que tendría en mis vitrinas pero OJO, eso no significa que por ello no haga las delicias de sus seguidores y por supuesto de personas amantes del hardcore más melódico. Un saludo.
Texto: Aaabbbaaattthhh
English:
The Germans SETYOURSAILS bring us their second album, first with the Napalm Records label, which is entitled "Nightfall". The group defines itself as a post-hardcore style with bits of Metalcore and melodic elements, making it appealing to fans of Jinjer, Hatebreed, and even Evanescence. The theme of the album stands out where it deals with such hot topics unfortunately as racism, sexism and homophobia.
To tell the truth, the album has good songs where those where the most classic hardcore and Metalcore elements are present stand out, as in the songs "Why" which is pure adrenaline with the alternating use of dirty and clean guitars and that frenetic rhythm. Or the song "Into the Storm" where Deathcore elements emerge and where the heartbreaking voice of Jules Mitch stands out. "Forgive me" follows along and one of the songs that I like the most is "Fckoff" which reminds us of that uncompromising hardcore , rabid and fast of the old school. Finally, it is worth highlighting the songs "Ghost" with the collaboration of Rudi Schwarzer from the group Annisokay and the song that gives the album its title "Nightfall" with the invaluable collaboration of Andreas Dörner from the incombustible Caliban where the Metalcore elements combine with more melodic parts than they usually coincide with choruses that are very catchy.
On the contrary, we find a series of songs such as "Anchor", "Secrets" or "What's Wrong" that respond to the most melodic facet of the group, reminiscent of the band Evanescence and being somewhat bland compared to the rest of the songs. Of the disk.
This is definitely a record that is tremendously enjoyable to listen to for all metal lovers, with Jules' voice that I find spectacular in its different ranges and with an exquisite production that could not be otherwise coming from Napalm Records. On the other hand, the album lacks more melodic themes that are repetitive and don't catch your attention. For me it is not an album that I would have in my windows but BEWARE, that does not mean that it does not delight its followers and of course people who love the most melodic hardcore. All the best.
Text: Aaabbbaaattthhh
---
Listado canciones/Tracklist
Ghost (feat. Rudi Schwarzer) 

Nightfall (feat.  Andreas Dörner) 

Secrets

Why

Mirror

Into the Storm

Anchor

Forgive me

Deadline

What's Wrong

Reason

Fckoff

Swallows (feat Mike Pérez)