[English below]
U.D.O. Dirksneider nos trae su nuevo disco "Game Over" a través de AFM saliendo a la venta el 22 de Octubre, 17 discos a su espaldas. Y es que el incombustible teutón sigue dándonos discos de una excelente calidad rivalizando con sus ex compañeros Accept. En esta última entrega encontramos 16 temas del más puro Heavy Metal alemán, alejándose de la parte más sinfónica que venía desarrollando en sus discos anteriores y dándonos un larga duración que se acerca mucho a su antigua formación.
Y es que este disco no da lugar ni a sorpresas, novedades o florituras varias, guitarras metaleras, ritmos marcados y U.D.O. en plena forma. Temas como "Fear detector", "Prophecy " o "Kids and Guns" son temas que se rigen totalmente al estilo noventero del metal alemán.
Reseña especial a los temas "I see Red" con ese arranque en la que se va el sonido y vuelve a arrancar el tema, al tema "Unbroken" con un ritmo de guitarras vertiginoso y buenos coros y al tema "Like a Beast" que arranca con llamada telefónica en su inicio. El tema "Marching Tank" destaca por un guiño que nos puede recordar a Manowar o "Speed Seeker" que me recuerda inevitablemente a Primal Fear. "Don't Wanna Say Goodbye" se erige como la balada al uso.
Definitivamente estamos ante un disco muy ameno y que hace las delicias de todos los fans del metal alemán, muy bien producido y con buen sonido. Un saludo.
Texto: Aaabbbaaattthhh
English:
U.D.O. Dirksneider brings us his new album "Game Over" through AFM going on sale on October 22, 17 albums behind him. And it is that the incombustible Teuton continues to give us discs of excellent quality, rivaling his former colleagues Accept. In this last installment we find 16 songs of the purest German Heavy Metal, moving away from the more symphonic part that he had been developing in his previous albums and giving us a long duration that is very close to his old formation.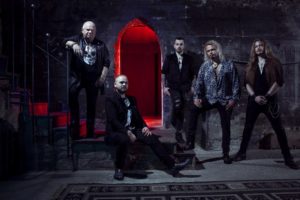 And it is that this album does not give rise to surprises, novelties or various flourishes, metal guitars, marked rhythms and U.D.O. in top form. Tracks like "Fear detector", "Prophecy" or "Kids and Guns" are songs that are totally governed by the 90s style of German metal.
 Special review of the songs "I see Red" with that start in which the sound goes away and the song starts again, the song "Unbroken" with a dizzying rhythm of guitars and good choruses and the song "Like a Beast" that It starts with a phone call at the beginning. The song "Marching Tank" stands out for a wink that can remind us of Manowar or "Speed ​​Seeker" that inevitably reminds me of Primal Fear. "Don't Wanna Say Goodbye" It stands as the ballad to use.
We are definitely facing a very enjoyable album that delights all German metal fans, very well produced and with a good sound. All the best.
Texto: Aaabbbaaattthhh
---
Listado de canciones/Tracklist :
Fear Detector

Holy Invaders

Prophecy

Empty Eyes

I See Red

Metal Never Dies

Kids and Guns

Like a Beast

Don't Wanna Say Goodbye

Unbroken

Marching Tank

Thunder Road

Midnight Stranger

Speed Seeker

Time Control

Metal Damnation