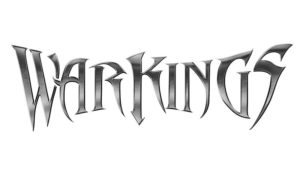 [English below]
Warkings es una banda de Power formada por guerreros de todos los tiempos y que para esta andadura incorpora la voz gutural de la compañera Morgana Le Fay. Este año nos traen su cuarto álbum de estudio y donde practican un power metal que me recuerda mucho a Dream Evil, tanto musicalmente como en la voz de Georg. El álbum es una obra conceptual que por supuesto cuenta las peripecias de la bruja MORGANA, y con este hilo argumental se sustenta el CD, bajo el auspicio de Napalm Records.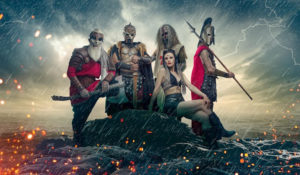 El disco comienza con el tema "Hellfire"  que tras una pequeña intro irrumpe vertiginosamente con la voz de Morgana dirigiendo el cotarro dando un tema frenético donde sólo se descansa durante el estribillo. El inicio  de "To the King" me encanta porque los teclados emulan las trompetas del coliseo romano en la presentación de las altas personalidades que junto a los coros le da un toque de solemnidad al tema, buen solo de guitarra que te remata el tema. "Monsters" comienza con un rugido animal y riff de guitarra tenebrosos, en un tema donde interviene nuevamente Morgana dando esa pincelada en el estribillo que solo ella puede hacer. 
"Last of the English" es otro tema de ritmo trepidante y toques orientales en la guitarra, otro buen solo de guitarra termina por darle un broche de oro a este tema. "Heart of Rage" sigue con las guitarras de toque oriental y me recuerda musicalmente al baile del velo."Row (Into the Storm)" comienza con el sutil sonido de las olas y continúa con el coro de los remeros al unísono del título, este tema me recuerda mucho a Dream Evil. "Immortal" es el último tema en el que colabora Morgana, tema a medio tiempo que sigue a sus antecesoras. "Shame" vuelve a coger velocidad dando una buena ración de Power metal con respiro en los estribillos. "The Rite" sigue en la misma tónica con las guitarras con ritmos arábigos y estribillos pegadizos. "Legend Untold" suena más contundente y las guitarras tienen un toque algo más agresivo, con una guitarra en el solo bien acompañada en la base rítmica. El disco finaliza con una versión de Powerwolf "Armata Strigoi" y otra de Dragonforce con la inestimable ayuda de Morgana "Cry Thunder".
Definitivamente estamos ante un disco de Power metal que para mi gusto sobran un par de temas ya que musicalmente espero algo más de chispa, también hay que entender que son necesarios para la consecución de la historia. Para los fans de Warkings es un buen disco a tener en las vitrinas. Un saludo.
Text: Aaabbbaaattthhh
English:
Warkings is a Power band made up of warriors of all time and that for this journey incorporates the guttural voice of Morgana Le Fay. This year they bring us their fourth studio album and where they play a power metal that reminds me a lot of Dream Evil, both musically and in Georg's voice. The album is a conceptual work that of course tells the adventures of the witch MORGANA, and the CD is based on this storyline, under the auspices of Napalm Records.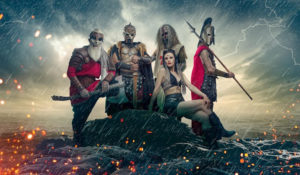 The album begins with the song "Hellfire" which, after a small intro, breaks out dizzyingly with Morgana's voice directing the show, giving a frantic song where you only rest during the chorus. I love the beginning of "To the King" because the keyboards emulate the trumpets of the Roman coliseum in the presentation of the high personalities that together with the choirs gives a touch of solemnity to the song, a good guitar solo that finishes off the song. "Monsters" begins with an animal roar and a dark guitar riff, in a song where Morgana intervenes again, giving that brushstroke in the chorus that only she can do.
"Last of the English" is another song with a hectic rhythm and oriental touches on the guitar, another good guitar solo ends up giving this song a finishing touch. "Heart of Rage" continues with guitars with an oriental touch and musically reminds me of the dance of the veil. "Row (Into the Storm)" begins with the subtle sound of waves and continues with the chorus of rowers in unison with the title, This theme reminds me a lot of Dream Evil. "Immortal" is the last song in which Morgana collaborates, a half-time song that follows its predecessors. "Shame" picks up speed again giving a good portion of Power metal with a breather in the chorus. "The Rite" continues in the same vein with guitars with Arabic rhythms and catchy choruses. "Legend Untold" sounds more forceful and the guitars have a somewhat more aggressive touch, with a guitar in the solo well accompanied in the rhythmic base. The disc ends with a version of Powerwolf "Armata Strigoi" and another of Dragonforce with the invaluable help of Morgana "Cry Thunder".
We are definitely looking at a Power metal album that for my taste there are a couple of songs left over since musically I expect a little more spark, you also have to understand that they are necessary to achieve the story. For Warkings fans it is a good record to have in the showcases. All the best.
Text: Aaabbbaaattthhh
---
Listado canciones/Tracklist
Hellfire
To the King
Monsters
Last of the English
Heart of Rage
Row (Into the Storm) 
Immortal
Shame
The Rite
Legend Untold
Armata Strigoi ( cover Powerwolf)
Cry Thunder (cover Dragonforce)