TRIBULATION – Estrena el nuevo single y vídeo, «Leviathans»; la pre-venta del nuevo disco 'Where the Gloom Becomes Sound' ya está disponible
El 29 de enero de 2021, TRIBULATION estará estrenando su nuevo álbum, 'Where the Gloom Becomes Sound' a través de Century Media Records (en todo el mundo excepto Norte América). Como primer aperitivo del disco ¡puedes escuchar y ver el vídeo del primer single, «Leviathans» (producido por Ulf Lundén)
'Where the Gloom Becomes Sound' ya está disponible en pre-venta AQUÍ
Los formatos disponibles son los siguientes:
* Edición Deluxe LP de color hueso más LP zoótropo y canciones extra.
* Edición limitada CD Mediabook con canción extra
* CD Jewelcase
* LP negro con libreto de 16 páginas
* Álbum digital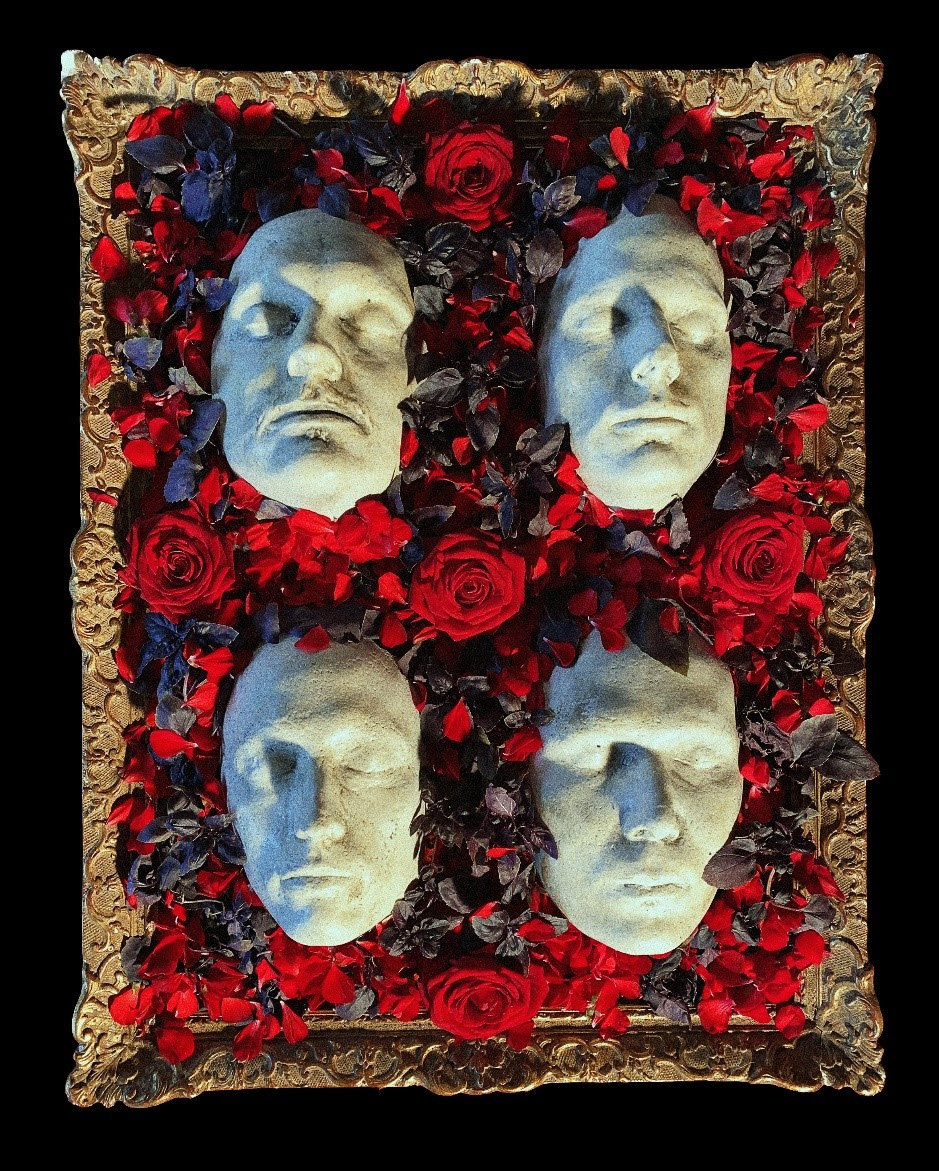 TRIBULATION entró en el estudio de Linus Björklund, Studio Ryssviken en abril y salieron del mismo dos meses después. La banda – los guitarristas Adam Zaars y Jonathan Hultén, Johannes Andersson (cantante/bajista) y Oscar Leander (batería) – usaron los 10 primeros días del estudio para ensayar. Una vez que la cosa empezaba a tener color, el grupo y el co productor Jamie Elton empezaron a darle forma al rudimentario proceso de grabación. Elton, quien también es el técnico de sonido de  TRIBULATION y gran amigo de la banda, tomó las riendas de Martin Ehrencrona, quien dirigió las sesiones de 2018 del disco 'Down Below'. Juntos, apuntalaron una buena producción, lujosamente sombría y auditivamente atractiva. 'Where the Gloom Becomes Sound' se le dio al productor nominado a un Grammy, Tom Dalgety (Ghost, Rammstein) para que éste lo mezclase en Psalm Studios. Una vez que la mezcla estuvo finalizada, Dalgety envió las versiones a su estudio en Gales y TRIBULATION puso a los mandos del master a Magnus Lindberg de Redmount Studios en Estocolmo.
El resultado de este quinto álbum de la banda indiscutiblemente eleva a los suecos al podio la música preciosista. La fuente de su reluciente oscuridad: una enorme brecha profunda, sin fondo. «Nos sumergimos en el mundo de lo místico y mágico,» dice Zaars. «Con un foco específico en la magia elemental, y los elementos, en general de las tradiciones esotéricas occidentales e indias, no de los cuatro elementos budistas sino los cinco elementos. Mitología y magia por supuesto no son dos cosas nuevas para el mundo de TRIBULATION, pero se vuelven más específicas en este disco. Simplemente lo presentamos desde una perspectiva diferente.»
'Where the Gloom Becomes Sound' no es la representación de un cambio monumental, sino más bien de la acumulación de ambición a lo largo de este tiempo junto a la continua exposición de experimentos en un diabólica encrucijada. Sin duda alguna es su disco más expresivo e inventivo compuesto hasta la fecha, el cual les llevará a la grandeza seguida de reverencias.
'Where the Gloom Becomes' listado de temas
In Remembrance
Hour of the Wolf
Leviathans
Dirge of a Dying Soul
Lethe
Daughter of the Djinn
Elementals
Inanna
Funeral Pyre
The Wilderness
Temas extra:
The Dhampir, Pt. I *
The Dhampir **
Månvisan ***
*) Tema extra en la edición limitada CD Mediabook, primer capítulo de la canción
**) Tema extra en la edición Deluxe LP Artbook, versión completa de 18 minutos de duración
***) Tema extra en la edición Deluxe LP Artbook, canción instrumental
Puedes ver un teaser del disco aquí:https://youtu.be/gsv97LhlD0I
---
Recientemente, TRIBULATION ha re-agendado su próxima gira europea junto con BØLZER y Molassess. Puedes ver el listado completo de fechas a continuación: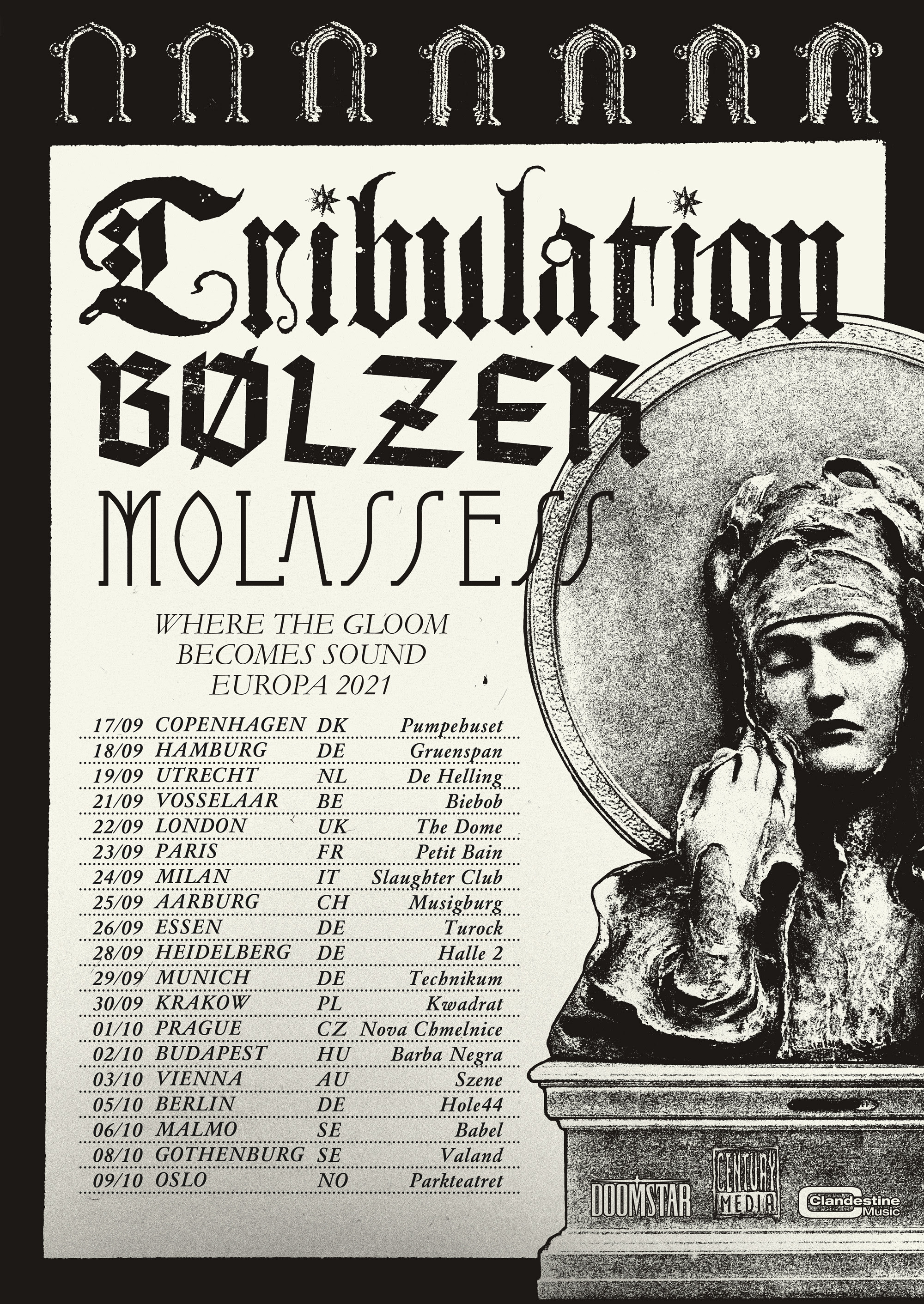 TRIBULATION «Where the Gloom Becomes Sound Europa 2021» tour con
BØLZER y Molassess
Sept. 17, 2021 – Copenhagen (Dinamarca) – Pumpehuset
Sept. 18, 2021 – Hamburg (Alemania) – Gruenspan
Sept. 19, 2021 – Utrecht (Holanda) – De Helling
Sept. 21, 2021 – Vosselaar (Bélgica) – Biebob
Sept. 22, 2021 – Londres (Gran Bretaña) – The Dome
Sept. 23, 2021 – Paris (Francia) – Petit Bain
Sept. 24, 2021 – Milan (Italia) – Slaughter Club
Sept. 25, 2021 – Aarburg (Suiza) – Musigburg
Sept. 26, 2021 – Essen (Alemania) – Turock
Sept. 28, 2021 – Heidelberg (Alemania) – Halle 2
Sept. 29, 2021 – Munich (Alemania) – Technikum
Sept. 30, 2021 – Cracovia (Polonia) – Kwadrat
Oct. 1, 2021 – Praga (República Checa) – Nova Chmelnice
Oct. 2, 2021 – Budapest (Hungría) – Barba Negra
Oct. 3, 2021 – Viena (Austria) – Szene
Oct. 5, 2021 – Berlin (Alemania) – Hole44
Oct. 6, 2021 – Malmö (Suecia) – Babel
Oct. 8, 2021 – Gothenburg (Suecia) – Valand
Oct. 9, 2021 – Oslo (Noruega) – Parkteatret
TRIBULATION en directo en 2021:
June 20, 2021 – Dessel (Bélgica) – Graspop Metal Meeting
June 15-17, 2021 – Gävle (Suecia) – Gefle Metal Festival
Aug. 3-7, 2021 – Bergen (Noruega) – Beyond The Gates Festival
Sept. 12, 2021 – Estocolmo (Suecia) – Macken Festival