[English below]
Black Pyramid es una banda de stoner/doom metal procedente de Northampton, Massachusetts, compuesta por Andy Beresky, principal compositor, voz y guitarra, Eric Beaudry, bajo, y Andy Kivela, batería. Este trío estadounidense describe su música como «metal de guerra psicodélico», aunque también incorpora elementos del heavy metal clásico y el rock progresivo para conjurar una mezcla de tonos masivos y evocadores.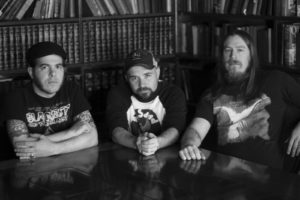 Hasta la fecha han lanzado tres álbumes de estudio, pasando por cambios drásticos en la formación en 2011. Sin embargo, esta volvería a ser la original en 2016, pero dos años después el batería Clay Neely dejaría el grupo, y aunque parezca que lo siguiente sería anunciar un nuevo disco, no exactamente. Este 2021, el 12 de febrero, para ser más exactos, el sello Labyrinth of Thoughts Records ha lanzado una reedición del primer y homónimo disco, Black Pyramid, del 2009. 
La intro «…And The Gods Made War» comienza con un acorde un tanto hipnótico y ya se deja entrever lo psicodélico que puede llegar a ser este disco en apenas dos minutos. Seguidamente irrumpe «Visions of Gehenna» a golpe de doom metal, ritmos lentos y pesados, como me recuerda ese riff a Black Sabbath. En la siguiente, «Mirror Messiah», meto en el saco también a Black Label Society, incluso la voz de Andy Beresky tiene un parecido razonable con la de Zakk Wylde. La canción es una continuación de la anterior, pero más extensa, con cambios de ritmo y un buen solo de guitarra. 
Un poco más rápido es «No Life King», que me recuerda a la canción «Ride» de Cathedral. Este grupo inglés y su cantante Lee Dorrian también son claras influencias. «Celephais» funciona como interludio acústico y da un respiro a lo que viene siendo la tónica general del disco, pero te mantiene expectante a lo que vendrá. «Twilight Grave» es lo siguiente sonar y lo hace con fuerza. El trabajo de bajo y batería proporciona un ritmo buenísimo, pero es la guitarra de Andy la que te va a dejar sin aliento en uno de los mejores temas del álbum. 
Para quienes se hagan con una de las ediciones en vinilo podrán disfrutar de un temazo instrumental extra, «Macedonia». La cantidad de riffs y solos que despliega el señor Beresky en poco más de seis minutos es impresionante. Y no hay tregua, en «The Worm Ouroboros» te sorprende con un sonido blues inicial para luego convertirse en puro stoner rock. 
Lo que realmente me fascina es cómo cambian de ritmo con una habilidad pasmosa. Esa capacidad también la encontramos en «The Cauldron Born». Aquí hay algo de los californianos Kyuss, aunque los cambios de ritmo son constantes y los riffs tienden a ser plomizos pero variados. Y llegamos al final con otro temazo, «Wintermute», que bien podría resumir qué o quiénes son Black Pyramid. Unos lentos acordes acústicos sirven de partida para encarar una canción compleja y profunda, donde, una vez más, la guitarra tiene el poder de atraparte, riff tras riff, en ese mundo de stoner/doom metal. 
En definitiva, esta reedición tiene el aliciente de tener un leve mejor sonido de producción que la original, algo que acentúa la excelencia de Andy Beresky con las seis cuerdas, vaya descubrimiento el de este gran guitarrista. Las influencias de Black Sabbath son evidentes pero Black Pyramid es una banda, y un disco, muy recomendable para seguidores de Cathedral, Electric Wizard, Kyuss, Sleep, y del stoner/doom metal en general.
Texto: Juanma Cisneros
English: 
Black Pyramid is a stoner / doom metal band from Northampton, Massachusetts, composed of Andy Beresky, lead songwriter, vocals and guitar, Eric Beaudry, bass, and Andy Kivela, drums. This American trio describes their music as «psychedelic war metal», although it also incorporates elements of classic heavy metal and progressive rock to conjure a mix of massive and evocative tones.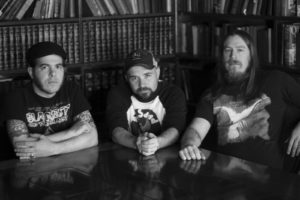 To date they have released three studio albums, going through drastic changes in line-up in 2011. However, this would be the original again in 2016, but two years later drummer Clay Neely would leave the group, and although it seems that the following would be announcing a new album, not exactly. This 2021, on February 12, to be more exact, the Labyrinth of Thoughts Records label has released a reissue of the first and self-titled album, Black Pyramid, from 2009. 
The intro «… And The Gods Made War» begins with a somewhat hypnotic chord and you can already see how psychedelic this album can reach in just two minutes. Then «Visions of Gehenna» bursts in with doom metal, slow and heavy rhythms, as that riff to Black Sabbath reminds me. In the next one, «Mirror Messiah», I also put Black Label Society in the bag, even the voice of Andy Beresky has a reasonable resemblance to that of Zakk Wylde. The song is a continuation of the previous one, but more extensive, with changes of rhythm and a good guitar solo. 
A little faster is «No Life King», which reminds me of the song «Ride» by Cathedral. This English group and its singer Lee Dorrian are also clear influences. «Celephais» works as an acoustic interlude and gives a break to what has been the general tone of the album, but keeps you waiting for what is to come. «Twilight Grave» is the next thing to play and it does it with force. The bass and drums work provides great rhythm, but it's Andy's guitar that is going to take your breath away on one of the best songs on the album. 
Those who get one of the vinyl editions will be able to enjoy an extra instrumental song, «Macedonia». The amount of riffs and solos that Mr. Beresky delivers in just over six minutes is impressive. And there is no truce, in «The Worm Ouroboros» it surprises you with an initial blues sound and then turns into pure stoner rock. 
What really fascinates me is how they change the rhythm with amazing ability. That quality is also found in «The Cauldron Born». There is something of the Californian Kyuss here, although the rhythm changes are constant and the riffs tend to be leaden but varied. And we reached the end with another great song, «Wintermute», which could well summarize what or who are Black Pyramid. Slow acoustic chords serve as a starting point to face a complex and deep song, where, once again, the guitar has the power to trap you, riff after riff, in that world of stoner / doom metal. 
In short, this reissue has the incentive of having a slightly better production sound than the original, something that accentuates the excellence of Andy Beresky with the six strings, what a discovery that of this great guitarist. The influences of Black Sabbath are evident but
Black Pyramid is a band, and an album, highly recommended for followers of Cathedral, Electric Wizard, Kyuss, Sleep, and stoner / doom metal in general. 
Text: Juanma Cisneros
---
BLACK PYRAMID: 
…And The Gods Made War (1:58) 

Visions of Gehenna (5:38) 

Mirror Messiah (7:07) 

No Life King (4:10) 

Celephais (1:18) 

Twilight Grave (5:51) 

Macedonia (Vinyl bonus track) (6:20) 

The Worm Ouroboros (7:39) 

The Cauldron Born (7:45) 

Wintermute (7:30)