[English below]
Mal que les pese a algunos, los británicos Bring Me The Horizon son uno de los nombres más importantes surgidos dentro del rock y el metal en el siglo XXI, sus más de 15 años de trayectoria les avalan y a pesar de ser uno de los grupos más amados y odiados dentro del rock, la banda sigue con pie firme a lo suyo demostrando que aún tiene mucho que decir dentro de la escena rockera mundial.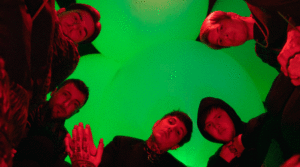 Si bien su trayectoria es igual que una montaña rusa con subidas y bajadas y giros musicales que les han llevado a perder a la gran mayoría de sus primeros seguidores pero a cambio les ha hecho madurar como músicos, lo cierto es que lo ofrecido en su último trabajo «Amo» (Sony/RCA 2018) no acabó de convencer incluso entre el sector más ecléctico de sus seguidores y es que quizás era un disco demasiado alternativo incluso para ellos y quizás si lo hubiera grabado Oli Sykes (su líder y vocalista principal) en solitario hubiera encajado mejor que hacerlo como BMTH.
Pero resulta que con su nuevo EP «Post Human: Survival Horror», la banda levantó un hype muy grande entre el público y la prensa especializada, con unas colaboraciones estelares y un primer single «Parasite Eve» que recuperaba el sonido más cañero de la banda de Sheffield, había muchas ganas de ver el resultado final y ver si estaban a la altura de este primer single y lo cierto es que una vez escuchado el disco al completo, la respuesta es un si rotundo.
El disco se abre de forma incendiaria con «Dear Diary», una bomba de relojería de 3 minutos que te noquea como un puñetazo en el primer asalto y vemos a un Oli recuperando el tono agresivo que tenía en discos como «There's A Hell….» o incluso «Suidice Season», pero con los matices instrumentales adecuados para sonar cañero y limpio a partes iguales, dando como resultado un temón de mucho cuidado que promete sonar de muerte en directo.
Sin tiempo a recuperarte, la banda arranca los primeros compases de «Parasite Eve», el primer single del disco y una patada en la boca a aquellos que aún siguen dudando de la banda, el tema tiene un estribillo que huele a «hit» por los cuatro costados y se convierte de forma inmediata en un futuro clásico a la altura de «Shadow Moses» o «Can You Feel My Heart», por poner dos ejemplos básicos dentro de la discografía del combo británico.
Pero el disco es como un abanico de estilos y colores musicales, para muestra tenemos «Teardrop», un tema mucho más melódico que se te queda en la cabeza desde la primera escucha y no podrás quitarte de la cabeza en meses, la melodía está perfectamente ejecutada y la voz de Oli suena ideal para esta canción, bandas como Memphis May Fire o incluso The Amity Affliction matarían por hacer una canción tan redonda como esta.
El puente cañero es espectacular y encaja de forma natural entre el tono melódico de la canción y estoy convencido que sonará de muerte en directo cuando BMTH pueda realizar una gira para presentar este nuevo trabajo en directo.
Antes mencionábamos que el disco cuenta con una serie de colaboraciones estelares y con «Obey» damos la bienvenida a la primera y esta es ni más ni menos que Yungblud, uno de los artistas más en forma del momento y que demuestra que el hype alrededor suyo está totalmente justificado ya que encaja muy bien con la voz de Oli, su vocecilla áspera y desafiante da en el clavo en todas sus partes en solitario y se complemente muy bien cuando le toca cantar en conjunto con Oli.
Musicalmente sigue el tono de las dos primeras y seguramente podría haber encajado en discos como «Sempiternal», siendo evidente que es mejor canción que muchas de las que había en los dos últimos trabajos de la banda.
«Itch For The Cure», se nos antoja como una especie de interludio electrónico que permite lucirse al teclista y segundo vocalista de la banda Jordan Fish y que da un breve respiro antes de que llegue la bomba.
Y es que «Kingslayer» es una obra de arte sonora así de claro uno de los mejores temas en la carrera de Bring Me The Horizon, un pelotazo súper potente y enérgico en donde la banda se hace acompañar ni más ni menos que por Babymetal, si las niponas también hacen acto de presencia en el disco de BMTH y de forma espectacular, combinando los screams agresivos y sin aliento de Oli con la vocecilla melódica y delicada de Su Metal (la voz principal de Babymetal) en un resultado impresionante que además cuenta con una base instrumental cercana al J-Rock y al visual combinada con el metalcore que pese a las dudas que generaba antes de escuchar la colaboración entre ambas bandas, no hay nada de que preocuparse aquí no es que haya un gran resultado, aquí es que el tema es sencillamente increíble.
Pero la maquinaria no para y aún con la melodía de «Kingslayer» en la cabeza, la banda suelta otra bomba titulada «1X1», aquí se combinan elementos más electrónicos y la banda cuenta con la inestimable ayuda de Nova Twins, que ha sabido amoldarse de forma perfecta al sonido más contundente de la banda británica.
Ni decir tiene que la producción es espectacular, y las voces limpias de Oli suenan muy bonitas y contundentes al mismo tiempo.
Por fin parece que la banda empieza a encontrar el equilibrio entre la gran cantidad de estilo que manejan y esto han querido poner en práctica en este nuevo trabajo y vaya que si lo han logrado.
«Ludens», sigue la tonalidad ofrecida en los temas anteriores, combinando de forma bastante acertada el pop, el metal, el rock alternativo y la electrónica, pero quizás sea el único punto «inferior» en el disco, aunque el breakdown del final es espectacular y acaba la canción mejor de lo que empieza.
Para el final la banda se guarda un último as y este no es otro que la participación de ni más ni menos que Amy Lee (Líder y voz de Evanescence) en la canción «One Day The Only Butterflies Left Will Be In Your Chest As You March Towards Your Death».
La canción es una power ballad hermosa y muy intensa, posiblemente a nivel emocional de las canciones más especiales e intensas que ha grabado la banda hasta el momento.
Las teclas del piano ponen los pelos como escarpias y las voces de Oli y Amy suenan perfectas juntas y hacen que te estremezcas desde el primer momento en que empiezan a cantar, no es fácil aguantarse las lágrimas y no emocionarse con un dueto tan bien ejecutado como el que ellos han hecho en esta canción y que ojalá podamos ver en directo en algún momento para acabar de redondear una de las mejores canciones de Bring Me The Horizon en toda su historia.
Pues lo cierto es que es un EP pero consta de 9 canciones, realmente podría ser considerado un disco entero o no, pero es igual, la realidad es que Bring Me The Horizon acaban de editar su mejor disco desde la publicación de «Sempiternal» (en el lejano 2013) y si había gente que pudiese dudar de la calidad de la banda, ya podéis volver a esconderos debajo de la piedra más cercana que tengáis, la banda ha vuelto este 2020 y por la puerta grande a demostrar porque son una de las mejores bandas de rock del siglo XXI y escuchado este nuevo disco no quedan dudas de que ellos lo son.
---
Texto Lucas Capeluto
English
In spite of some, the British Bring Me The Horizon are one of the most important names to emerge in rock and metal in the 21st century, their more than 15 years of experience support them and despite being one of the most important groups loved and hated within rock, the band continues with a firm footing proving that it still has a lot to say within the world rock scene.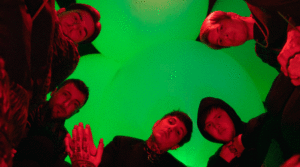 Although their trajectory is like a roller coaster with ups and downs and musical twists that have led them to lose the vast majority of their first followers but in return has made them mature as musicians, the truth is that what was offered in their last work «Amo» (Sony / RCA 2018) did not quite convince even among the most eclectic sector of their followers and it is that perhaps it was an album too alternative even for them and perhaps if it had been recorded by Oli Sykes (its leader and main vocalist) solo would have been a better fit than doing it as BMTH.
But it turns out that with their new EP «Post Human: Survival Horror», the band raised a very big hype among the public and the specialized press, with some stellar collaborations and a first single «Parasite Eve» that recovered the most powerful sound of the band from Sheffield, I really wanted to see the final result and see if they were up to the task of this first single and the truth is that once the album was heard in full, the answer is a resounding yes.
The album opens in an incendiary way with «Dear Diary», a 3 minute time bomb that knocks you out like a punch in the first round and we see an Oli recovering the aggressive tone he had on albums like «There's A Hell .. .. «or even» Suidice Season «, but with the right instrumental nuances to sound punchy and clean in equal measure, resulting in a very careful song that promises to sound deadly live.
Without time to recover, the band starts the first bars of «Parasite Eve», the first single from the album and a kick in the mouth to those who still doubt the band, the song has a chorus that smells like «hit» by all four sides and immediately becomes a future classic at the level of «Shadow Moses» or «Can You Feel My Heart», to put two basic examples within the discography of the British combo.
But the album is like a range of musical styles and colors, for a sample we have «Teardrop», a much more melodic theme that sticks in your head from the first listen and you won't be able to get rid of your head for months, the melody is perfectly executed and Oli's voice sounds ideal for this song, bands like Memphis May Fire or even The Amity Affliction would kill to make a song as round as this.
The hard bridge is spectacular and fits naturally between the melodic tone of the song and I am convinced that it will sound to death live when BMTH can tour to present this new work live.
Before we mentioned that the album has a series of stellar collaborations and with «Obey» we welcome the first and this is neither more nor less than Yungblud, one of the most fit artists of the moment and that shows that the hype around him It is totally justified as it fits very well with Oli's voice, his rough and defiant little voice hits the spot in all his solo parts and complements himself very well when it comes to singing along with Oli.
Musically it follows the tone of the first two and surely could have fit on albums like «Sempiternal», being evident that it is a better song than many of those that were in the last two works of the band.
«Itch For The Cure» seems like a kind of electronic interlude that allows the keyboardist and second vocalist of the band Jordan Fish to show off and that gives a brief respite before the bomb hits.
And is that «Kingslayer» is a work of sound art so clearly one of the best songs in the career of Bring Me The Horizon, a super powerful and energetic pitch where the band is accompanied by neither more nor less than by Babymetal, if Japanese women also make an appearance on BMTH's album and in a spectacular way, combining the aggressive and breathless screams of Oli with the melodic and delicate voice of Su Metal (the main voice of Babymetal) in an impressive result that also counts with an instrumental base close to J-Rock and the visual combined with metalcore that despite the doubts it generated before listening to the collaboration between both bands, there is nothing to worry about here, it is not that there is a great result, here is that the theme is simply amazing.
But the machinery does not stop and even with the melody of «Kingslayer» in the head, the band releases another bomb entitled «1X1», here more electronic elements are combined and the band has the invaluable help of Nova Twins, who has known how to adapt perfectly to the most forceful sound of the British band.
It goes without saying that the production is spectacular, and Oli's clean vocals sound very nice and forceful at the same time.
At last it seems that the band is beginning to find the balance between the great amount of style they handle and this they have wanted to put into practice in this new work and they have succeeded.
«Ludens», follows the tonality offered in the previous songs, combining pop, metal, alternative rock and electronica quite correctly, but perhaps it is the only «lower» point on the album, although the breakdown at the end is spectacular and the song ends better than it starts.
For the end the band saves one last ace and this is none other than the participation of neither more nor less than Amy Lee (Leader and voice of Evanescence) in the song «One Day The Only Butterflies Left Will Be In Your Chest As You March Towards Your Death «.
The song is a beautiful and very intense power ballad, possibly on an emotional level one of the most special and intense songs the band has recorded thus far.
The piano keys make hairs like spikes and the voices of Oli and Amy sound perfect together and make you shudder from the first moment they start singing, it is not easy to hold back tears and not get excited with a duet as well executed as the one that they have done in this song and that I hope we can see live at some point to finish rounding off one of the best Bring Me The Horizon songs in all its history.
Well, the truth is that it is an EP but it consists of 9 songs, it could really be considered a whole album or not, but it is the same, the reality is that Bring Me The Horizon have just released their best album since the publication of «Sempiternal» ( in the distant 2013) and if there were people who could doubt the quality of the band, you can go back to hide under the closest stone you have, the band has returned in 2020 and through the big door to show why they are one of the best rock bands of the 21st century and after hearing this new album there is no doubt that they are.
---