[English below]
El próximo año se cumplirán 20 años de aquel maravilloso debut, «The Phantom Agony», de los holandeses Epica, y me estaba rondando la cabeza qué sería de ese álbum si Mark Jansen y cia hubieran contado con todos los medios técnicos y  avanzados que disponen ahora. Igual estaríamos hablando de uno de los mejores discos de metal sinfónico de la historia (si no lo es ya, originalmente). Pero lo más importante para Epica es que se ha consagrado como una de las bandas punteras o referentes en ese género durante todo este tiempo y, además, manteniendo una constancia y una estabilidad dentro del grupo, sin demasiados cambios en la formación, algo que resulta complicado de conseguir en este mundillo. 

Después del «The Holographic Principle», y tras cinco años de espera, el pasado 26 de febrero se puso a la venta el esperado décimo álbum de estudio, «Ωmega», producido, de nuevo, por Joost van den Broek (ex-teclista de After Forever) en los Sandlane Recording Facilities en Rijen, Holanda. Una vez más, y van siete, el sello Nuclear Blast son los encargados de la distribución en diferentes formatos (CD; Digibook, 2CD; Edición limitada, 2LP en varios colores; Earbook, 4CD; Boxset, 4CD + 2LP + un colgante con el símbolo Ankh). La portada vuelve a ser obra del artista alemán Stefan Heilemann, quien también ha realizado trabajos para grupos como, por ejemplo, Atrocity, Crematory, Kamelot, Leaves' Eyes o Xandria, entre otros.
Sin más dilación me dispongo a desgranar este esperado «Ωmega». «Alpha – Anteludium» se encarga de abrir el disco de manera magistral con una breve intro sinfónica y coral a cargo de la Orquesta Filarmónica de Praga dando paso a «Abyss Of Time – Countdown To Singularity», un tema con mucho ritmo y contundente, de hecho los guturales de Jansen golpean antes que la angelical Simone Simons (fantástica como siempre). A esto le unimos toda esa amalgama de sonidos orquestales y de metal, con algún deje progresivo, y tenemos un comienzo brillante made in Epica.
«The Skeleton Key» tiene una atmósfera más oscura, unos riffs estridentes, un ritmo pausado pero intenso, orquestaciones, la dulce voz de Simone Simons y, lo más sorprendente, la actuación de un coro de niños. Es de esos temas que con las sucesivas escuchas te gustan cada vez más. 
«Seal Of Solomon» es un temazo de principio a fin, dominado por los coros y la orquesta sinfónica, mezclando sonidos orientales con una batería potente e incansable, riffs contundentes y melódicos, voces guturales y, aunque Simone queda en un segundo plano, le basta y le sobra para destacar.
«Gaia» va directa al grano y en la línea de la anterior en cuanto a la base rítmica se refiere, pero alternando medios tiempos con partes más rápidas. Simone, ahora sí, cobra un protagonismo mayor donde se puede apreciar su excelente voz.
En «Code of Life» tenemos la colaboración del tunesino Zaher Zorgati, vocalista de la banda Myrath. Siendo toda la canción un claro referente a ese estilo arábico que practican ellos cubierto de sinfonía a raudales, algún toque progresivo, y una Simone Simons espectacular, como de costumbre.
«Freedom – The Wolves Within», aparte de ser pegadizo, explota todas las virtudes de cada uno de los músicos que conforman Epica. Desde la orquesta y los coros, pasando por cada instrumento, que se aprecian de forma nítida, en especial las guitarras, la rítmica de Jansen y la solista de Isaac Delahaye, hasta las voces guturales y la voz lírica de Simone. Todo resalta de manera considerable y lacónica.
«Kingdom of Heaven Part 3 – The Antediluvian Universe» es uno de los temas más complejos que ha compuesto Epica en toda su carrera. En trece minutos de duración encontramos pasajes que recuerdan a discos de su primera época, intensas melodías, cambios de ritmo, algún matiz folk, por supuesto, lo sinfónico y operístico destacan por encima de todo con un solo de teclado estratosférico y, ya no hablemos, del repertorio vocal de Simone. Esta mujer es de otro planeta, definitivamente. 
«Rivers» es una preciosa balada que está hecha a medida para Simone Simons. Uno corre riesgo de embriagarse con esos tonos naturales, suaves, agudos, intensos, recreando una atmósfera perfecta e hipnótica. También la participación del coro de niños supone un punto interesante.
«Synergize – Manic Manifest» mantiene una buena batalla vocal entre el coro, Jansen y Simone, sin dejar de lado la parte sinfónica, tiene otras más enérgicas y rápidas, por ejemplo, utilizando blast beats en la batería.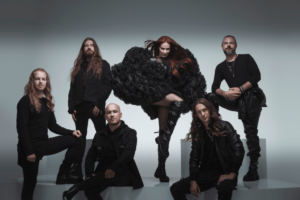 «Twilight Reverie – The Hypnagogic State» tiene un arranque potente y pegadizo hasta que aparece Simone cantando sutilmente para que la canción vaya cambiando de ritmo. En esta ocasión, tenemos otra voz invitada, Vicky Psarakis, cantante de los canadienses The Agonist, que pone una voz en off y comparte gutural con Jansen. Esta parte tiene un punto de agresividad y rapidez interesantes, sin olvidarnos del punteo de guitarra melódico. Vamos, lo que viene siendo un temazo. 
Para finalizar tenemos a «Omega – Sovereign Of The Sun Spheres» Un tema que me recuerda, en parte, a Therion, épico y muy guitarrero, de riffs pesados, de hecho, a mi modo de ver, el mejor solo de guitarra lo tenemos aquí. De todas maneras, hay que recordar que Epica son únicos mezclando elementos sinfónicos, voces guturales y angelicales, y en este cierre no iba a ser menos. 
Para quienes se hayan quedado con ganas de más, la versión digibook viene con cuatro temas extras: uno a capella y el resto en acústico, de los cuáles me quedo con «El Código Vital», con parte de la letra en español, resulta curioso oír a Simone cantar en nuestra lengua. El tema en sí es una rareza e inusual en Epica pero no deja de ser un homenaje a la música latina y a su gente.
Así que, estamos ante la tesitura de decidir si «Ωmega» es uno de mejores discos, si no el mejor, de toda la historia de Epica. Lo que sí es seguro es que va a ser uno de los mejores trabajos de metal sinfónico del año. También, pienso que si a estas alturas de la película Simone Simons aún no te ha conquistado es que tienes un problema, porque ella está en su mejor momento y parece que no tiene límites. 
Texto: Juanma Cisneros
English:
Next year will be the 20th anniversary of that wonderful debut, «The Phantom Agony», by the Dutch Epica, and I was wondering what would happen to that album if Mark Jansen and company had had all the technical and advanced means available to them now. We would still be talking about one of the best symphonic metal records in history (if it isn't already, originally). But the most important thing for Epica is that it has established itself as one of the leading bands or references in that genre during all this time and, in addition, maintaining stability within the group, without too many changes in the line-up, something that is difficult to achieve.  in this little world.

After «The Holographic Principle», and after five years of waiting, the long-awaited tenth studio album, «Ωmega», was released on February 26, produced, again, by Joost van den Broek (ex-keyboardist by After Forever) at the Sandlane Recording Facilities in Rijen, the Netherlands. Once again, and there are seven, the Nuclear Blast label is in charge of the distribution in different formats (CD; Digibook, 2CD; Limited Edition, 2LP in various colors; Earbook, 4CD; Boxset, 4CD + 2LP + a pendant with the Ankh symbol). The cover is once again the work of the German artist Stefan Heilemann, who has also done work for groups such as Atrocity, Crematory, Kamelot, Leaves' Eyes or Xandria, among others.
Without further delay I am about to reel off this expected «Ωmega».  «Alpha – Anteludium» opens the album in a masterly way with a short symphonic and choral intro by the Prague Philharmonic Orchestra giving way to «Abyss Of Time – Countdown To Singularity», a song with a lot of rhythm and forcefulness. In fact, Jansen's throaty hits before angelic Simone Simons (fantastic as ever). To this we add all that amalgam of orchestral and metal sounds, with some progressive touch, and we have a brilliant start made in Epica.
«The Skeleton Key» has a darker atmosphere, strident riffs, a slow but intense rhythm, orchestrations, the sweet voice of Simone Simons and, most surprisingly, the performance of a children's choir. It's one of those songs that you like more and more with successive listens.
«Seal Of Solomon» is a great song from beginning to end, dominated by the choirs and the symphony orchestra, mixing oriental sounds with a powerful and tireless drums, forceful and melodic riffs, guttural voices and, although Simone remains in the background,  enough and it is left over to stand out
«Gaia» goes straight to the point and in line with the previous one as far as the rhythmic base is concerned, but alternating half times with faster parts. Simone, now, takes on a greater role where you can appreciate her excellent voice.
In «Code of Life» we have the collaboration of the Tunisian Zaher Zorgati, vocalist of the band Myrath. The whole song being a clear reference to that Arabic style that they practice, covered with symphony in abundance, with some progressive touch, and a spectacular Simone Simons, as usual.
«Freedom – The Wolves Within», apart from being catchy, exploits all the virtues of each of the musicians that make up Epica. From the orchestra and choirs, to each instrument that is clearly appreciated, especially the guitars, the rhythm of Jansen and the soloist of Isaac Delahaye, to the guttural voices and the lyrical voice of Simone. Everything stands out in a considerable and laconic way.
«Kingdom of Heaven Part 3 – The Antediluvian Universe» is one of the most complex songs Epica has composed in her entire career. In thirteen minutes of duration we find passages that recall records from their early days, intense melodies, rhythm changes, some folk nuance, of course, the symphonic and operatic stand out above all with a stratospheric keyboard solo and, let's not talk anymore, from Simone's vocal repertoire. This woman is from another planet, definitely.
«Rivers» is a beautiful ballad that is tailor-made for Simone Simons. One runs the risk of getting drunk with those natural, soft, sharp, intense tones, recreating a perfect and hypnotic atmosphere. Also the participation of the children's choir is an interesting point.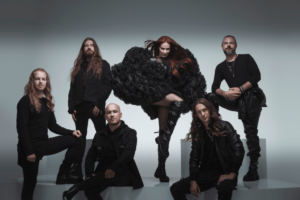 «Synergize – Manic Manifest» maintains a good vocal battle between the choir, Jansen and Simone, without neglecting the symphonic part, it has other more energetic and fast, for example, using blast beats on drums.
«Twilight Reverie – The Hypnagogic State» has a powerful and catchy start until Simone appears subtly singing for the song to change rhythm. On this occasion, we have another guest voice, Vicky Psarakis, singer of the Canadians The Agonist, who provides a voiceover and shares a throaty with Jansen. This part has an interesting point of aggressiveness and speed, without forgetting the melodic guitar picking. Come on, what has been a great song.
Finally we have «Omega – Sovereign Of The Sun Spheres». A song that reminds me, in part, of Therion, epic and very guitarist, with heavy riffs, in fact, in my opinion, we have the best guitar solo  here. Anyway, we must remember that Epica are unique mixing symphonic elements, guttural and angelic voices, and in this closing it was not going to be less.
For those who have been wanting more, the digibook version comes with four extra songs: one a cappella and the rest acoustic, of which I prefer «The Vital Code», with part of the lyrics in Spanish, it is curious to hear Simone sing in our language. The theme itself is a rarity and unusual in Epica but it is still a tribute to Latin music and its people.
So, we are in the position of deciding if «Ωmega» is one of the best albums, if not the best, of all the history of Epica. What is certain is that it will be one of the best symphonic metal works of the year. Also, I think that if at this point in the movie Simone Simons has not conquered you yet, you have a problem, because she is in her best moment and it seems that she has no limits.
Text: Juanma Cisneros
---
ΩMEGA:
Alpha – Anteludium (1:38)

Abyss Of Time – Countdown To Singularity (5:20)

The Skeleton Key (5:06)

Seal Of Solomon (5:28)

Gaia (4:46)

Code Of Life (5:59)

Freedom – The Wolves Within (5:37)

Kingdom Of Heaven, Part 3 – The Antediluvian Universe (13:24)

Rivers (4:48)

Synergize – Manic Manifest (6:57)

Twilight Reverie – The Hypnagogic State (4:29)

Omega – Sovereign Of The Sun Spheres (7:06)
EPICA:
Simone Simons (Vocals)
Isaac Delahaye (Guitars)
Mark Jansen (Guitars, orchestrations, grunts & screams)
Coen Janssen (Synths, keyboards, piano, orchestrations)
Ariën van Weesenbeek (Drums)
Rob van der Loo (Bass)