[English below]
Cuando uno piensa en grupos como Escape The Fate, le entra una sensación de nostalgia bastante importante sobre todo si eres de los que pasó años escuchando post hardcore y metalcore melódico cuando estos tipos eran una de las bandas más populares del estilo junto a Bullet For My Valentine, Avenged Sevenfold, Blessthefall, Black Veil Brides o paradojicamente Falling In Reverse (Banda del ex-vocalista de ETF, Ronnie Radke con quien grabaron su primer Ep y su álbum debut que los hizo populares entre los adolescentes de aquella época).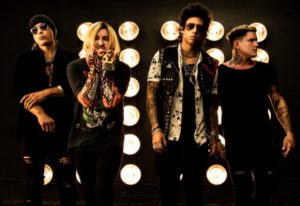 Pues bien a 15 años de su primer EP, la banda vuelve con su séptimo disco de estudio para demostrar que aún tienen cosas por decir en una época muy distinta a la que vivieron en su era dorada gracias a discos como el «This War Is Ours» y el «Self Titled».
Tras dos discos bastante justitos («Hate Me» de 2015 y «I Am Human» de 2018), la banda ha vuelto a recuperar esa magia que tenían a la hora de hacer temas certeros y pegadizos con la dosis justa de virtuosismo guitarrero y sin demasiado relleno.
El disco se abre con «Lightning Strike» y ya empezamos con la primera sorpresa y es que no creo que sea el único a quien el comienzo de este tema le recuerda sospechosamente a «Na Na Na Na» de My Chemical Romance aunque luego ya el estribillo despega solo y es imposible no quedarte con la canción desde la primera escucha, sin duda un comienzo particular que deja paso al espectacular single «Invincible» junto a la diosa del violín Lindsey Starling, quien se roba el protagonismo solita gracias a su talento y toque único que le da a cada canción en la que colabora, quizás no sea el corte más cañero del disco pero desde luego es uno de los mejores y es imposible no quedarse con el estribillo desde el primer minuto en que lo escuches.
Tanto «Unbreakable» como el corte que da título al disco, oxigenan al mismo y podrían haber encajado en el álbum negro o el homónimo como también se le conoce al tercer disco de la banda norteamericana, y serían el cruce perfecto entre los Bullet For My Valentine de Fever y los Atreyu del Lead Sails Paper And Anchor, ese rock metal melódico contemporáneo que tanto gusta al gran público.
Y llegamos al corte más «controvertido» del disco y es que la ultra melódica «Erase You» es de las canciones más diversas que han grabado hasta la fecha estos chicos y podría pasar por un tema de Post Malone y no es ninguna broma ni nada, es más diría que es un cumplido pero también soy consciente que provocará más de un sofoco entre los primeros seguidores de la banda.
El resto del disco circula por un patrón parecido, combinando temas más cercanos a su etapa más core como «Demons» o «Heart Granade» en donde siguen demostrando que tienen mano para meter la caña justa cuando hace falta y ambos cuentan con dos bonitos solos de Kevin Thrasher a las seis cuerdas.
Y como último tema a destacar seguramente este «Not My Problem» junto al señor Travis Barker (Blink-182) y esta es una de las piezas en donde la letra pesa más que la música y es que la canción habla de aquellas personas que depositan en ti sus frustraciones y quejas, pese a que les intentas ayudar, te culpan de todo y es como un «Fuck You» bien grande a esa gente que debería dejarte en paz y solucionar sus propios problemas en lugar de culparte a de ti de los mismos.
Pues la banda ha hecho su mejor disco en casi una década y al contrario de lo que podría pensarse trabajar con John Feldmann les ha venido mucho mejor que sus dos discos anteriores con Howard Benson, esto es así y se agradece ese cambio de aires para una banda que corría el peligro de quedarse como un bonito recuerdo del pasado, en cambio con este disco vuelven a remontar el vuelo y a demostrar porque en lo suyo aún tienen mucha guerra por dar.
Texto: Lucas Capeluto
---
English:
When you think of bands like Escape The Fate, you get a feeling of nostalgia quite important especially if you are one of those who spent years listening to post hardcore and melodic metalcore when these guys were one of the most popular bands of the style along with Bullet For My Valentine, Avenged Sevenfold, Blessthefall, Black Veil Brides or paradoxically Falling In Reverse (Band of ex-ETF vocalist Ronnie Radke with whom they recorded their first Ep and their debut album that made them popular with teenagers of that time).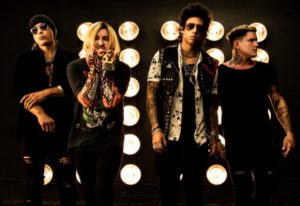 Well, 15 years after their first EP, the band returns with their seventh studio album to show that they still have things to say in a very different time from the one they lived in their golden age thanks to albums like «This War Is Ours «and the» Self Titled «.
After two fairly fair albums («Hate Me» from 2015 and «I Am Human» from 2018), the band has once again recovered that magic they had when it came to making accurate and catchy songs with the right dose of guitar virtuosity and without too stuffed.
The album opens with «Lightning Strike» and we already started with the first surprise and that is that I don't think I'm the only one to whom the beginning of this song suspiciously reminds him of «Na Na Na Na» by My Chemical Romance, although later the The chorus takes off on its own and it is impossible not to stay with the song from the first listen, without a doubt a particular beginning that gives way to the spectacLucas Capelutoular single «Invincible» with the violin goddess Lindsey Starling, who steals the limelight thanks to her talent and Unique touch that he gives to each song he collaborates on, it may not be the most powerful cut on the album but it is certainly one of the best and it is impossible not to stay with the chorus from the first minute you listen to it.
Both «Unbreakable» and the track that gives title to the album, oxygenate it and could have fit in the black album or the homonym as the third album of the North American band is also known, and would be the perfect cross between the Bullet For My Valentine from Fever and the Atreyu from Lead Sails Paper And Anchor, that contemporary melodic metal rock that the general public likes so much.
And we come to the most «controversial» cut of the album and that is that the ultra melodic «Erase You» is one of the most diverse songs that these guys have recorded to date and it could pass for a Post Malone song and it's not a joke or anything It is more I would say that it is a compliment but I am also aware that it will cause more of a suffocation among the first followers of the band.
The rest of the album circulates through a similar pattern, combining songs closer to their most core stage such as «Demons» or «Heart Granade» where they continue to show that they have a hand to put the right cane when necessary and both have two beautiful solos. by Kevin Thrasher on the six strings.
And as the last theme to highlight surely this «Not My Problem» with Mr. Travis Barker (Blink-182) and this is one of the pieces where the lyrics weigh more than the music and the song is about those people who deposit their frustrations and complaints in you, even though you try to help them, they blame you for everything and it's like a big «Fuck You» on those people who should leave you alone and solve their own problems instead of blaming you for the themselves.
Well, the band has made their best album in almost a decade and, contrary to what one might think, working with John Feldmann has been much better for them than their two previous albums with Howard Benson, this is so and that change of scene is appreciated for a band that was in danger of remaining as a beautiful memory of the past, on the other hand, with this album they take flight again and demonstrate why they still have a lot of war to give.
Text: Lucas Capeluto