[English below]
A estas alturas del partido hablar de Foo Fighters es hacerlo de una de las bandas de rock más importantes de las últimas tres décadas y eso no tiene discusión posible. Pero es verdad que en sus últimos dos lanzamientos la banda haya experimentado una especie de estancamiento creativo que les llevó a un disco correcto como «Sonic Highways» y uno digamos indiferente como el «Concrete And Gold», que si uno tuviese que poner en orden la discografía de la banda del mejor al menos destacado, esta «dudosa» posición la ocuparía justamente este último trabajo.
Por eso nos sorprendió que la banda anunciase su décimo disco de estudio para este 2021 y la pregunta que los seguidores se hacían es ¿Remontarán el vuelo con su nuevo álbum o seguirán tirando de sus clásicos de siempre para mantenerse a flote?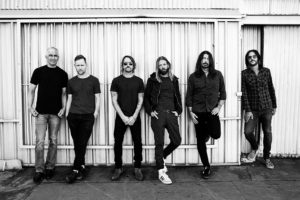 Visto lo visto en su nuevo trabajo, seguramente la respuesta sea positiva pero sin llegar al nivel de obras tan mágicas como «The Colour And The Shape» o incluso al infravaloradísimo pero notable «In Your Honor» (Disco incomprendido por los puristas de turno pero una delicia sonora para los más abiertos de miras).
Cuatro años después de su nuevo disco quizás es tiempo suficiente para dejar reposar la mente y volver con las pilas cargadas y más rejuvenecidos que nunca.
El disco aunque cuente con tan sólo nueve cortes es una montaña rusa en donde lo mismo te encuentras con un temazo como «Cloudspotter», que Grohl tenía desde la época de Nirvana y en cierta manera nos traslada a esos 90's cargados de rabia adolescente y camisas de cuadros desgastadas que descolocan a sus fans con «Shame Shame», tema que nada más publicarse hizo arder las redes sociales ya que había gente contenta con el primer single pero la gran mayoría se quedó bastante fría respecto al mismo.
Siguiendo con el recorrido por el disco tenemos un potente tema como «Making A Fire» y al cerrar con «Love Dies Young», lo que sacaremos en claro es que no hay un tema igual al otro, lo cual en cierto modo es algo bueno para que el disco no se te haga monótono como si pasaba con sus dos últimos trabajos pero también es cierto que no hay ningún tema brillante a la altura de «Everlong», «My Hero», «Next Year» o incluso un hit clarísimo como «All My Life», entonces, ¿qué es lo que pretenden Foo Fighters con este disco?
Pues simplemente hacer la música que a ellos les ha ido saliendo durante el proceso de composición, no mirando las listas de ventas o lo que está de moda ahora mismo en la tele y la radio.
Si hay que destacar alguna canción concreta yo podría elegir dos (diferentes entre si como marca la tonalidad del disco) y por dos motivos muy claros, ya que mientras «Waiting On War», puede ser un puente entre la primera época de los Foo's y la actual pero plasmada en una gran canción de rock alternativo como sólo ellos pueden hacer, luego tenemos «Chasing Birds», una balada preciosa y súper intimista que sin exagerar tiene todos los números para convertirse en una de las mejores y más bonitas composiciones de su carrera tal y como ocurrió en su día con «Wheels», todo se andará pero esta es una de las dos mejores canciones del disco sin duda alguna.
En resumen conviene acercarse de a poco a este disco y veréis como va ganando con cada escucha, es un viaje con varias paradas pero que al final se disfruta si le das el tiempo adecuado.
La importancia de los Foo sigue fuera de toda duda y este disco es la enésima prueba de ello , no es un disco perfecto pero en la imperfección también esta la belleza y eso es algo que no todos pueden alcanzar, Foo Fighters si puede y lo viene haciendo desde hace más de 25 años , por algo están donde están y su trono sigue siendo intocable a pesar de que este nuevo disco no sea un 10 , si que se acerca al notable y eso en ellos es una alegría enorme.
Texto Lucas Capeluto
English:
At this point in the game, talking about Foo Fighters is making it one of the most important rock bands of the last three decades and that has no possible discussion. But it is true that in their last two releases the band has experienced a kind of creative stagnation that led them to a correct album like «Sonic Highways» and an indifferent one like «Concrete And Gold», that if one had to put in order the discography of the band from best to least outstanding, this «dubious» position would be occupied precisely by this last work.
That is why we were surprised that the band announced their tenth studio album for this 2021 and the question that the followers were asking themselves is, will they take flight with their new album or will they continue to pull their always classics to stay afloat?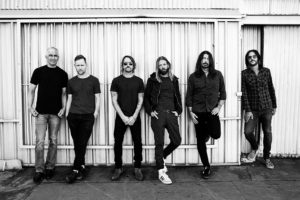 Considering what has been seen in his new work, surely the answer is positive but without reaching the level of works as magical as «The Color And The Shape» or even the highly undervalued but notable «In Your Honor» (Disc misunderstood by the purists on duty but a sonic delight for the most open-minded).
Four years after his new album, maybe that's enough time to let your mind rest and come back with charged batteries and more rejuvenated than ever.
Although the album has only nine tracks, it is a roller coaster where you can also find a great song like «Cloudspotter», which Grhol had had since the time of Nirvana and in a way it takes us back to those 90's full of teenage rage and shirts of worn pictures that upset their fans with «Shame Shame», a subject that as soon as it was published set the social networks on fire as there were people happy with the first single but the vast majority were quite cold about it.
Continuing with the tour of the album we have a powerful song like «Making A Fire» and when closing with «Love Dies Young», what we will make clear is that there is no theme equal to the other, which in a way is a good thing so that the album does not become monotonous as if it happened with his last two works but it is also true that there is no brilliant song at the level of «Everlong», «My Hero», «Next Year» or even a very clear hit like «All My Life», so what do Foo Fighters want with this album?
Well, simply make the music that they have been coming out during the composition process, not looking at the sales lists or what is fashionable right now on TV and radio.
If it is necessary to highlight a specific song I will choose two (different from each other as the tonality of the album marks) and for two very clear reasons, since while «Waiting On War», it can be a bridge between the first era of the Foo's and the current but embodied in a great alternative rock song as only they can do, then we have «Chasing Birds», a beautiful and super intimate ballad that without exaggeration has all the numbers to become one of the best and most beautiful compositions of his career as it happened in his day with «Wheels», everything will work but this is one of the two best songs on the album without a doubt.
In summary, it is convenient to approach this album little by little and you will see how it gains with each listen, it is a trip with several stops but in the end you can enjoy it if you give it adequate time.
The importance of the Foo remains beyond any doubt and this album is the umpteenth proof of it, it is not a perfect album but in the imperfection there is also beauty and that is something that not everyone can achieve, Foo Fighters can and does doing for more than 25 years, there is a reason why they are where they are and their throne remains untouchable even though this new album is not a 10, if it is close to the notable and that in them is an enormous joy.
Text: Lucas Capeluto