[English below]
Abbbbaaaattthhhhh, muy buenas, es un honor para mi reseñar uno de los discos revelación de este año. Thy Row, formación de Helsinki, nos trae su primer larga duración de la mano de Rockshots Music teniendo fecha de salida el 24 de Septiembre. Metemos en una coctelera unas guitarras que nos recuerdan a Pretty Maids, Van Halen, guiños a Queensryche y con el toque chulo de Motley Crüe, con una base rítmica chula y compacta y si encima le añadimos la voz de Mikael Salo que nos trae reminiscencias a vocalistas como Toni Romero, Gioeli o Doggie White, solo puedo decir que esta mezcla bien producida nos trae para mi entender uno de los discos del año.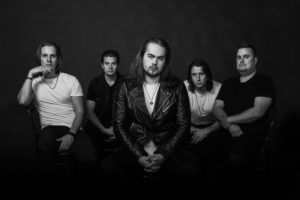 El disco comienza con "Road Goes On", un auténtico bombazo lleno de ritmo y actitud que deja entrever como se desarrollará el disco y por ello se presenta como el single del disco. "The Round" es otro tema de Hard rock donde destacan esos coros macarras que perfilan el tema. En "Unchained" destacan los riff de guitarras machacones con distintos cambios de ritmo y gritos atronadores y buenos punteos. "Horizons" destaca por un tema menos trepidante pero que destaca sumamente el estribillo y la parte melódica de las guitarras. "Just Fine" tema chulesco y macarras que recuerda a los Motley dando ligeros cambios de ritmo que quedan muy chulos, guitarreo de vieja escuela, temazo.
"Down On My Knees" tema con riff de guitarras más abruptos con un cambio más melódico en los estribillos, sigue encantandome el trabajo de guitarras que se realiza en cada tema. "The Downfall" se erige en los 3 siguientes temas como partes de una historia donde "Killing All Inside" se erige como la balada del grupo y que me recuerda a Queensryche, en "Beyond Reason" es un tema heavy con guitarras pesadas y ciertos aires Arábicos en melodías y guitarras, con los cambios de ritmo habituales en todo el disco y donde destaca la base rítmica, finaliza con "Fragments Of Memory" que es un tema que calca la estructura del tema que inicia el disco dando un excelente broche final al disco. 
Definitivamente estamos ante un gran disco de Heavy/Hard Rock actual y donde la banda realiza un trabajo brutal en todas las áreas, si tengo que poner alguna pega es que el Videoclip del single adelanto es mejorable, ya se sabe los grupos Heavies no destacamos por los Videoclips precisamente. DISCAZO DEL 2021,mi enhorabuena al grupo. Será un bombazo verlos en directo. Un saludo. 
Texto: Aaabbbaaattthhh 
---
English:
Abbbbaaaattthhhhh, very good, it is an honor for me to review one of the revelation albums of this year. Thy Row, a formation from Helsinki, brings us their first LP by Rockshots Music with a release date of September 24th. We put in a cocktail shaker some guitars that remind us of Pretty Maids, Van Halen, winks at Queensryche and with the cool touch of Motley Crüe, with a cool and compact rhythmic base and if on top we add the voice of Mikael Salo that brings us reminiscences of Vocalists like Toni Romero, Gioeli or Doggie White, I can only say that this well-produced mix brings us to understand one of the albums of the year.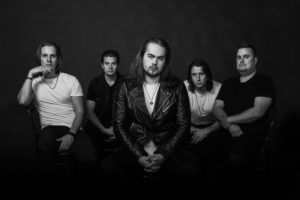 The album begins with "Road Goes On", a real bombshell full of rhythm and attitude that gives a glimpse of how the album will develop and therefore is presented as the single from the album. "The Round" is another Hard rock song where those badass choruses that outline the theme stand out. In "Unchained" the riffs of crushing guitars with different rhythm changes and thunderous screams and good picks stand out. "Horizons" stands out for a less fast-paced song, but which highlights the chorus and the melodic part of the guitars. "Just Fine" cocky and badass song reminiscent of Motley giving slight changes of rhythm that are very cool, old school guitar, great song.
"Down On My Knees" song with a more abrupt guitar riff with a more melodic change in the choruses, I still love the guitar work that is done on each song. "The Downfall" stands in the following 3 songs as parts of a story where "Killing All Inside" stands as the group's ballad and reminds me of Queensryche, in "Beyond Reason" it is a heavy song with heavy guitars and certain Arabian airs in melodies and guitars, with the usual rhythm changes throughout the album and where the rhythmic base stands out, it ends with "Fragments Of Memory" which is a song that traces the structure of the song that starts the album giving an excellent final touch to disk.
We are definitely facing a great current Heavy / Hard Rock album and where the band does a brutal job in all areas, if I have to put a downside it is that the advancement single's Videoclip can be improved, you know the Heavies groups do not stand out for Videoclips precisely. BIG LP OF 2021, my congratulations to the group. It will be a blast to see them live. All the best.
Text: Aaabbbaaattthhh 
Track Listing:
1. Road Goes On
2. The Round ft. Teemu Mäntysaari
3. Unchained
4. Horizons
5. Hidebound ft. Ben Varon & Ilja Jalkanen
6. Just Fine
7. Down On My Knees ft. Ben Varon
8. The Downfall, Part 1: Killing All Inside
9. The Downfall, Part 2: Beyond Reason
10. The Downfall, Part 3: Fragments Of Memory
11. Blue Blood (X Japan Cover) *Japanese Bonus Track